While most of the users of Instagram, the world's most popular photo-sharing application, use Instagram to see photos shared by celebrities, photographers, etc, there are a lot of users who use Instagram only to get fans/followers and reach more people. These users keep an eye on their follower's count. Although the photo-sharing app displays the number of likes your post has received and the number of people that follow you, some users would like to get more information on their profile. The following Android and iOS applications are a boon for people who want to get more Instagram followers or would like to see the interesting information of their profile that Instagram won't show:
Insights for Instagram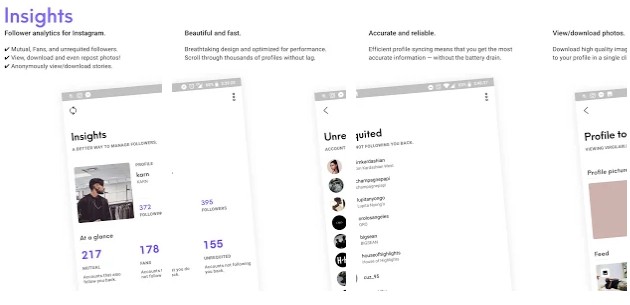 Insights for Instagram is an application that displays several details of your Instagram profile. It lets you see the stories shared by friends anonymously and allows you to re-share their posts. If you have a long list of followers, IFI shows the profiles of your followers automatically when you scroll down. While Instagram displays a list of your followers only, IFI makes you aware of:
The users who have followed you back when you followed them.
The users that you're not following but are following you, etc.
IFI helps users get new followers by suggesting hashtags relevant to the post the user is composing.
FollowMeter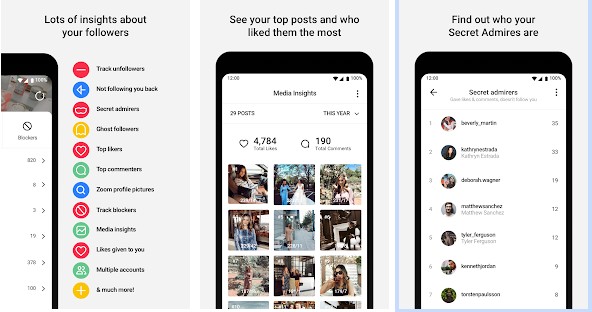 FollowMeter is one of the most popular Instagram insights apps on iTunes and Play Store. It makes you aware of the users who have unfollowed your profile or blocked it. FollowMeter compiles a list of users that have liked your post or commented on it and displays them in descending order of the likes/comments count. It has a special feature called "Discover" with which users can get more Instagram followers.
StatsBooster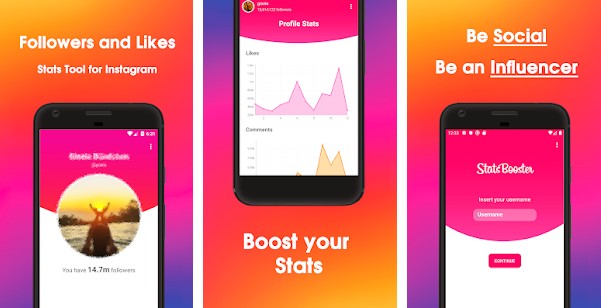 StatsBooster is an application that you can use to increase your Instagram followers. When you start it, SB asks you to enter the Instagram profile name for which you'd like to get more followers. When you enter the name and tap the next button, SB will display the number of followers your profile has and a "continue" button. If you tap this button, StatsBooster will display a graph and a button. When you tap the button, SB will ask you to "flip the cards" displayed on the screen. The application will calculate the sum of the numbers the cards reveal after you flip them and will share your profile with the same number of users. StatsBooster doesn't require account registration. It fetches your Instagram data only.
Follower Analyzer for Instagram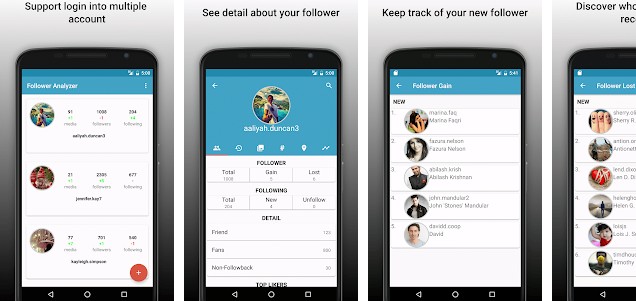 Follower Analyzer displays important statistics of the posts you've shared with your followers. It makes you aware of users who have never liked or shared your post. It shows a list of your most-watched videos and users that have tagged your IG username to a post. Follower Analyzer also displays a list of users and the number of times they've liked your post or have commented on it.
Followers & Likes Tracker for Instagram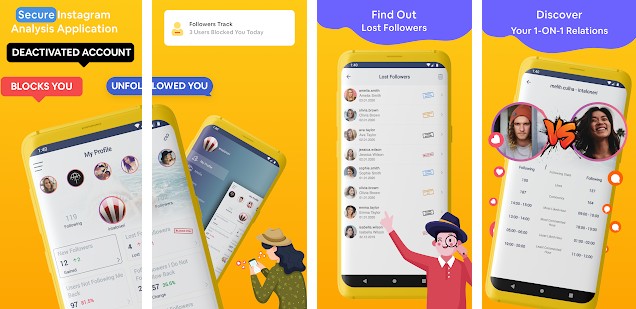 FLT lets you compare the likes of posts you've shared with that of your followers. It also allows users to watch stories shared by users anonymously. FLT makes you aware of the people who have recently followed/unfollowed your account. It is one of the few Instagram insights apps that can detect fake followers of an Instagram profile and list them. You can also find out the users that have unfollowed your account and blocked your profile or have temporarily/permanently closed their account with this application.
Followers & Unfollowers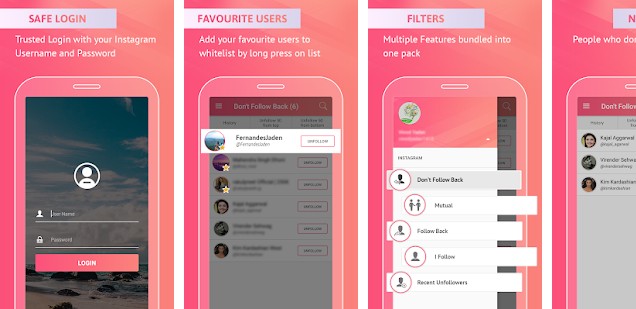 F&U is a great app to manage Instagram followers. It supports multiple Instagram accounts and lets you unfollow up to 50 users at a time. F&U allows its users to add followers to the "Favorites List". To add a profile to this list, you should long press on it. F&U has filters that will let you find profile followers meeting specific criteria.
Note: Most applications ask users to log in to their Instagram account. Why is this so? Well, the apps get your account data from the Instagram user database with the help of an API. If you don't log in, you won't be able to use the tools I've shared above.