Ever since Reliance JIO group's chairman Mukesh Ambani announced free 4G services and JIO apps for the Indian consumers, people have gone berzerk. Everyone in India wants a free JIO SIM. People wait in queues for several hours. They even buy the SIM from the local mobile phone shop for Rs 200 to 500. To tackle the problem of long lines and a huge demand, the Reliance group provides SIMs to users having a unique code called "JIO barcode". The Reliance JIO barcode generator apps on the Google Play Store are fake. They waste your time. If you show this code to Reliance store executives, they'll kick you out.
How to generate the JIO barcode i.e. free SIM coupon?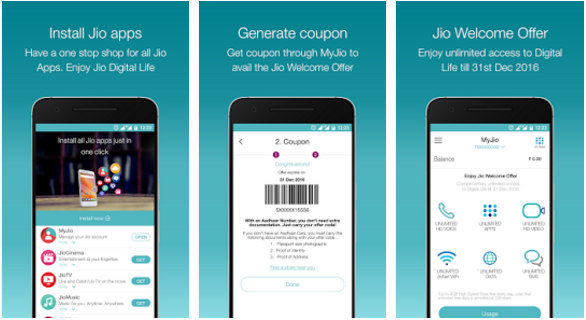 The only way to generate the code is by downloading the MyJIO free app. The application will work and create the code only on 4G devices. To create a code, download the MyJIO app and run it on your phone. Visit the My JIO interface of the application and tap on the get JIO SIM button. If you do so, the application will show details of the welcome offer. Below the details, you'll find a button with rounded edges and the "Agree and get JIO offer" option. Tap on it. The application will now show a unique JIO barcode, aka coupon.
Must see: Best internet speed test apps
Keep a screenshot of the code and visit the Reliance store along with the 4G device. The executive won't hesitate to provide you with a free SIM card. If you own a handset that supports only 3G or 2G networks, you'll have to buy a new device. The other workaround is to use the JIOFI hotspot device, which is cheaper than the 4G phones Reliance group has introduced. The cheapest mobile is JIO LYF FLAME 7S. Please note that the welcome offer, which provides free unlimited 4G data, is available only for 4G mobile phone and hotspot users.
Final thoughts: If you want to avail JIO welcome offer, buy the Reliance Hotspot, LYF device, or generate a coupon code with the MyJio application and visit the nearby Reliance store.
Also read: Best QR code reader apps