You can easily share the mobile data connection with your PC or phone without buying a WiFi router if you have a smartphone. Mobile phones have a WiFi chip manufactured by Broadcom, Qualcomm, Texas Instruments, Intel, etc. Over the course of time, the hardware components in a phone may wear out. If your phone's WiFi hardware is not working, you can use its USB port as an RJ45 connector. Android phones have a special feature called USB debugging. When you enable this feature, you can move files from/to the phone without using PC suite software.
Apart from moving files from mobile to computer or the other way round, you can use the Android USB debugging feature for sharing the mobile data connection. Rooted Android smartphones allow users to enable the virtual ethernet module to share the internet connection with the PC. Users can turn on this module by enabling the RNDIS option in the settings interface. If you haven't rooted your device, you must use the Android tethering apps I've covered in this article. The apps will turn your phone into a powerful hotspot. They will also let you share the internet over a wired USB connection.
Top 5 best Android tethering apps
ClockworkMod Tether (no root)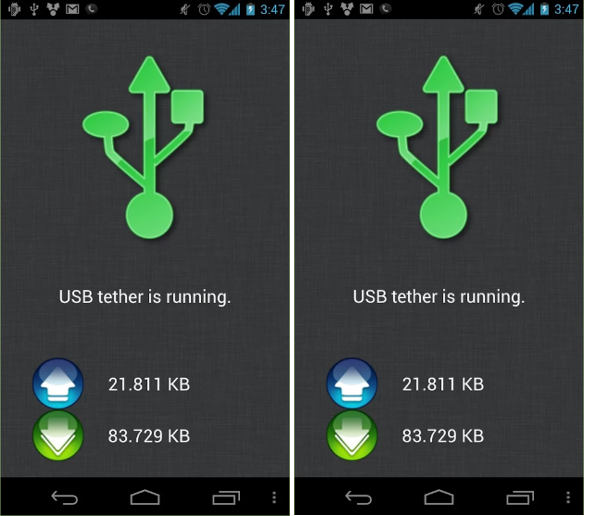 CWM's tether app is one of the simplest and smallest applications on the Play Store. The Android OS takes about 4 to 5 seconds to install it on the user's mobile device. Before running the app, users must turn on the USB debugging option on their phones; otherwise, the application won't show its magic. You don't have to root your device to enable the USB debugging mode.
The ClockworkMod app will detect the USB connection automatically. Then, it will install a virtual network adapter on the PC so that you can use the internet connection on the desktop or mobile phone. The app is dead simple. It doesn't have options that will confuse the user. CWM supports Mac, Linux, and Windows operating systems. It displays the current upload and download speed on the main interface. Hence, you don't have to use an internet speed test app to check network speed.
PdaNet+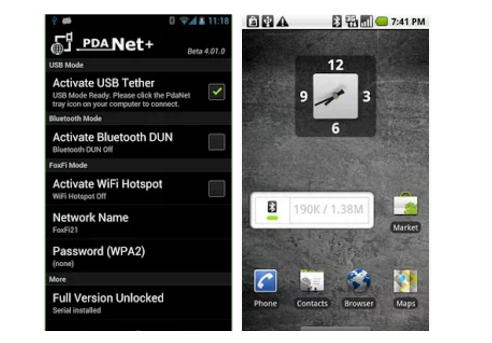 When you run this app, you'll see four checkboxes on the screen to enable/disable USB or Bluetooth tethering. PdaNet+ has an option to hide or show tether usage. It allows you to set up a password-protected hotspot connection on your device.
PdaNet+ allows you to set the name for the hotspot. The app's hotspot feature works on Android Marshmallow OS and its predecessors. To know whether this tethering app for Android is compatible with your mobile phone/carrier or not, go through its official Google Play Store listing page.
FoxFi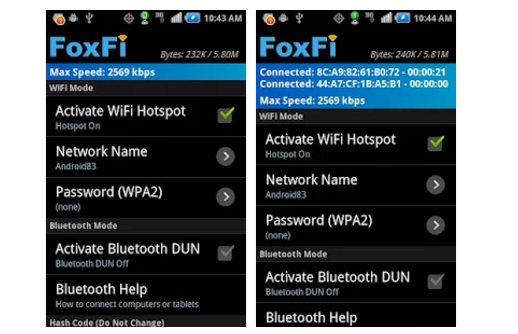 If you want to wirelessly share your phone's internet connection with other devices, download and install FoxFi. FF can establish a secure WiFi connection with a single click. You can use it to turn on USB and Bluetooth tethering modes. FoxFi works like charm. It doesn't require root access. It has an excellent interface. FF is one of the best tethering apps for Android devices.
EasyTether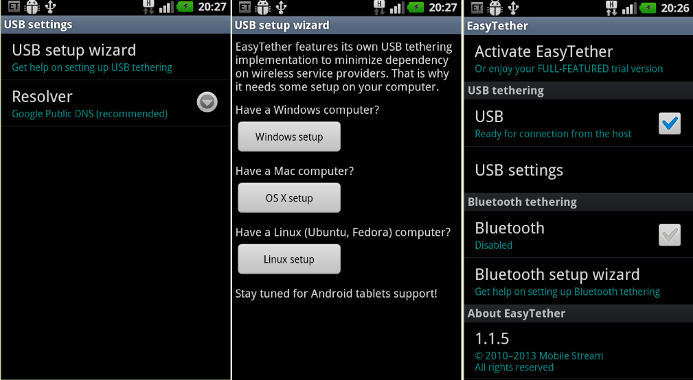 Unlike other apps, EasyTether allows users to implement USB tethering from scratch. It has four wizard tools that will guide you during the USB tethering process. The app supports various Linux distros. It is compatible with mobile devices powered by Android ICS, Lollipop, Marshmallow, and Nougat operating systems.
The free version of the ET Android tethering app blocks websites that employ SSL certificates. The other major limitation of EasyTether is that it doesn't work with gaming consoles. Like other apps I've covered here, EasyTether works without root access.
Must read: Best firewall apps for Android
VPN Hotspot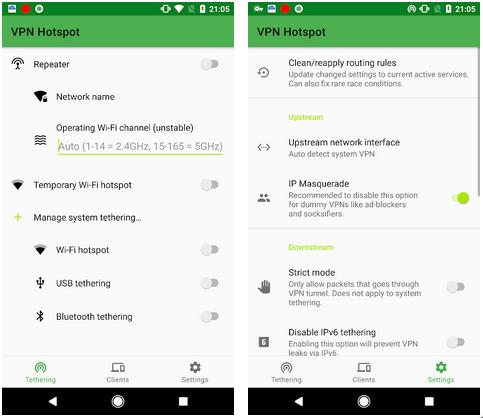 If you are using a premium VPN service, you can share the VPN connection with a smartphone, tablet, PC, or any other device by using this application. VH displays the following toggle options on its main interface:
Turn on/off Bluetooth, WiFi, USB Tethering.
Enable/Disable temporary hotspot.
This tethering app for Android can make your phone function as a repeater. It enables you to set the operating frequency for the WiFi connection. It also lets users specify the upstream network interface. VH requires root permission. You can configure it to keep the WiFi connection alive and make the smartphone behave as a WiFi repeater when it boots.
Closing words: Use the 5 best Android tethering apps I've shared above to share mobile data or broadband connection with the computer/phone. The applications are easy to use, and their size is below 3 megabytes.
Also see: Best root apps for Android