IR aka Infrared is a technology employed by common household appliances such as air conditioning systems, televisions, music players, STBs, etc. The retail boxes of home appliances ship with a remote control unit. The RCUs have several limitations. If you own multiple home appliances, you'll have to learn the functionality of various buttons of different remotes. RCUs are compact. Hence, you can easily forget the place where you've kept the remote.
If you own a smartphone, you don't have to use the RCU. Phone manufacturers equip their mobile devices with a special chip called an IR blaster. This chip allows you to control devices with an IR sensor through the phone or tablet. Hence, you can control various appliances in your house or office with a smartphone. To know whether your mobile device has this chip or not, check its specification sheet. The phone's IR blaster module will be useless if you don't install and use one of the following apps:
5 Best remote apps for Android
Smart IR Remote – AnyMote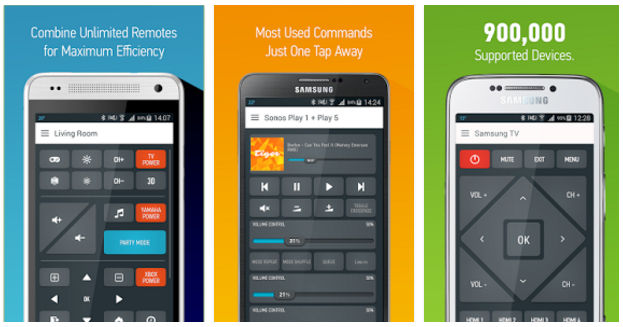 AnyMote is the world's most popular remote control app. It enables you to control various devices introduced by leading brands like Samsung, Panasonic, LG, etc. The app provides a wizard utility to add a new device. Once you add a device, AnyMote displays several buttons on its main interface e.g. if you're trying to control your television with this application, you'll find a button to power on/off the TV, change the channel, increase/decrease volume, etc.
AnyMote works with over 900K devices from various brands. The great thing about AnyMote is that it allows users to control smart devices with the phone's WiFi module. Hence, you can use this app on a phone that doesn't have an IR blaster. AnyMote supports voice commands. It works on rooted or non-rooted devices running on custom Android ROM. It includes automated tasks that save time. AnyMote allows you to back up its settings. It has predefined gestures for executing specific tasks. It provides a beautiful widget that you can use to control your appliances from the home screen.
Unified Remote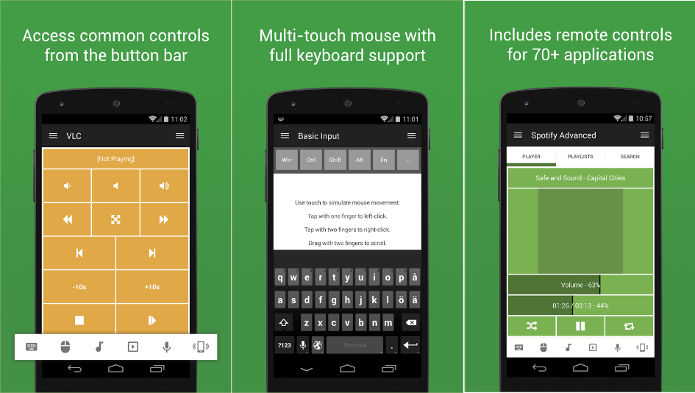 UR is one of my favorite Android remote control apps on this list. It converts your smartphone into a powerful universal remote for controlling apps on a PC powered by Linux, Mac, or the Windows operating system. Unified Remote supports wake on LAN feature. It offers a password-protected user authentication system. It has an auto-discovery feature that finds nearby devices that you can control. UR supports Bluetooth and WiFi technology. It supports two color themes – dark and light. The premium version of this app supports NFC/IR technologies and provides cool widgets of different styles. You can also control supported applications with voice commands with it.
Sure Universal Remote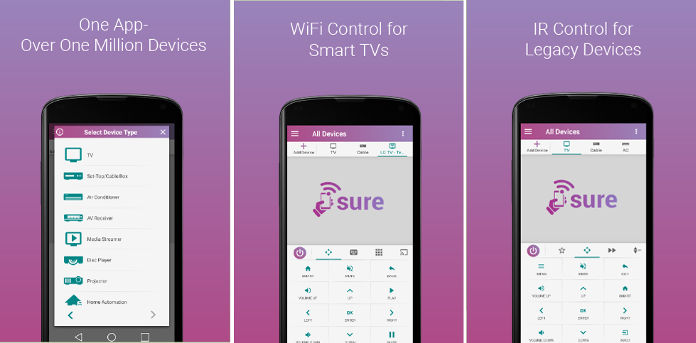 Sure is yet another popular Android Remote app for smartphones and tablets. It works with the latest mobile devices with or without an IR chip. If your smartphone lacks an IR blaster module, you can control appliances with the phone's WiFi. Apart from WiFi and IR, Sure also supports WiFi-to-IR converters. Sure remote allows users to stream or send their media files to their televisions with it. The application supports customization. Like the Smart IR Remote, it is compatible with 90000+ appliances.
Must Read: Best Android Video player app
Mi Remote Controller for TV or AC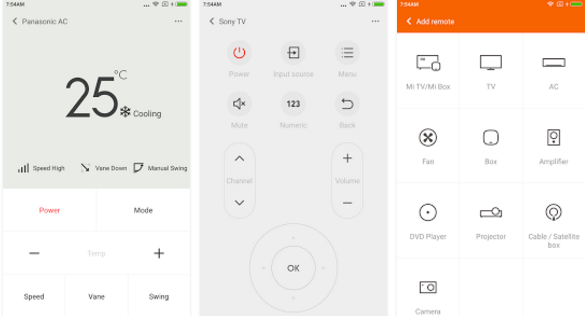 MRC works on Xiaomi or non-Xiaomi phones that carry an IR blaster chip. It also supports WiFi-only devices. MRC makes you aware of the schedule of your favorite TV shows. It supports large and small appliances from top brands like Sony, Micromax, Onida, Sharp, etc.
The Mi remote control app for Android is easy to use. The application will run a scan operation to find nearby appliances when you run it. If your Android phone doesn't include an IR blaster, MRC will find WiFi-only smart devices. Once Mi Remote identifies your appliance, you can use its inbuilt wizard tool to create a remote.
ASmart Remote IR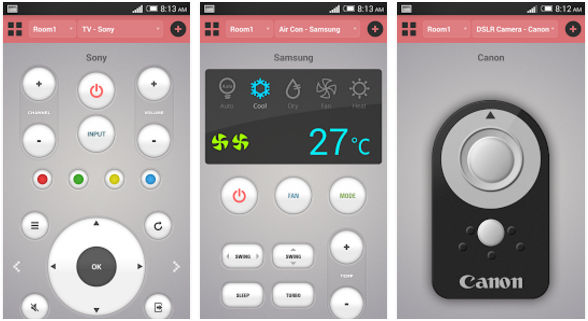 The AR Android remote app supports 80000+ televisions, cameras, projectors, air conditioners, etc. It has several features and an excellent interface. ASmart provides an option to create rooms and manage the device in the room. AS allows you to create unlimited remotes for appliances from 100+ brands. It adds a drop-down list to the menu bar. The list contains remotes you've made with ASmart. AS is an excellent alternative to the universal remote.
Final thoughts: The five best Android remote apps I've covered above support 1000s of devices. They are free and have powerful features. They have a superb rating on the Google Play Store.
Also see: Top 10 Best Apps for Android TV and Box