Mobile phones and tablets are disguised as minicomputers. They allow you to do everything that you can do with your PC. For example, you can play Android Simulation Game, track your expenses, create notes, manage emails, and more. People who have switched to mobile devices for everyday tasks must use a powerful firewall app to secure their devices.
Firewalls allow users to block incoming connections. Hence, if you've connected your device to the internet, the hacker's every attempt to gain access to your device will fail. Smart firewalls can block malware and viruses. They can also block URLs or domain names having a specific keyword. If you want to use an Android firewall app without rooting your mobile phone or tablet, go through the following paragraphs:
Best firewall apps for Android
No Root Firewall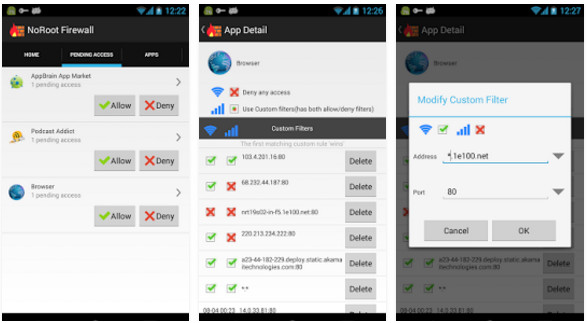 NRF is a tiny app with handy features. It has a gray/white color interface that flaunts a tabbed panel that features the following tabs:
Home: Here, you'll find two buttons i.e. start and stop. These two buttons allow you to establish a VPN connection on your mobile phone.
Pending apps: In this section, the user will find a list of apps that the firewall has denied permission to transfer data over the internet.
Apps: This tab enables users to allow or deny WiFi/data connection to apps you've installed.
Filters: Here, you can set up advanced filters. While creating a filter, the NRF asks you to enter an address/domain name and a port number.
Access log: You can check the firewall activity by opening this interface of the No Root Firewall for Android.
NRF doesn't require root access. It's a great app with a good interface and smart features.
NetGuard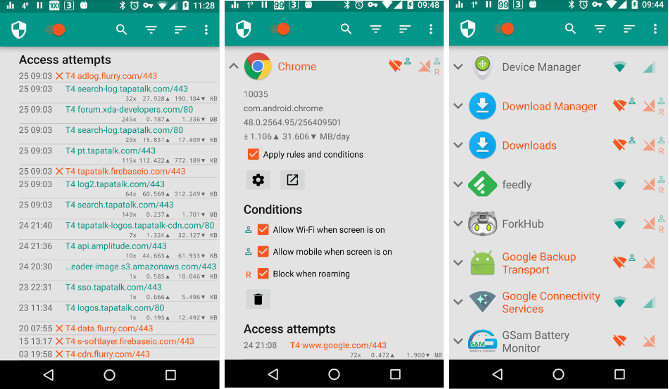 NetGuard is a No Root Android firewall app that provides many cool features. It has a toggle option to enable or disable the firewall on an Android device. NetGuard provides options to:
Allow WiFi or 3G/GPRS/4G connection access when the screen is off/on.
Block network access when the SIM card is working in roaming mode.
NetGuard lets users enable the logging feature for specific applications. It provides an advanced network settings interface through which you can enable/disable:
Subnet routing, IPv6 traffic.
Support for metered WiFi, data connection.
You can configure NetGuard to filter data packets going out of the secure VPN channel. All these features make NetGuard one of the best Android firewall apps on the Play Store.
Also Read: Best Android Security apps
Mobiwol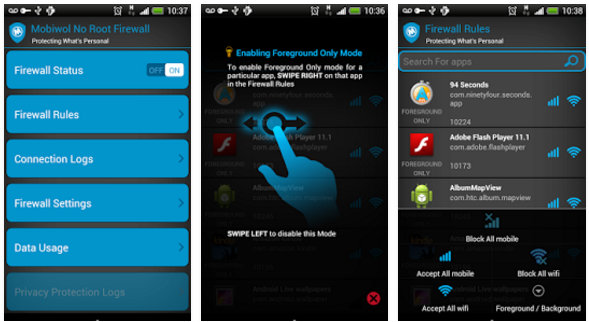 Below are the various options you'll find in Mobiwol, the free Android firewall app:
Firewall status: Here, users can turn on/off the firewall module by tapping on the toggle button.
Firewall Rule: Users can easily configure data transfer rules for individual apps through this interface.
Logs: You can see the content of the log file generated by the incoming/outgoing IP packets in the logs section.
Data usage: Mobiwol tracks your data usage when you enable its firewall feature.
InternetGuard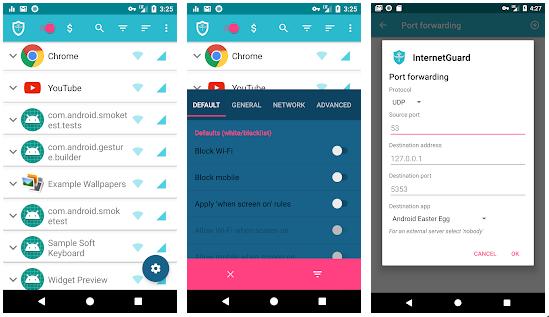 InternetGuard works without prompting users to enable root access. It has 10000+ users. InternetGuard displays filters, a search utility, a menu icon, a list of applications, and an option to show the app details on its main interface. This interface also features a toggle option to enable/disable the firewall. Besides the app name, you'll see two icons. Users should tap the WiFi icon to prevent the app from using the WiFi connection. Similarly, tap the mobile data icon if you don't want the application to use mobile data.
InternetGuard saves the firewall rules on the fly. Hence, it won't prompt users to apply or discard new rules when they quit the app. InterGaurd has a user-friendly interface. You can configure it to maintain the history of firewall rules you've set up and use the dark theme instead of the light theme.
InternetGuard supports subnet routing, tethering, etc. It can also access the local area network. You can use this feature only if your device is connected to LAN. IG provides an option to enable firewall rules for specific networks. It lets users import and export settings. InternetGuard allows users to set the PCAP record size, filter VPN network traffic, etc. It is one of the best firewall apps for Android.
NetPatch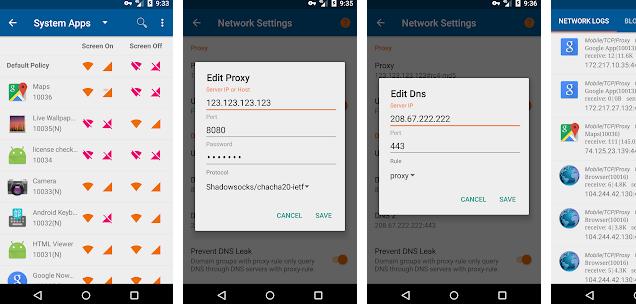 The NetPatch firewall app for Android shows a toggle switch to turn on/off the firewall module when you run it. NetPatch asks its users to permit it to create a VPN connection on the phone. It shows the following options on the main interface:
Apps setting: Through this interface, you can prevent applications from using WiFi/Mobile data connection when the phone's screen is on or off.
Network settings: This window enables you to change the phone's DNS settings, DNS cache time, enable UDP forwarding, and create a new Proxy connection.
Other settings: You can configure Netpatch to activate the VPN when the phone starts, reset all settings, etc from this interface.
The main UI shows five settings options. The above options are available to free users. NetPatch allows its users to export/import its settings.
Final thoughts: Firewall is a must-have application for Android phone and tablet users who don't use an antivirus utility. Install and configure the firewall app once and forget about security issues. Apart from using a good firewall app, make sure you use a good web browser such as Google Chrome. The browser from Google has the "safe browsing" feature that makes users aware of malicious URLs.