Privacy Knight App Locker hides your Pictures, Videos and more
Alibaba holdings limited, the world's largest online B2B company has launched a new Privacy Knight App locker for Android phones and tablets. There are a lot of Android app locker tools available for download on the Google Play Store. What makes the Privacy knight stand out from its competitors is the face lock feature which works very well.
The app also prevents other applications from uninstalling it. It hides your pictures and blocks others from accessing your Facebook, WhatsApp messages.
Privacy Knight from Alibaba automatically detects privacy issues on your phone and it allows you to fix them. To do so, it will display a list of apps along with a checkbox. Apps which require contacts access permission will be automatically selected. If you want to secure some additional applications, select them from the list. After selecting the apps, tap on the protect button.
Privacy Knight will now ask you to set a pattern lock. There's an option to define a Pincode in case you want to avoid using the pattern lock.
Once the password has been set or PL has been defined, the app will prompt you to enable the "usage access" permission. Make sure that you enable this permission else the app will not work.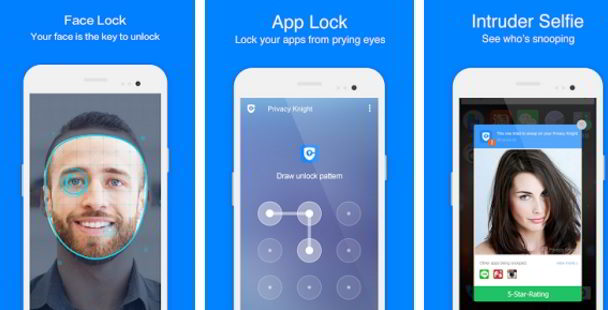 Once this permission has been enabled, Privacy Knight will open its main UI where you'll find the below features:
Notification Lock: When enabled, this feature will block private messages sent by your friends on messaging apps from appearing in the notification panel.
Incoming call lock: This is a special feature which prevents malware or viruses from accepting incoming calls automatically.
Vault: With this function, you can easily hide pictures and videos on your android device.
Clean: This option allows users to remove junk files from their Android phone.
Intruder selfie: If someone's attempt to unlock your phone fails, the Alibaba privacy Knight app will automatically capture his/her image through the front camera of your phone. You can define the number of failed attempts after which the photo should be taken.
Secret Door: This is an interesting feature which replaces the pattern lock of the pin with the below unusual phone unlocking methods.
Blow into the microphone.
Shake the phone vigorously.
Slide your finger horizontally on the dialog box in the displayed picture.
Theme: By default, the Privacy Knight app will use a Blue theme. You can change this theme easily with this option.
Settings: To change the passcode and app lock settings or to disable the removal of Alibaba privacy knight app, visit settings panel.
Face lock: You can set a picture password through this module. Instead of unlocking apps and accessing hidden pictures with Pincode or PL, users can use their face to unlock their stuff.