Aloha is one of the few Android and iOS browsers that offer a VPN utility. It has 5+ million users, a rating of 4.5, and around 50k reviews on the Play Store and iTunes app store. Aloha's APK size is 54 megabytes. It supports Android 4.4 and iOS 9.0 devices.
Review
UI
The interface of the Aloha app is similar to that of UC Mini and UC Browser. The app flaunts an option to enable its built-in VPN/Proxy service on the left side of the address bar. If you tap this option, the Android OS will display a popup box that boasts an option to give the Aloha app permission to run a VPN service on your device.
The VPN connection remains active as long as you are using the app. It disconnects automatically when you quit the browser. You are not allowed to change the VPN location. According to the developer, Aloha doesn't log the user's browsing activities. Aloha features a QR code scanner utility in addition to the free VPN module. The homepage of Aloha flaunts icons of the following websites:
Bing, Amazon, Wikipedia.
Twitter, Booking, Facebook.
Let's call this section the bookmarks area. You can add new bookmarks or remove the existing ones by long-pressing the icon and tapping the close button. Below the bookmarks section, Aloha boasts an option to make it a default web browser app on your mobile device.
Below this option, you'll find a list of trending stories in your country. The app doesn't allow you to remove the news feed from its homepage. In between the list of news, you'll find advertisements. To turn off in-app ads, you'll have to pay a $1 tip to the developer.
Download Manager
Downloading large or small files with Aloha is easy as the app provides a download manager tool. Aloha creates a private folder on the user's device. The folder is inaccessible to other apps. Users can save the downloaded files to this folder. They can also change the folder's name.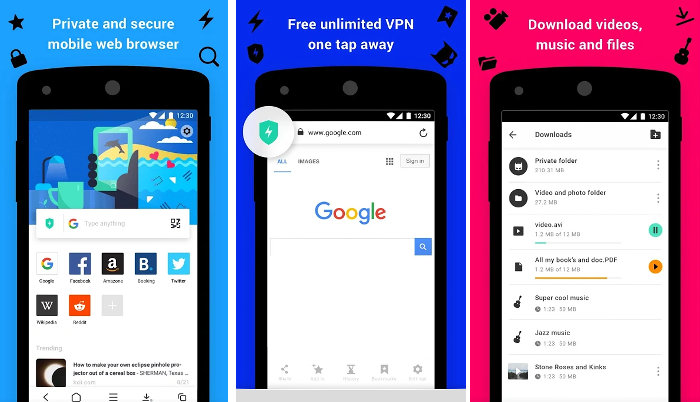 Aloha enables you to download media files embedded in web pages.
Settings
The default search engine in Aloha is Bing. You can switch to another search service provider from the app's setting utility. The browser displays search suggestions when you enter a letter or word in its address bar. If you find this feature annoying, you can turn it off from Aloha's setting interface.
The settings interface of Aloha allows users to turn on the passcode and ad-blocker feature. When you set a passcode, unauthorized users won't be able to use the browser, and when you enable the ad blocker, you won't see advertisements on pages.
Other features:
Private browsing mode.
History section.
Night mode.
Support for different languages.
Things I didn't like about Aloha
Speed: The app took 20 to 30 seconds to open up on my Android device. While using Aloha, my connection speed was 2/3 Mbps. The browsing speed in Aloha is slower than Chrome, Firefox, and UC Web.
Shortcuts: Although Android OS created a shortcut to Aloha on the home screen, the app prompted me to create a home screen/desktop shortcut.
Homepage: You can't change homepage settings in Aloha.
Things I liked
Downloads: Aloha's download manager utility lets you resume/pause file downloading tasks.
VPN: This feature is helpful for users who live in a country where popular sites such as Facebook, Twitter, YouTube are blocked. The VPN service is free. Furthermore, there's no download/upload restriction.
Final thoughts
Aloha is more than a browser. Some of its features may disappoint users searching for a fast/responsive browser application. On my device, Aloha consumed 150+ MB RAM in three hours. It also crashed a couple of times. Because Aloha consumes a large amount of RAM, it may not provide a great experience on mobile devices with 512 or 256 MB RAM.