Do you want to create an animated photo from a still image or convert the standard image to 3D without using PhotoShop, CorelDraw, etc? With the mobile applications I've shared here, you can make 3D images or animate photos within a few minutes. Well, 3D images give you a feeling that the object in the picture is right in front of your eyes. Many people believe that the 3D photo function is available in expensive smartphones only. You don't need an expensive mobile phone to take/generate 3D photos or animate pictures, nor do you have to learn to use photo editing software. Why learn? Installing software such as PhotoShop, CorelDraw, etc is easy, but animating an image or converting it to 3D with them is not an easy task. Should you learn PhotoShop or similar software? No, here are the applications that will animate a standard picture or transform it to 3D:
Best photo animator and 3D photo maker apps for Android and iOS
LucidPix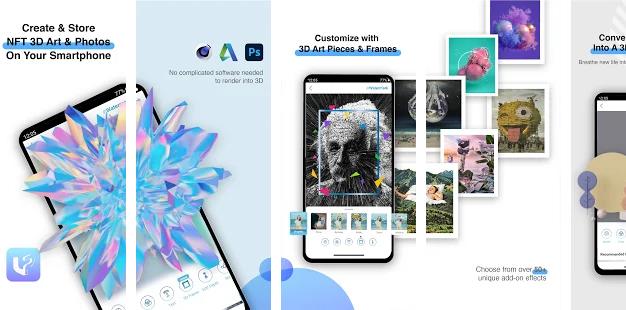 LucidPix processes your picture with advanced AI on its cloud servers. The processing time depends on the size of the photo. For example, the app will take 5 to 20 seconds to process a 100 Kb photo. It may take a longer time if you choose a 1MB image. Once the JPG/PNG is processed, you'll see the 3D photo along with the following options:
Bokeh, Filter, Text.
Edit Depth, Share.
The Bokeh option is available to premium/superusers only. According to the app developers, the Edit Depth function is still in development. The application ships with the following filters:
Original, Minimalist, faded, modern vintage.
Rooted, bay area, radiant, elegant, posterize, pixelation.
Saturation, etc.
The result of the filters is displayed instantly. When your 3D image is ready, you can either download the image or share it with other LucidPix app users. LucidPix allows you to add colorful text to the 3D photo. The result would be great no matter what image you throw at LucidPix. With this application, I created 3D images of memes, humans, etc. LucidPix will add a watermark to each picture it processes. It lets you export the photo as a GIF file.
Size: 39 to 154 megabytes
Wigglegram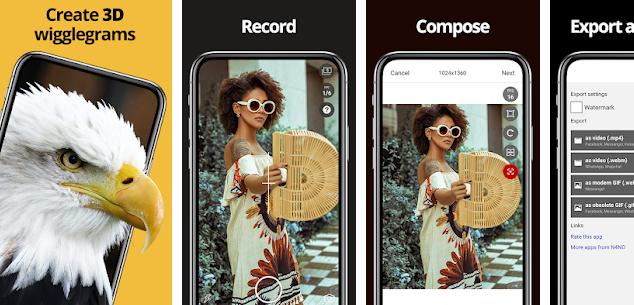 Wigglegram captures several photos and combines them to create an animated picture that looks like a 3D image. It is easy to use. You must tap on the shutter icon when Wigglegram opens the phone camera and slowly move the phone a few centimeters left or right. Make sure that the object in focus is always in the middle of the frame. Wigglegram will capture up to 7 photos one after another to build the animation. You can change this value to 2, 3, 4, 5, 6, 7 and change the shutter speed. The app has the option to turn on the phone's flash, and it lets you save your work as a GIF or video file. Wigglegram doesn't have good ratings, but you can get satisfactory results if you use the app carefully.
Facebook
You may have seen cool 3D images on Facebook while scrolling down your newsfeed. These pictures were not generated by an expensive smartphone. Well, Facebook has a 3D photo filter/effect built-in. Here are the steps you should follow to apply the 3D effect to your photo:
Create a new image post.
Choose an effect and then choose 3D.
Wait for Facebook to process the file.
Tap on the post option.
Facebook doesn't allow users to save 3D photos to their phones. However, you can share the picture's URL with friends.
MotionLeap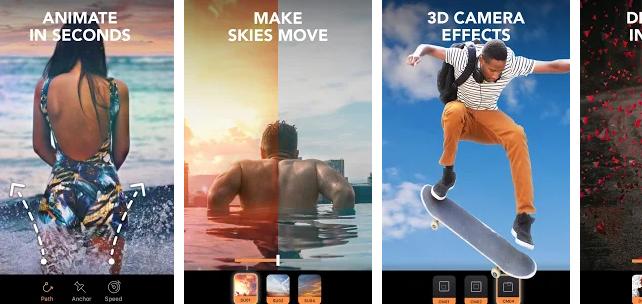 Motionleap was earlier known as Pixaloop. It is larger than LucidPix. Nevertheless, it is a great app to animate photos on iPhone, iPad, and Android devices. Motionleap can animate still images and export the same as a video with an aspect ratio of your choice. Motionleap lets users choose things on the photo they want the application to animate by specifying or setting paths/anchors. The app allows users to select the region on the picture they don't want the app to animate. Motionleap also lets you add cool overlays such as animated rains, diamonds, snow, butterfly, etc to the images. It also allows you to add elements to photos and adjust their opacity. This photo animator app ships with demo projects on which you can apply filters, effects, etc to learn using the application.
Size: 84 to 197 megabytes
Movepic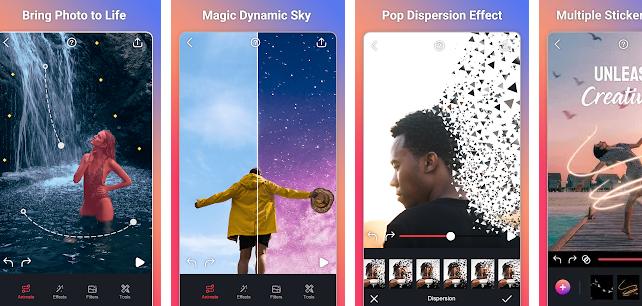 Movepic is an app like Motionleap for Android and iOS devices that lets you add water flow, glitch, live sky, and many other effects to pictures saved on the phone. It can also animate still photos. As in Motionleap, you can choose areas of images you want Movepic to/to not animate. You can apply various types of effects to the animated pictures in Movepic. Movepic is smaller compared to the above application. Still, the amount of storage it uses can increase as 50% + filters/effects in Movepic are of downloadable type i.e., users must download the filter/effect to use it in their projects. Once your creation is ready, you can export it as a 360p, 480p, 720p resolution video.
Similar apps:
Closing words
I have tried several mobile applications that claim to create 3D photos. Unfortunately, none of them were as good as LucidPix. Wigglegram cannot make perfect 3D photos, but it can create short animated GIFs or videos that look like 3D images. The difference between LucidPix and other apps I've shared is that you have to move the phone to see the 3D effect on photos generated by LucidPix. Other applications can apply the 3D effect to still pictures, but their final output is a GIF or video file. GIFs or videos will play as soon as you tap on them. Many social media apps display the label GIF next to the picture when you share/post a GIF file. If the application can create 3D photos, it will display the label 3D next to the image. If you share the video or GIF on Facebook, Twitter, etc, the user must tap on the post to see the animation or video. This site may not play the animation/video automatically.