In many organizations, managers or team leaders track the attendance of their employees with the help of a timesheet. Timesheet is not only used in companies. Freelancers use them to track their work hours or work time. Students use them to track the duration for which they've studied. Although you can prepare a timesheet using Microsoft Excel, LibreOffice Calc, and similar spreadsheet applications, why waste time in this when dedicated time tracking tools are available for PCs, Android, and iOS devices.
Best timesheet apps for iOS and Android
Toggl Track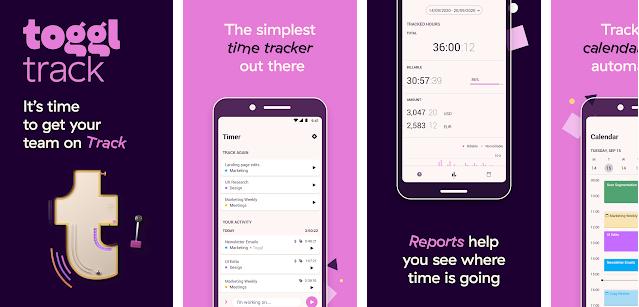 Toggl Track is a top-rated timesheet app. It has 500k+ users and a rating of 4.5. It has one of the best user interfaces among other apps I've covered here. To track time with Toggl, you must create a project. A project belongs to a workspace. You can add multiple projects to a single workspace in Toggle Track. Toggl Track supports integration with calendar apps. It also allows users to see the data/statistics in a single view. The statistics/reports view displays the number of hours/minutes you've worked on billable/nonbillable projects, the total number of hours you've spent on the project, etc. If you've set/configured the pricing, Toggl Track will automatically calculate your earnings and display the same in the "Report" section. Although Toggl Track is an excellent app, you may forget to stop the timer because of the small-sized "stop" button. A solution to this is a built-in Toggl Track. You can specify the end time for the task while creating a task in this application.
Timesheet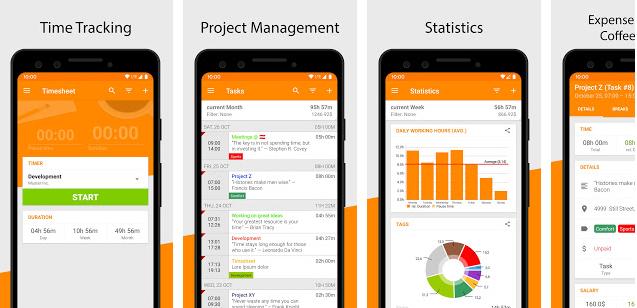 Like Toggl Track, Timesheet is an online/offline cross-platform time tracking app. To get started with this app, you should create a new project by filling in the following details:
Title, employer/client, description, location.
Salary, tasks, etc.
A project in the Timesheet application can have many tasks. Once your project is ready, Timesheet will display a large light green color "Start" button. Before you start your work, you must tap the "start" button. When you take a break or decide to leave the office, tap the stop button. When you tap the "Stop" button, Timesheet will prompt you to enter some details of the task/work you've done before tapping the "stop" button. You can add tags to tasks, export the projects to an XLS document, work offline, and synchronize the data when you're online with the Timesheet app. Timesheet supports the dark theme, foreign languages and provides many other customization options. It also has a "statistics" section where you'll find graphs of 2/3 types.
aTimeLogger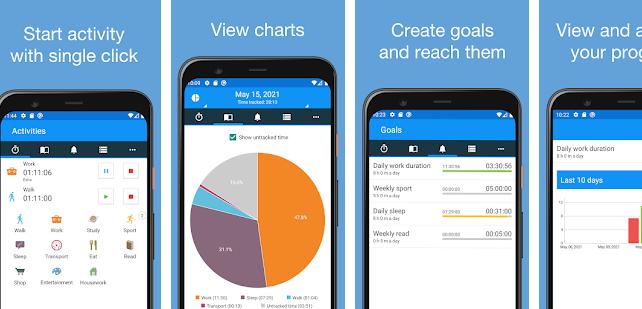 aTimeLogger is an application through which you can track the time spent on regular activities, including the time for which you slept, ate food, studied, walked, read a book, spent at work, etc. On its home interface, the app shows a list of activities. Once you tap on an activity, aTimeLogger will start its timer and show a button to stop the timer. Once you tap on the "stop" button, aTimeLogger will save the task. In the history section, you can see all the tasks and their start/end time. The application enables you to create and work on goals and has a report section where you can see the tracked data displayed in nice reports.
Time Recording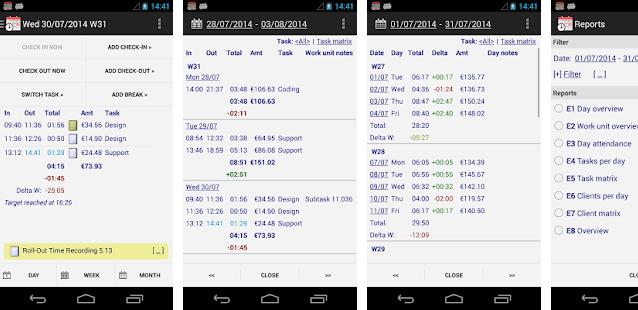 Time Recording is an easy-to-use timesheet app. Unlike the 1st two apps that prompt you to create a project, you should tap on the "check-in now" or "add check-in" buttons to start the task in the Time Recording application. Tap the "check out now" or "add check out" buttons when your task is over. Time Recording will show tasks below the buttons instead of showing tasks in a separate interface.
Time Recording features editable templates. A template is nothing but a "task". For example, the app shows the following tasks when you tap on the "templates" option:
9 AM in, 5:30 PM out.
Break now for the next 15 minutes, etc.
The application can create various reports. It lets users filter the data of reports and displays an option to save the report as an HTML, Excel, PDF file. Time Recording allows you to change the interface font size. It lets users change the position of the buttons panel and tasks panel on the main interface.
Harvest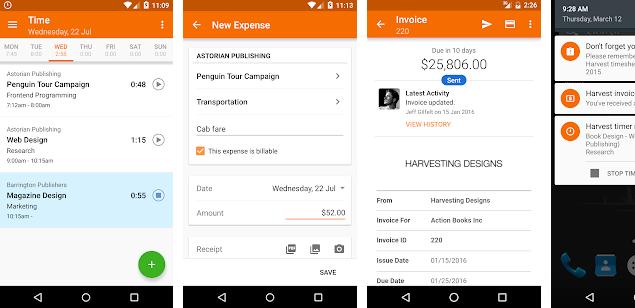 Harvest is an excellent alternative to the timesheet applications I've shared above. Once you create a project by entering the project name, selecting a project category/date, and entering the duration, Harvest will show a notification that displays the time for which you have been working on the project, the project name, category, and an option to stop the timer. Harvest ships with an expense logger utility, and it supports invoicing. It allows you to see the reports of the tasks, projects, and time. Harvest doesn't require an active internet connection. However, if you want to access your timesheet reports/data on other devices, you'll have to enable mobile data/WiFi connection and manually sync the offline Harvest entries.
Conclusion: These were the 5 best timesheet apps for Android devices, iPhones, and iPads. The applications have exportable reports, a built-in timer, and a good UI. The apps will save every task and project you've created as long as you use them. They're small in size compared to Excel and other spreadsheet apps.