Social networking applications and websites have changed our lives. They are must-have applications. With a social media app, you can make new friends, chat with a friend situated at a distant location, or find out what your friend is up to.
Social media portals that were operational before Facebook had basic features. Also, they focussed on one-to-one and group conversations. For example, in Orkut, messages sent to you by people were private. Orkut didn't have an option to make the messages public. Today's social networking services are feature-rich and are like an open book. You can see what people have shared on their profiles and what they're doing on a social networking app. For example, if you submit a new post in a group, the message will appear in your news feed.
Although you'll find 100s of social media applications on the Play Store and iTunes, you should use the applications that are used by hundreds of millions of people. If you do so, the chances of finding your friend or making new friends will increase. Here are the top social networking applications on the Google Play Store and iTunes:
Facebook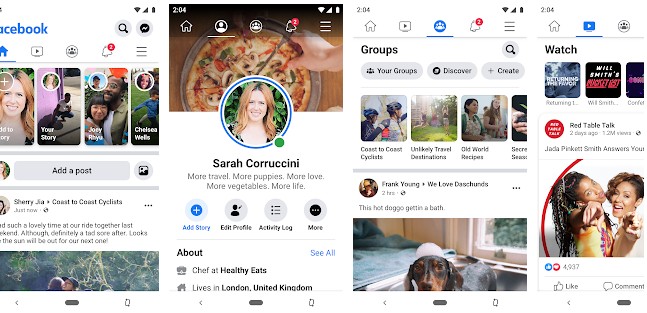 Facebook is the world's most popular social media site. It has 2+ billion users. Facebook is used by celebrities, politicians, businesses, and ordinary people. The social networking app allows users to create groups/pages and assign administrative privileges/roles. It enables users to follow pages. If you want to have followers, you should create a page and if you're looking forward to building a community, create a group. FB doesn't have restrictions on the number of groups or pages you can make. Facebook allows its users to create and share posts on their walls, pages, or in groups. It also lets users play games.
Twitter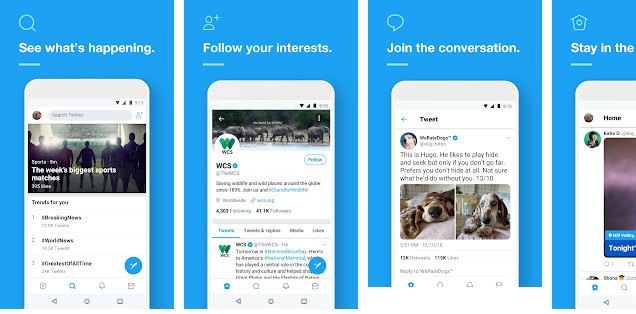 Twitter is the 2nd most popular social media app. Every month, over 200 million people use Twitter. Unlike the Facebook app that doesn't limit the number of characters you can add to a post, Twitter restricts the length of the posts to 280 characters. Posts on this social networking app are called "tweets". Twitter doesn't allow users to create communities/groups. However, it enables users to follow each other. Twitter lets users like posts and comment on posts shared by users. Twitter accounts can be either public or private. If an account is private, only the followers of that account will see the posts/tweets. Everyone can see or reply to the tweets if an account is public.
LinkedIn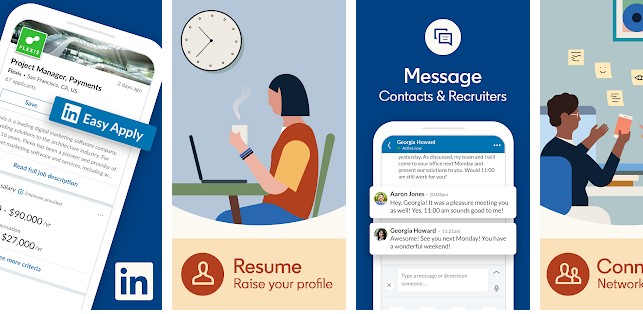 LinkedIn is a social media app for professionals. The app is predominantly used by people who are hiring or are looking for a job. A LinkedIn profile is similar to a resume. LinkedIn will display your profile in search results when you create a profile and complete it. This social networking application allows companies and small businesses to create a page. When your page fulfills LinkedIn's publishing criteria and is published, LinkedIn will send traffic to it. LinkedIn is used by top managers, executives, managers, engineers, and 1000s of companies. It lets users find jobs. It also enables you to post new jobs.
Instagram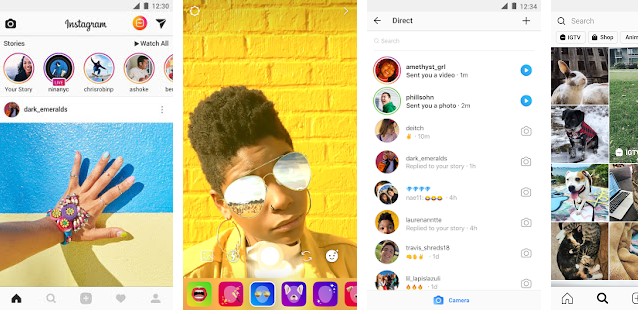 Instagram is a social media app that lets users upload and share images. It was an independent company. In 2012, its founders sold the service to Facebook for a billion dollars. Instagram lets users apply filters after uploading and before sharing the picture. As in other social networking apps we've covered here, you can follow users on Instagram. Instagram is similar to Twitter. You can't create groups in it.
TikTok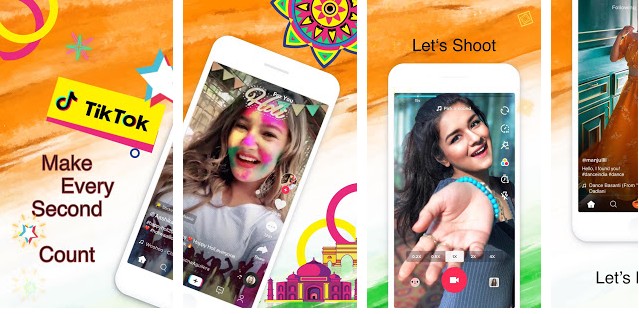 TikTok is a social networking app owned by Byte Dance Studio. It enables users to create, upload, and share short videos. Before making a video, you should choose a background sound. When TikTok starts playing the sound, you should start acting accordingly. If you don't want to lip-sync on songs, you can record your voice and use it as the video's background. The application lets users like or comment on the videos. It enables you to follow people who you think are worth following.
Also read: Best apps like TikTok
Snapchat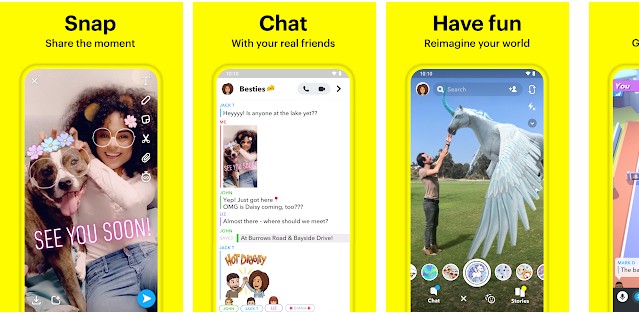 Snapchat is an application that allows its users to share "disappearing" messages. It deletes the pictures automatically after the time set by the user. Snap Inc, the developer of the application, has claimed that the messages/snaps users send to their friends are deleted from its servers. To make a picture look funny or exciting, you can apply an effect to it in Snapchat. Like Facebook, Snapchat lets its users play games. It also enables you to send messages.
YouTube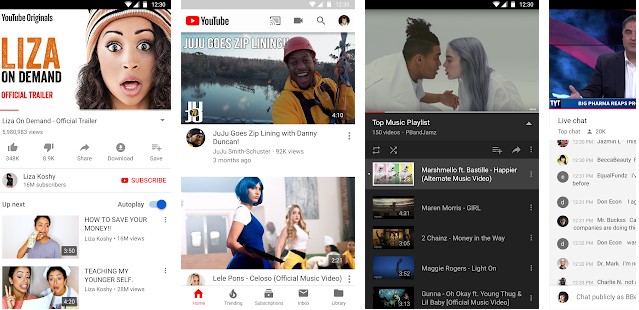 YouTube is one of the most visited websites on the internet. It allows users to share videos with millions of people. Although YouTube is a video hosting site, it has some basic social networking features. You can subscribe to your favorite news channels and comment on videos. You can also like or dislike videos. YouTube is the only social media app that lets users dislike things that they don't like.
Must read: Best apps like YouTube
Pinterest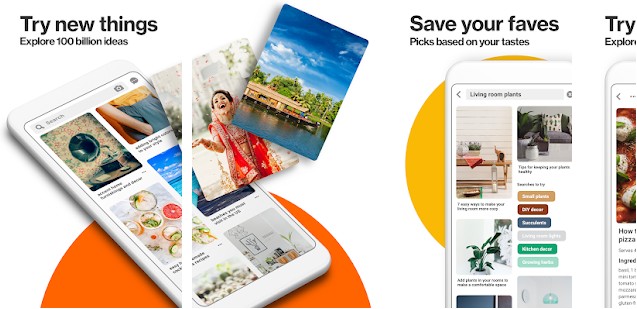 Pinterest is a great social networking app for people that like to share or discover art. It allows users to create a board where they can share posts. The posts in this application are called "Pins". You can find 1000s of designs on Pinterest.
Some of the features common between the above apps:
Hashtags: The above applications have a unique feature called "hashtags". When you tap on a text beginning with the "#" symbol, the application will show all posts with the word displayed after the "#" symbol.
Visitors list: Excluding LinkedIn, none of the applications I've covered above display the number of people who have visited your profile.