Also known as the contacts app, the phonebook is one of the most frequently used apps on a mobile phone. The pre-installed contacts manager tool on Android phones has basic features and many drawbacks. Here are some of the major limitations of the default application:
Duplication and grouping: The app fails to identify duplicate numbers in the contact list. If you restore contacts from Google Drive or Dropbox, the phonebook will become a mess. The app doesn't let users group contacts. Hence, to send messages to co-workers or friends, you'll have to copy the numbers manually.
Images: Pictures can help people in finding a contact quickly. The app lacks an option to add a photo or group contacts. It doesn't include a search option. Hence, you won't be able to find the contacts by name.
Customization: The icons used in the app are ugly. Furthermore, the app doesn't allow users to change the font and color of the interface.
Android is a powerful OS. You can replace any utility of the OS with the one you want. The Google Play Store has tons of contacts manager apps. Here are the applications that we consider as a perfect replacement for the default phone book utility on your smartphone:
Best contact apps for Android
Google Contacts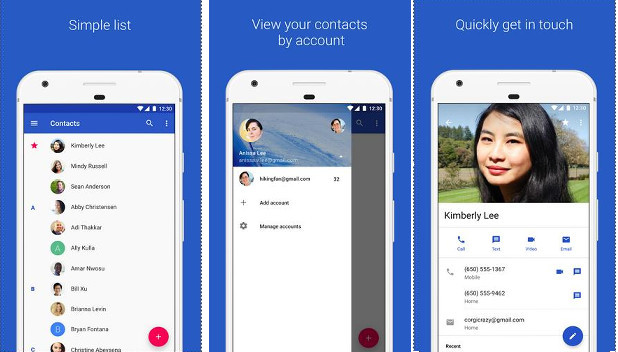 GC runs on devices powered by Android 5.0 and higher OS. It identifies duplicate entries in the phone book and displays an option to merge them. It has the "suggestions" feature with which you can find and add the frequently dialed numbers to the contact list. GC lets users mark contacts as their favorite.
GC lets you import contacts from a SIM card or a VCF file to the phone book. You can also backup or export contacts with it. GC enables you to sort the contact list by first or last name. You can also change the way the app displays names on the list. This Android contacts app syncs your contacts with Google Drive. It allows you to create and assign labels to the contacts. GC has a built-in call blocker utility, but it doesn't have a dialer. Its size is 3 megabytes.
Must see: Best SMS apps for Android
Contacts+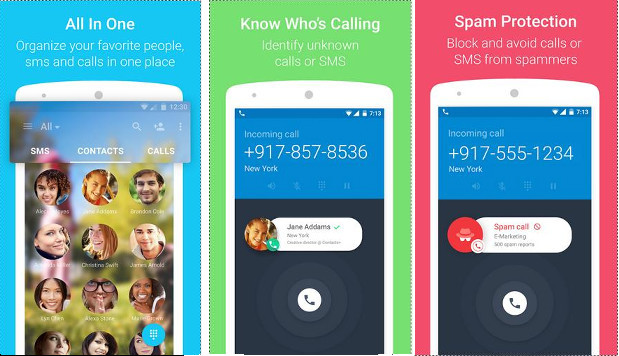 C+ is an excellent alternative to the Google Contacts app for Android. It can find and merge duplicate entries automatically. It lets you back up the contacts and messages on the phone's storage memory. The app provides a shortcut to make calls quickly. To make a call, users must tap the contact's photo twice. CP allows users to add shortcuts to their favorite contacts on the home screen.
Contacts+ has a caller ID function. Hence, you can get details of unknown callers and block fake callers without using a third-party reverse phone number lookup app. C+ enables you to search for SMS by word. It allows you to see the messages and calls received from a specific number. It has a built-in dialer and SMS blocker utility. Users can set up call reminders in Contacts+. C+ has the option to change the home screen icon and the color of the user interface. It consumes 20 to 22 megabytes of storage memory. The application is compatible with Android 4.0+ operating systems. It has ads.
Also see: Best apps like Dropbox
True Phone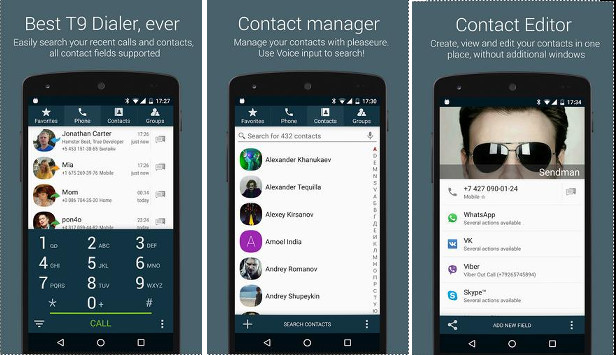 True Phone is a powerful contact manager app with a built-in T9 dialer. It allows users to customize the interface's text size, design, theme, navigation bar, etc. It lets you change the date format, dial pad font, etc. You can configure TruePhone to hide the labels, icons, colored avatars, etc.
TruePhone lets you organize and group contacts. It provides an option to restrict the call log history to 1000 items. It supports Dual-SIM phones. True Phone enables you to blacklist phone numbers and contacts. It lets you create shortcuts to contact groups or individual contacts on the home screen. This contacts app for Android supports 30 languages. It has filters to show only incoming, outgoing, missed, or blocked calls in the call logs/history. Users can import or export contacts with True Phone.
Contacts Optimizer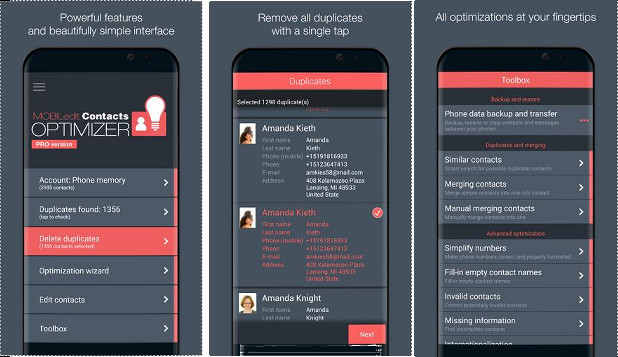 If you're happy with the existing contact app on your phone and you're searching for an app to eliminate duplicate or invalid numbers, backup, or restore contacts, download Contacts Optimizer. CO supports numbers with special characters. It lets you filter contacts by photos and numbers. It allows you to bulk delete birthdays, contacts, etc.
This Android contacts app includes a wizard utility that will scan the phonebook and recommend optimizations. It has a search-replace utility and can move contacts from one account to another. CO enables you to manage WhatsApp contacts. It can add the country code in front of contacts and fix the capitalization errors in the phone book. CO lets you see the contacts that don't have a name. The application doesn't have advertisements, but it displays a popup box with a message to buy the Pro version of CO.
Also read: Best backup app for Android
Drupe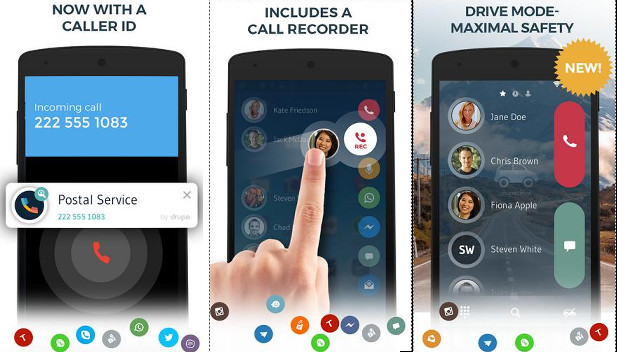 Drupe has 10 million users. It is a top-rated contacts app that supports speed dial function and dual SIM Android phones. It ships with a powerful T9 dialer. The app provides several themes for the phonebook and dialer. Drupe includes a caller ID utility. It lets you block spam messages and fake calls. The interface of Drupe has a semi-transparent background. To access it, you must tap on the three dots displayed on the screen and swipe it to the right side.
Drupe draws the phonebook over other applications. It includes a call recorder utility. It allows you to find the phone numbers of popular businesses in your area. If your friend uses Drupe, you can send GIFs to them. The app lets you star and reorder contacts. It runs on Android 4.1+ devices.
Final thoughts: The applications I've shared above are the five best contacts apps for Android. They have an excellent customizable user interface and many useful features.