There are many situations wherein the Android call recorder apps come in handy. Hence, they are the must-have apps. Below are the two real-life examples that explain the same:
If you receive threatening calls from an unknown phone number, you can easily record the call and register a complaint in a nearby police station. The recorded conversation will be evidence that your life is in danger.
If you're a professional who gets instructions for a project through a mobile phone, you don't have to note down instructions on a paper or use an Android note-taking application if you use an Android call recorder app. The ACR will automatically save the instructions as an audio file.
Some mobile phones and voice-calling tablets have a call recording function built-in. You can easily activate this feature from the settings interface of your phone. If your mobile device doesn't support automatic call recording, you can use one of the apps I've shared below.
Best call recorder apps for Android
ACR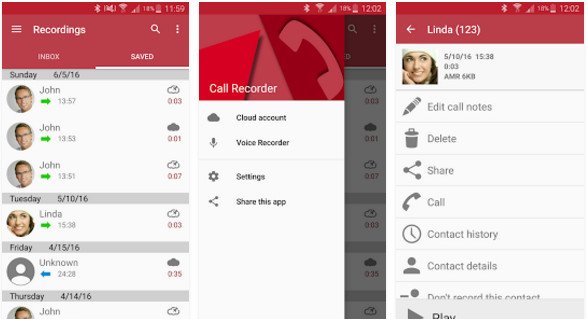 ACR is the most popular app on our list. It supports two of the most popular cloud storage platforms i.e. Dropbox and Google Drive. Once you connect your cloud storage account to ACR, the application automatically syncs your recordings.
You can configure ACR to automatically increase the phone's volume so that the audio quality in the recorded call is of optimal quality. ACR for Android gives you access to a settings window where you'll find options to:
Change the default audio format from AMR to 3GP, AAC, AAC2, WAV, etc.
Enable or disable automatic speaker function, delayed recording,
Change the recording path, reset configuration path, set up recording filters, etc.
The size of the Automatic Call Recorder app for Android on the Google Play Store is 3 megabytes. It runs on Android 3.0 and higher versions of Android OS.
CallX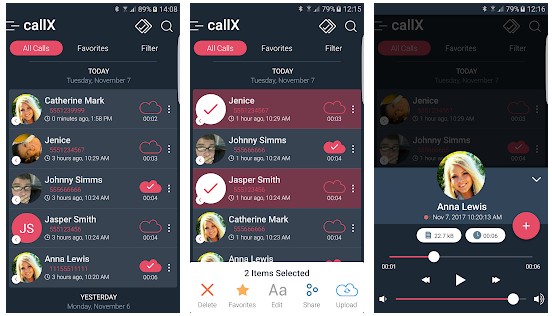 CallX has a brilliant interface. It provides a toggle option to enable or disable the call recording feature for specific contacts. The app has a tabbed interface, and it offers a search option. It also has a caller ID utility built-in. CallX allows users to set a PIN code to protect their recorded calls. It enables you to sort the recordings by date and contact.
Users can configure CallX to record incoming, outgoing calls from numbers not in your contact list. With CallX, you can upload a recorded conversation to DropBox, Google Drive, etc. You can also share the recordings with users of WhatsApp, Skype, Viber, etc. CX is one of the top 5 free call recorder apps for Android phones and tablets.
Call Recorder – Automatic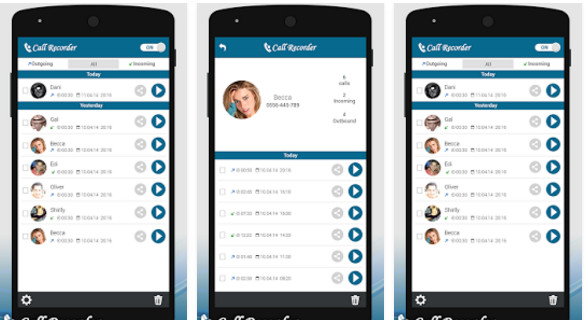 CRA is one of the most straightforward applications to record calls. Once you install it, the app will keep recording conversations until you uninstall it or change its settings. CRA lets you whitelist numbers. Once you add a phone number to the whitelist, the application will ignore it. CRA enables you to sort the recordings. It also allows you to listen to or share the recording.
CallU (S9)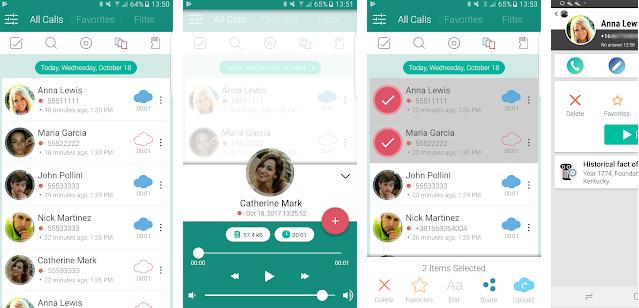 CallU supports two modes – automatic and manual. It lets you change the name of the recorded file. While changing the name, you'll see a large text area where you can enter a description/note for the recording. CallU lets you specify the input audio source. It supports two file formats – WAV and MP3.
Users can configure CallU to:
Start recording calls when they shake their phone.
Store up to N files on the phone's storage memory.
Users can also bulk edit, share, or favorite recordings. CallU displays the amount of storage consumed by the audio files saved on your phone. The application can upload the recorded conversations to Dropbox or Google Drive if you link your Dropbox/Google Drive account with it. CallU supports Pin Code and Fingerprint locks. It is one of the best call recorder apps for Android.
Auto Call Recorder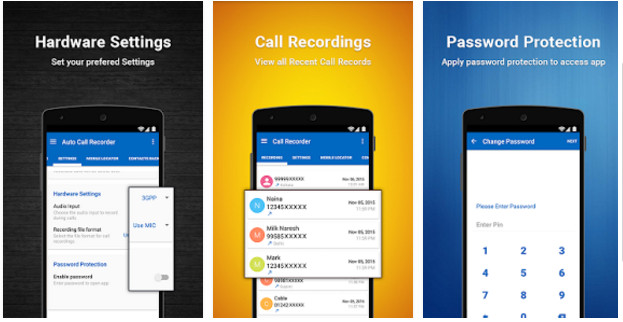 ACR 2017 is not as popular as the above tool, but it works great. It records incoming or outgoing calls and saves the conversation without changing the quality. ACR 2017 supports different languages. It can save recorded calls as an MP4 or 3GPP file. It lets users back up their contact numbers.
This Android app enables users to set the maximum call record duration. You can configure it to delete the recorded files after 15 days or 1/3/6 months. Users of ACR 2017 are allowed to enable the password protection feature, which prevents others from going through your recordings.
Super Call Recorder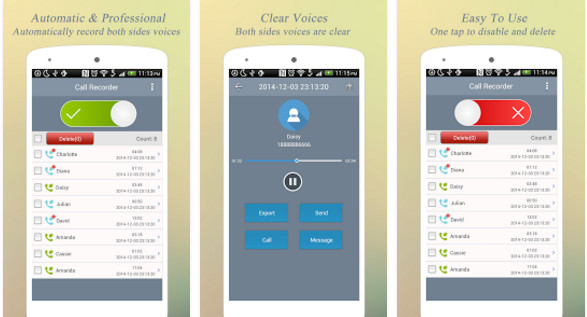 SCR is the smallest Android call recorder app on our list. It runs in the background and records all types of calls automatically. SCR uses the microphone of the mobile phone. The user must avoid using a headset while the app is active for the best results.
SCR has an ordinary interface, but it is very powerful. It has a toggle button to disable or enable call recording and notifications. It features a slider tool to set the audio volume. The app lists all the recordings on a single interface. For managing the records, it provides bulk selection/deletion tools. SCR is compatible with Android 2.0 and higher devices. It saves your recordings in MP3 format.
Final thoughts: The above 6 Android call recorder apps have fantastic ratings. They're trusted and used every day by millions of users. They are error-free and have easy-to-use features. Most of the applications will record your calls automatically. You can change their behavior from the settings interface.
Also see: Best Android browser apps