Backup apps are free and ensure that your data is 100% safe. Every day, we get to hear news about exploding cell phones. If this unfortunate incident happens to you, you'll lose valuable photos and files. How you'll react to these two situations? Your wife gives birth to a beautiful daughter, and you take pictures of the newborn angel and her mom with the phone. You forget to back up the data or transfer the images to the PC. After a few days, the phone starts heating up unexpectedly. Its battery explodes. The phone's display is shattered, and the hardware components are also damaged. Well, if you had backed up the pictures to the MicroSD card or cloud storage, the images would have been intact.
Android devices are prone to virus and malware infection. If a virus infects your device, it may delete the database of your favorite applications and games. To avoid the above two and many other scenarios, we must use apps to back up our data to the PC or a MicroSD card. The Google Play Store gives users access to two types of backup apps. One which saves data to local storage memory. Others that sync your images and important files to the cloud storage platform. For extra precaution, we must use apps that offer both the functionalities because if the storage hardware malfunctions, you can upload/download the backup to/from the cloud platform.
Best backup apps for Android
Super Backup & Restore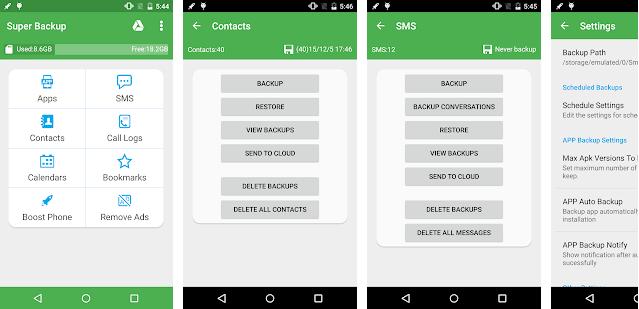 The main window of the Super Backup app for Android flaunts an option to backup contacts, SMS, call logs, calendar entries, pictures, apps, and bookmarks. Creating a backup is an easy task with SBAR. All you have to do is tap on the option of your choice and wait for the app to finish the job. SBAR enables you to share or receive the backup files over a WiFi connection. It provides a 1-click option to restore the backed up files. The application lets users schedule backups and specify the folder where it should save the backup files. SBAR doesn't require root permissions. However, it will ask you to enable permission for accessing the contacts, photos, SMSes, etc. SBAR is free and supports multiple languages. It is reliable and fast as well. You can install and use it on Android 2.3 and later OS.
Must read: Best dating apps
Helium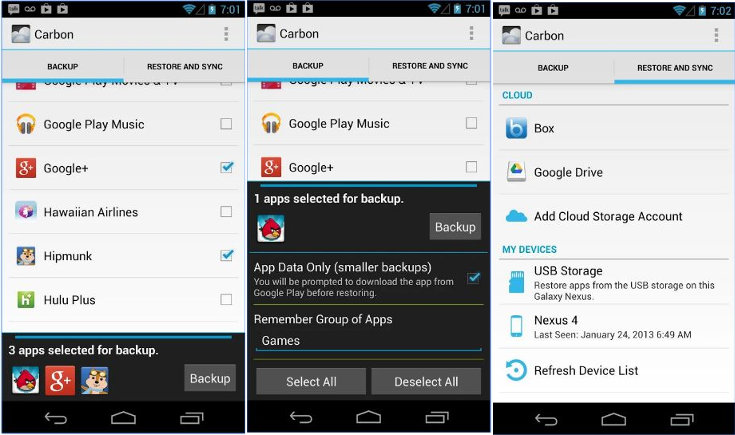 Helium is a free Android backup app developed by ClockworkMod – a software development firm behind popular Android apps like the ROM manager, DeskSMS, Tether, etc. Helium provides several premium features free of cost. Hence, it is an excellent tool to backup apps and data. You'll be asked to enable Google Drive support by logging into your Gmail account when you run this application. You can ignore this message if you want to save backups offline on the MicroSD card or to the PC. Helium supports rooted as well as non-rooted Android devices. Users who haven't rooted their mobile devices must install the Helium desktop software or Chrome Extension to back up files. Once you run this application on the computer and mobile, connect both devices with a USB cable. The free version of Helium provides excellent features. If you want to send your backup to cloud storage, upgrade to the app's premium version.
Requirement: Android 4+ OS.
Recommended article: Best Android root apps
Backup Your Mobile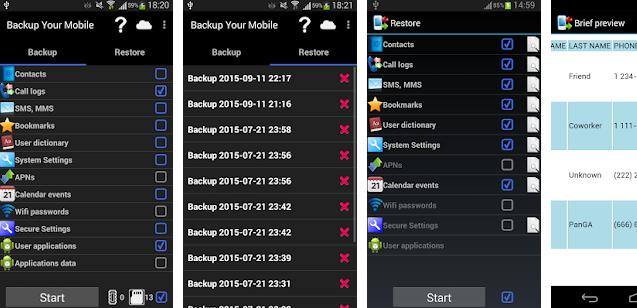 BYM is a free app that doesn't waste your time. It allows users to back up the following data on their phone or tablet:
SMS, MMS, call logs.
Calendar, dictionary, contacts.
System settings, user dictionary, and more
BYM has the option to backup Android apps installed on your smartphone to a folder on the SD card or ROM. It supports Dropbox, Google Drive, OneDrive, and Yandex storage services. BYM supports scheduled backup tasks. It lets you create password-protected and encrypted backup files. It has a simple interface.
Supported OS: Android 2.3.3 and later versions.
Must check: Best video player apps for Android and iOS
Backup and restore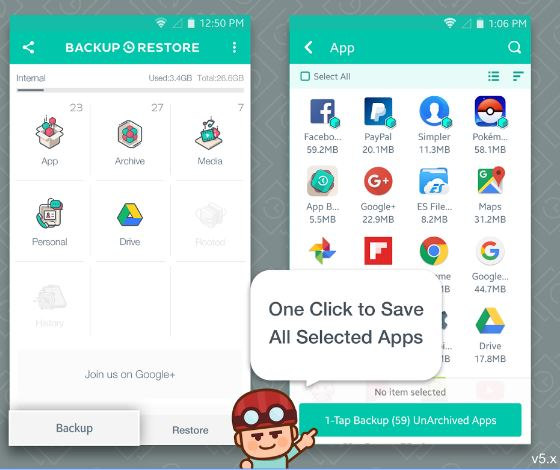 This application features a classic mode module that makes file backup tasks dead simple. Like other backup apps for Android I've covered here, BR has a simple UI, and it provides many functions free of cost. It also supports the Google Drive cloud platform. BR lets you share apps between two or more devices without a WiFi router. It has an inbuilt virus scanner utility that identifies malware, worm, or virus infected files on your device. The app has a 1-tap backup option that you can use to back up contacts, calls, and SMSes quickly. It has a settings interface with which you can:
Set a folder where backups must be stored.
Enable auto-backup feature.
Turn on/off notifications.
Switch to another language, and more.
Also read: Best cloud storage apps
Sandisk Memory Zone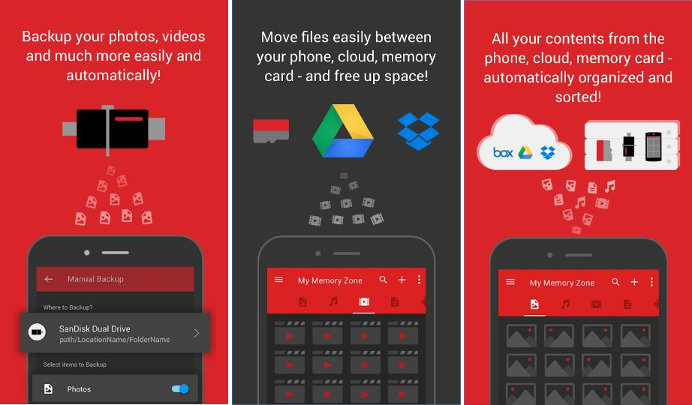 Launched by one of the biggest HDD manufacturers in the world, SMZ features a tabbed interface that displays a thumbnail view of videos, music files, and pictures along with a list of apps, etc. You must select the files you want to back up with the Sandisk Memory Zone Android app. Apart from backing up the files, you can use SMZ for bulk file transfer and compression. The Sandisk backup app for Android has a search function that users can use to locate folders and files quickly. It supports integration with cloud services such as Box, GDrive, DropBox, Microsoft OneDrive. SMZ allows users to sort the list of files by their modification date, size, and name. It has a function to switch from the thumbnail view to the list view.
Easy Backup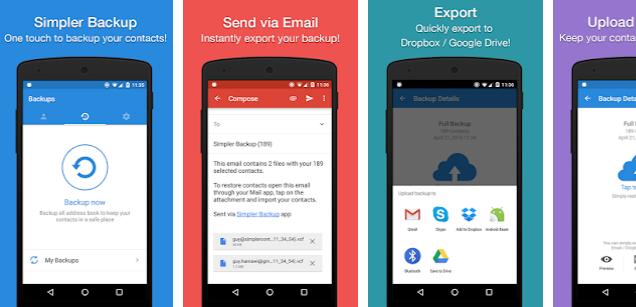 Easy Backup is a simple app to backup contacts. Its size is 15.1 MB only. EB displays a large "backup" option on the interface. It also enables you to see the list of contacts and manage the duplicate entries. If you tap the "backup" option, EB will backup all contacts and display the backup file's size. It will also show two options – Email and Export. If you tap one of these two options, you'll see a popup with two icons – Facebook and Google. Select one option from these two to email or export the backup. Easy Backup's settings interface lets users configure the way the application should handle duplicate contacts.
Alternatives to the above backup apps for Android:
Must see: Top 5 Best app to recover deleted files from Android
Another great way to back up files is to use file compression and a file transfer app or a cloud storage service. Once you compress the file, you can send it to the PC or another phone, or the cloud.
Final thoughts: If you have captured many photos with your cellphone camera and have several important documents on the ROM, make sure you download and use one of the best backup apps I've shared above.