Small businesses use fax machines. Large organizations also use them. Before the smartphone revolution, it was possible to send a fax only through a computer or a fax machine. Now, you can send an exact copy of a document with your mobile device. To send a fax with your smartphone or a tablet, you can install one of the Android applications I've covered below.
Best fax apps for Android
Simple Fax Free Page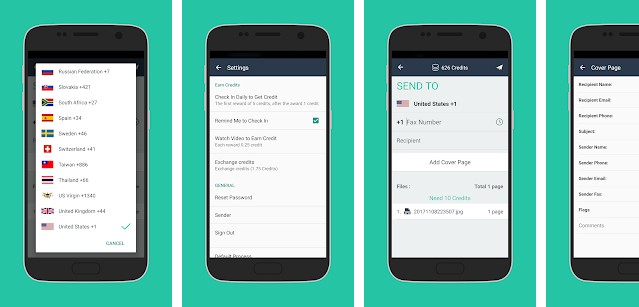 SFFP doesn't charge users for the 1st fax they send with it. If the users sign into the app, they'll be rewarded ten free credits. Users can also earn credits by watching videos in this application or using the app every day.
You should choose an image/pdf/document file stored on your device to send a fax. When you select a file, SFFP will ask you to enter the recipient's fax number, name, etc. It will also prompt you to add/upload a cover page. This Android fax app remembers numbers to which you've sent faxes frequently. You should tap the history icon (indicated by a clock) to see these numbers. SFFP allows users to create a folder and move the sent faxes or drafts to this folder. It can remind you to check in daily.
Snapfax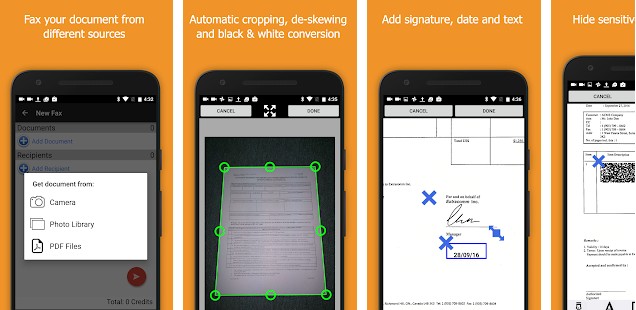 As in SFFP, new users are rewarded one credit point, which they can use to send one fax for free. Snapfax can import the numbers of recipients from a CSV file. You can also add a cover before tapping on the send button. The price of purchasable credits is higher in Snapfax compared to the above application.
SF can automatically insert your name in the header line of the fax if you enter it in the settings interface. It lets you set the page size and backup/restore the drafts, history, etc. SF doesn't ask you to register an account or log in. Your device will be automatically assigned a unique ID when you run this application for the first time. In addition to sending a fax to various countries, you can also receive fax with this application.
FaxFile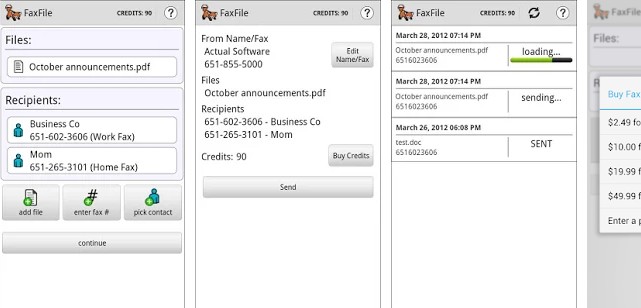 FaxFile, unlike the above two applications, doesn't offer free credits to the users. Also, ten credits are required to dispatch fax in FF. To receive a fax, you should install another application launched by the developer. FaxFile has a "status" section where you'll find the list of jobs and their status. It supports Google Drive, Box, DropBox, Microsoft Drive cloud storage services, and has the option to enter the name/phone number in the settings interface. The name and number you enter in this interface will appear on the fax.
Must see: Best business card scanner apps
MobiFax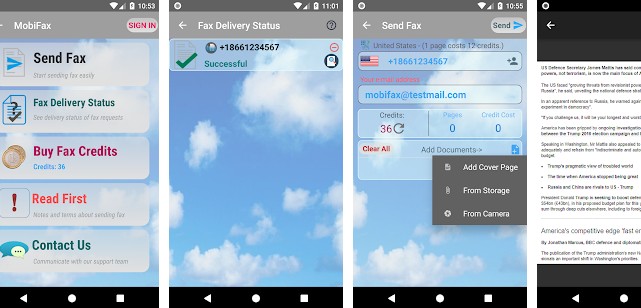 According to its developers, Mobifax is one of the cheapest and most affordable fax services on the Play Store. As in the SnapFax application, you don't have to log in to use Mobifax. Mobifax doesn't offer free credits, but its pricing is cheap. For 2.5 USD, you can get 100 credits in this application. This fax app for Android offers similar features as the above services. It also gives you access to a contact form section through which you can get in touch with the customer support team of MF.
Fax Plus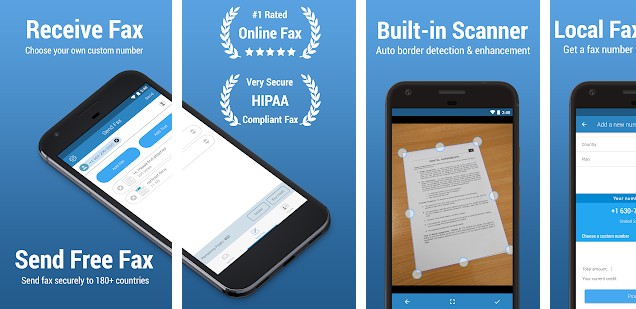 F+ is the largest fax app for Android on our list. It ships with a document scanner utility that can identify the text in pictures of a document you've captured with the phone's camera. It also provides advanced text formatting tools. Fax+ stores the sent/received faxes in an encrypted archive. It lets users schedule transmissions. The first ten transmissions in this application are free. F+ supports electronic signatures. It can send faxes to machines located in 150 countries. F+ also allows users to receive fax on their mobile devices.
Tiny Fax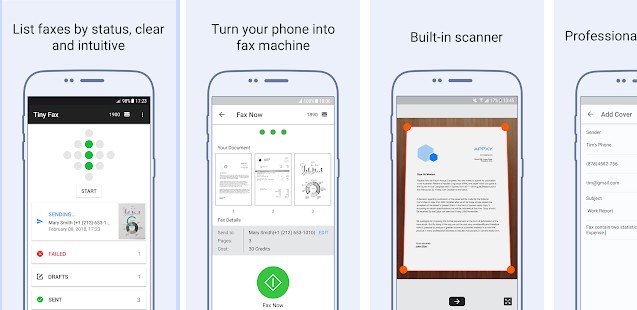 Tiny Fax is one of the most popular Android fax apps. Unfortunately, it is available only in certain countries. TF makes you aware of the credits that will be spent once you upload an attachment. The application lets users archive faxes by their status. It can import the documents you've saved on popular cloud storage services.
As people may misuse the application, the fax apps for Android are not free. Some of the above apps provide free credit to users. The credit will be wasted once you send a fax. Thus, if you've to send a single page, you don't have to pay money. If you want to send copies of several pages, you may have to buy credits or perform a task such as watching a video to earn credits.
Also check: Best Android PDF Reader apps