A business card is a small rectangular card that boasts the address, name, and phone number of a business or a person. It is one of the best and cheapest ways to get exposure for a business. You don't have to visit a professional designer or hire a freelancer to create a business or a visiting card in the digital era. Also, you don't have to buy a business card holder or box to store your cards. Android or iOS apps can save business cards on your phone. They also let you design professional-looking business cards for free.
Best business card scanner apps for Android and iPhone
Eight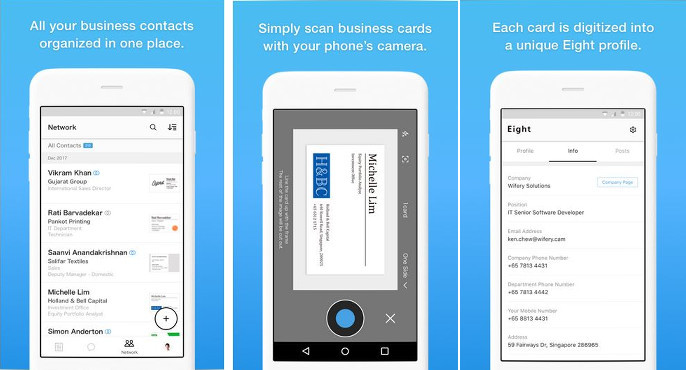 Eight is a LinkedIn like social network for business professionals. Sansan, a Japanese firm, developed it. The app scans your business card and creates a profile based on the information printed on the card. Digitization is done by the staff working on Sansan's Eight project. Once your Eight profile is ready, you can add work experience, skills, previous jobs, qualifications to it.
The application allows you to tag your contacts. It also provides an option to add notes to contacts. Eight enables users to publish new posts. As in LinkedIn and Facebook, users can control the visibility of their posts in Eight. The application allows you to connect with other users by scanning their business cards.
CamCard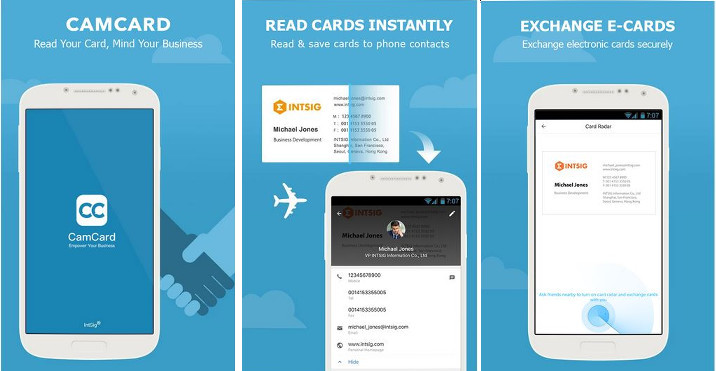 With 10 million users, CamCard is the most popular business card scanner app for iPhone, iPad, and Android devices. The free version of CamCard allows you to scan and save 200 cards, and it has a beautiful user interface. CC uses a smart OCR algorithm to convert the text printed on a business card into an e-card/contact.
CamCard's OCR utility recognizes characters of 17 different languages. It supports batch scanning operation and has a unique feature called Radar, with which you can find CamCard users nearby you. Users of this app can share cards they've scanned with other users via QR code. If the person in your CamCard contacts is using this application, you can send messages to them. CamCard lets users merge and group contacts. It saves your data to a cloud server. Hence, you can access your contacts on a PC or a mobile device.
Also check: Best WiFi texting apps
Business Card Holder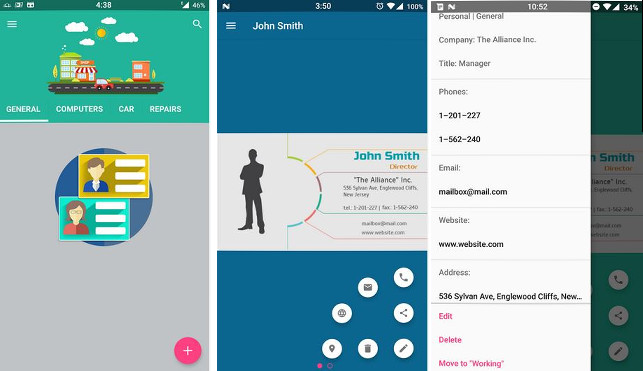 BCH is an Android app that takes photos of your business card and saves them on the MicroSD card of your phone. Once BCH takes the picture, it prompts users to enter the following details:
Name, address, phone numbers.
Email address, website, company.
Title, note, category.
The app can group your business cards into the following categories:
General, Clients.
Suppliers, Materials.
BCH can upload the pictures of your business card to Google Drive. It lets you filter photos by category and search e-cards by name. BC Holder supports the voice search function. You can change the quality of the scanned image, specify the sorting method, change the theme in it.
Must check: Best contacts app for Android
Wantedly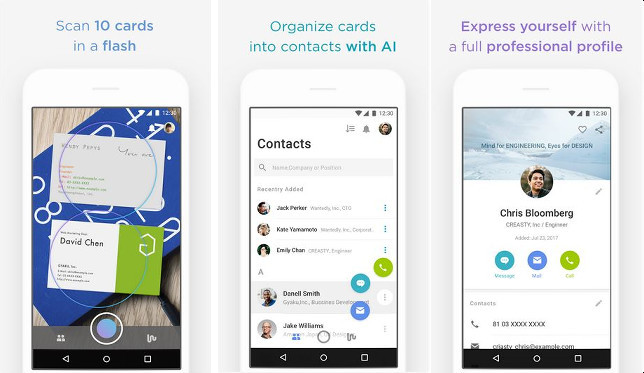 Although it's not as popular as Eight and CamCard, Wantedly is a great business card scanner app. Wantedly allows you to scan business cards without logging in, but you must log in to the app to save the cards. Once you register an account, Wantedly will ask you to create a profile. The app can use the information printed on your business card as your profile details. To use this feature, you must scan your card with it. If you don't have a business card, you can manually enter your profile details in this application.
Wantedly can scan up to 10 business cards at a time. Once it finishes scanning your cards, the app will analyze the cards with its smart OCR utility. Wantedly can sync the contacts/e-cards to your device. It enables users to export and import their e-cards. Wantedly has a beautiful interface. It is fast, free, and easy to use.
BCard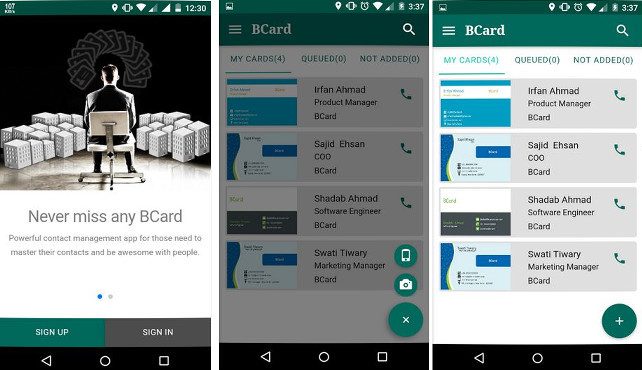 BCard is a free business card scanner app for Android, iPhone, and iPad with 50k users. Its main interface features three tabs. Cards that have been digitized successfully appear in the BCards section. Images that are in the processing queue are displayed in the processing section. Cards that BC failed to analyze appear in its failed section. To get started with BCard, users must register an account and scan a business card. BCard processes the picture you upload within 3 minutes.
The free version of BCard lets you upload and store up to 10 cards in your account. This is the biggest limitation of this application. If you've logged in to the app with your Google account, it can automatically sync your data to your Google account. BCard can export your contacts to an excel file. It allows you to tag your business cards and has a search option.
Also read: Best Android gallery apps
Best business card maker app for Android
LensCard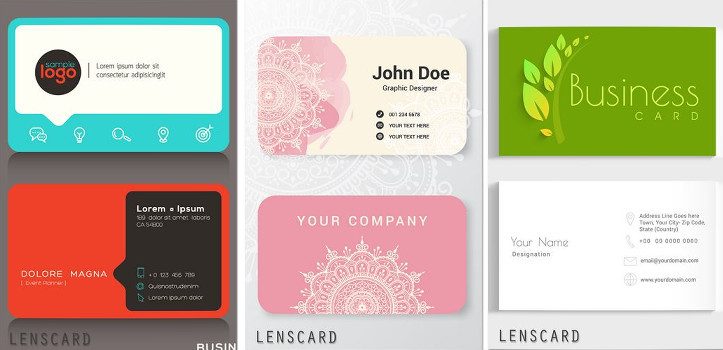 LensCard is a free app that allows users to design, share, and store business cards on their mobile devices. Users can create the following four types of cards with it:
Standard, custom-sized.
Vertical, and multi-sized.
LensCard also provides an option to add text, logos, and icons to the card. It allows you to change the background color of the card. Users of Lenscard can change the font and color of the text. They can also preview the front and backside of the template before customizing it. LC supports 300 fonts and provides 250+ business card templates.
Must see: Best drawing apps for Android
Business Card Maker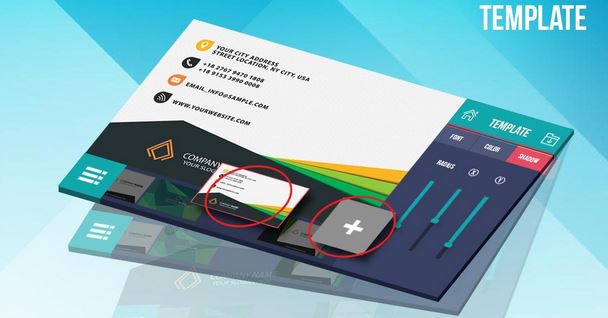 BCM is a free app from Light Creative Labs that provides 100+ unique business card templates. To create a business card, you must select a template. Then, you must customize the template's front and backside. BCM lets you add logos, text, borders, lines, and images to the templates. It also allows you to change the font, orientation, color, opacity, and text size. If you don't like the default templates, you can create a new template with this application. Once you've finished editing the template, you can save your work as a draft or export the card to the gallery.
Advantages of the above apps over reverse number lookup apps and business sites.
Reverse phone lookup apps have a database of 100+ million phone numbers. One or more people using this app might share the same name. Unless a person has uploaded their display picture, it isn't easy to find people by their name in reverse phone lookup applications.
Yelp and Google Places are two of the most popular business review websites. Businesses fear getting negative feedback from customers. Hence, despite being a free service, not every company is registered on Google Place or Yelp.