You might want to use free public WiFi when you're in a public place. Companies provide free WiFi access to the public to increase their user base. A great example of this is Google. The search engine giant has installed routers at 1000s of railway stations. If several companies offer free WiFi service at a park, railway/bus station, library, college, etc, it won't be easy to decide which network you should use. This is because the connection speed and quality may vary. To find out which WiFi hotspot or router provides the best speed and security, you should use one of the following applications on your Android phone or tablet:
Best WiFi analyzer apps for Android
Farproc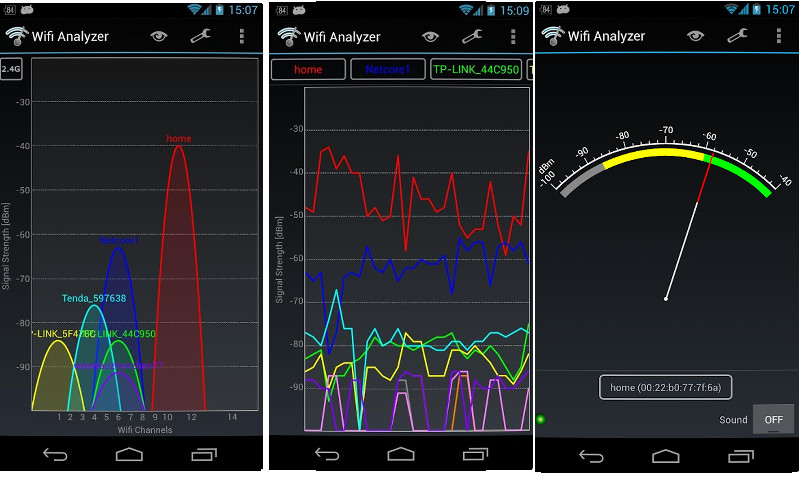 WA is a small application that converts your phone into a powerful WiFi Analyzer. When you run it, WA will find available WiFi network connections at your place. Then, WA will update the signal strength graph displayed on its main interface. The app can generate 3/4 types of charts. It updates the graph in real-time. Farproc WA makes you aware of the manufacturer of the router/hotspot. It displays the security protocol the wireless device is currently using.
If your phone is connected to the network, you can see the MAC address of the device and the IP address assigned to your PC with this application. WiFi analyzer allows you to take a snapshot of the graphs, statistics, etc. It features a signal meter tool that enables you to see the WiFi device's signal strength. Farproc WA provides a settings interface where you'll find the following options:
Prevent the screen from turning off.
Enable immersive mode.
Change graph colors.
Change scan interval.
Disable automatic scanning, etc.
The size of the Farproc WiFi analyzer for Android is around 5 megabytes. WA displays horizontal banner ads. It employs a dark theme by default.
Netgear WiFi Analytics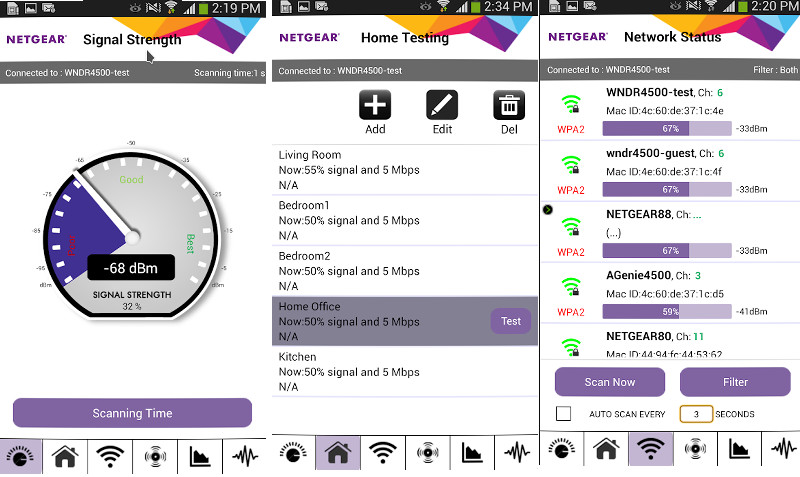 Netgear WA allows you to see the signal strength and the operating frequency of a network connection. This app can generate a network signal strength graph. It lets users record signal strength in various rooms of the apartment. By default, the statistics displayed by this application are refreshed every 1 second. You are allowed to change the refresh interval in this application.
Although the Netgear WiFi analyzer app for Android has good features, it has some drawbacks. For some reason, the app requests location access permission when you run it for the first time. It doesn't make you aware of insecure network connections.
Also see: Best Android download manager apps
WiFi Analyzer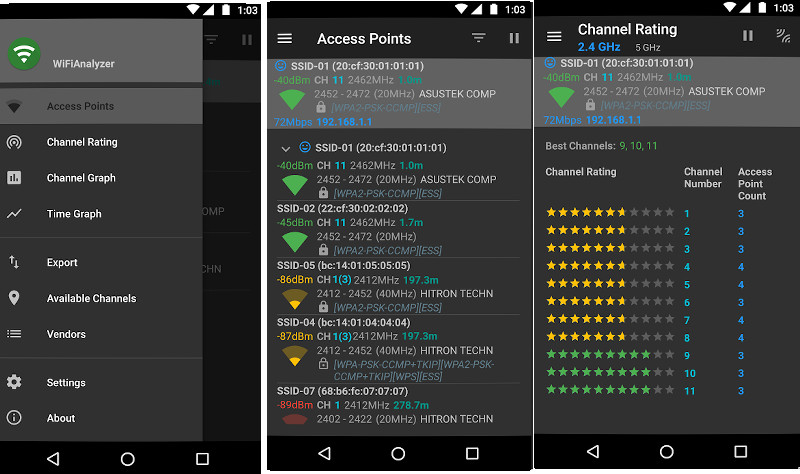 WiFi Analyzer for Android is an open-source app that requires no special permission to work. It also lacks advertisements. Instead of displaying the connection signal, device manufacturer, security protocol, etc, in a separate interface, WA shows the complete details of the connection on its main interface. WFA provides filters to shortlist connections by their SSID, WiFi band, security, and signal strength. It includes an export option that lets you share the connection details with other users. It supports dark and light color themes.
Unlike other apps that don't allow you to pause the WiFi scanner, you can pause/resume scanning in WFA. WFA lets users see the WiFi bands/frequencies supported in various countries. Like other Android WiFi analyzer apps I've covered here, WFA generates graphs that display the signal strength of the WiFi networks the phone can detect. You can customize the chart by changing the maximum supported signal strength value or hiding the graph/time legend.
Top-rated apps like Farproc, Netgear WA, WiFi Analyzer:
IP Tools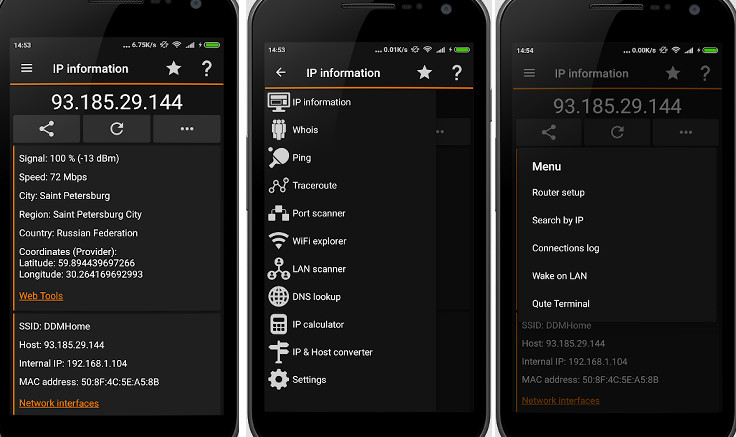 IPT is one of the best WiFi analyzer apps for Android phones and tablets. It has a basic WiFi analyzer utility, but it offers the below six additional tools that people who want to learn more about their ISP will find helpful:
WHOIS checker.
IP Details.
Traceroute.
LAN Scanner.
DNS lookup etc.
What features does IPT's Android WiFi analyzer provide?
A real-time graph of network signal.
SSID, signal level/strength, supported protocols, BSSID, bandwidth frequency, and the channel of all WiFi networks the phone can detect.
Also see: Best WiFi signal booster apps
NetX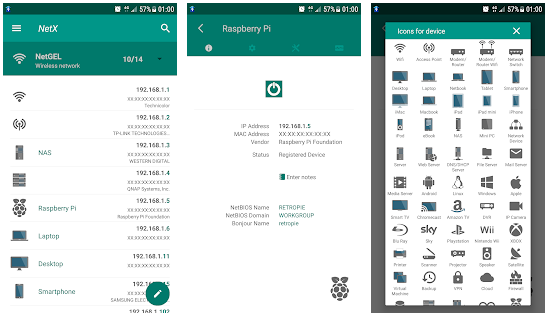 NetX is not as popular as other apps I've shared above, but it is worth using. The app supports SSH protocol and has a port scanner tool. It enables you to ping the gateway/network device and has an option to import/export settings. The NetX WiFi analyzer for Android displays the Preferred/Alternative DNS, subnet mask, gateway IP, and the IP address your device has been allocated. It shows a real-time network connection graph and the current download/upload speed. NetX supports multiple languages and dark/light color themes. It provides an option to disable logs and hide the device's MAC address.
Network Master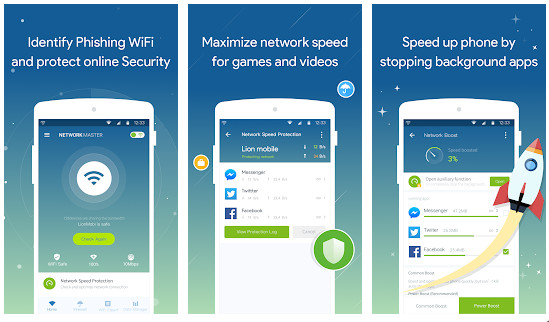 NM is one of the most downloaded Android WiFi analyzer apps on our list. It is the only app on our list that shows the real-time network connection speed on the phone's status bar. NM detects the number of devices that are connected to the network. It has a network speed optimizer tool. It also features a WiFI Spy detect tool, which displays the IP addresses and names of the devices you've or haven't authorized to connect to the router/hotspot. NM's WiFi analyzer tests the security and speed of the network device your phone is connected to and optimizes it if required.
Note: This app is not available on the Play Store anymore.