Kids of this generation are addicted to smartphones. If your kids take studies seriously and have friends of similar nature, you shouldn't be bothered. But if they're in bad company or naughty, you have every reason to be worried.
Kaspersky, the leading security software development company, had launched a parental control app called Safe Kids in 2016. With this app, you can keep an eye on your child's online or offline activities. If you are concerned about your child's safety or suspicious about him, you should try out the Safe Kids application.
Kaspersky Safe Kids review
Getting started
Kaspersky SK displays a small slideshow to first-time users. The slideshow gives users an idea of what the app is all about. Once you go through all slides, you'll see an option to log in to the app. Yes, that's right! The Safe Kids application requires account registration. You can't sign in with your Google, Facebook, or Twitter account.
Once you log in to the app, you'll be prompted to install KS SafeKids on the phone of your son/daughter. The app will display setup instructions on the screen. Make sure you follow the instructions.
Note: Although Safe Kids is free to download, you must upgrade to the premium version to enjoy all features ($14.9). You can try out the app's premium version for 7 days or continue using its free variant.
Permissions required
Once Kaspersky learns that the setup task is complete, you'll see an option to set a 4 digit pin. You can skip this task if you want.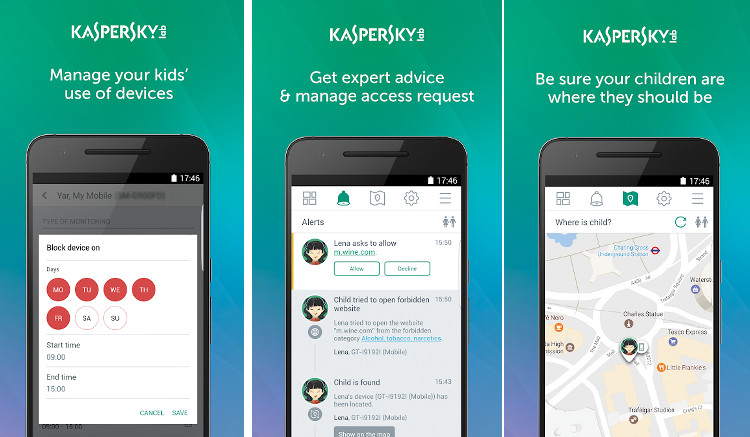 Features of the Kaspersky Safe Kids:
The main interface of this application gives you access to the following interfaces:
Internet
This section of KS Safekids allows parents to turn on "safe search" and "web activity monitoring" features. It also boasts a toggle option to activate filters that will prevent your son/daughter from opening certain types of websites.
Must see: Best apps to monitor data usage
Alerts
Most parents only allow their children to use WiFi or mobile data connections to browse educational websites. But do they know what websites their children open when they are using the internet?
Well, you can keep an eye on your child's online activities by checking the alerts section of the Kaspersky Safe Kids application. If your child tries to access a restricted or blocked app or website, the alert section will be updated with a new message. The app will also display an option to give the kid access to the blocked app/website.
SMS and calls
Kaspersky SafeKids keeps track of messages sent to/from their kid's mobile device. The SMS interface is similar to that of the phone's inbox. It displays the message sent/received time.
App usage
To know whether your kid is using educational apps or not, you can see the "App Usage" report of SafeKids. Although Google Play Store doesn't have inappropriate apps, it has 100s of online dating apps, games, etc. With the "App usage" feature, you can see the list of inappropriate apps your son/daughter has used.
Location tracking
Want to know where your child travels when he is not at home? Use this feature of Safe Kids. As this application uses GPS technology, the location displayed on the map is accurate.
Also read: Best navigation apps for Android and iPhone
Block phone and apps
Kaspersky SafeKids allows parents to block their kid's device or apps the kid has installed on their phone/tablet from a remote location.
Requirements
SafeKids is a cross-platform application. It supports Windows, Mac, Android, and iOS operating systems. It requires 40 to 50 megabytes of storage memory.
Pros:
Easy to use/understand features.
Cross-platform.
Lower pricing compared to other similar apps (Premium version costs $14)
Cons:
Must check: Best Android firewall apps