Discord, the cross-platform communication application, is very popular among gamers. This is because you can connect gaming consoles such as Sony Play Station, Xbox, etc to Discord. In addition to this, you can create groups and add members to the groups in Discord. Groups in this application are called servers. Once your server is ready, you can chat with people, share files/GIFs/pictures, etc.
In 2020, templates were introduced in Discord to help users in creating/launching a server quickly. The company also shifted its focus from gamers to everyone looking for a communication app by changing its motto. If you're using Discord and, for some reason, you no longer like it or want to use it, you should know that Discord is not the only application that supports real-time interaction, video calling, file sharing, etc. Here are the 5 great apps like Discord you can use:
Best discord alternative apps
Telegram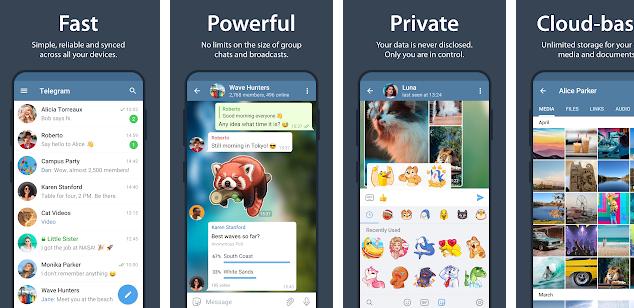 Telegram is a great alternative to Discord. It is a privacy focussed cross-platform messaging service with several features. Unlike Discord which supports only 8 megabytes of attachments, Telegram lets users share files of up to 2GB in size. The app supports end-to-end encryption and can delete the sent message after N minutes/seconds. Sometimes, you may send a message but later regret sending the message. Telegram gives the message sender the option to permanently delete the message from the message receiver's & the sender's device.
As in Discord and apps like Discord, you can create groups (called channels) in Telegram. Communities, aka channels on Telegram, can have up to 200k members. Telegram can play videos hosted on other sites in its interface. It also allows you to send a direct message/pings to the user by entering @ followed by the user name and message. Telegram supports voice/video/text chats. It saves data of users in different countries securely.
Slack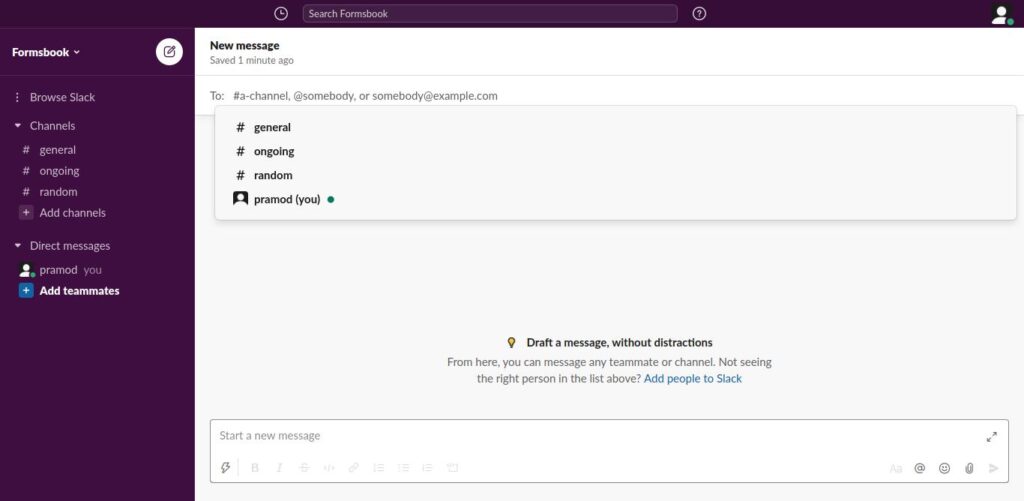 You must either join a workspace or create a new one to use Slack. Slack will extract the business name from the email ID and set it as the workplace name if you're using a business email address. If users create a Slack account with the business email ID, the application will allow the users to join your workplace (the one having a business name in the email address). For example, if you create a workplace with the business email address [email protected], Slack will set the workplace name as "Example" and will display an option to allow users to sign up with the email address containing "example.com" to join the workplace "Example".
Like other apps like Discord, you can invite people to join your workplace. Each workplace in Slack can have multiple channels. The application adds these channels automatically to the workplace – general, random. The channels can be used for various purposes. For example, you can discuss one project module on one channel and another module on another channel. If you're a gamer, you can discuss one campaign of a game in one channel and another in a different channel. Slack enables users to send direct messages to other users. It supports emojis, attachments, etc. You can thus share game screenshots, files, videos, etc. Slack has a search tool. The search results are limited to the workplace only.
Element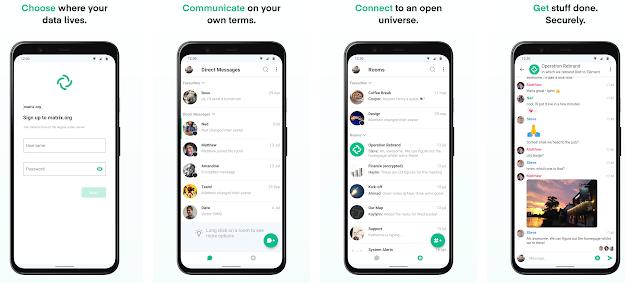 Element protects the data of the user by using end-to-end encryption. It lets users sign in with their phone number, email address, or user name. During account registration, entering an email address is optional. Element enables users to choose the server where it should save the user data. The default location is Matrix.org. You can also host your own Matrix server if you know Linux. The Element app allows users to find groups. You can find groups without logging in to your account. However, you will have to sign in to the application to join the discussion. Element shows notifications on phones.
If you're using Element on a PC, you can activate desktop notifications. This Discord alternative app allows you to send direct messages and create groups. It supports video calls, voice calls, and emojis and can share files. Element enables users to turn on/off the composer (writing interface) features. For example, you can disable the suggestions of emojis, activate the "press ctrl + enter to send" feature, etc. In addition to WhatsApp like features, Element has many privacy/security-related settings. You can delete the sessions, export E2E keys, verify remote sessions, etc in this application.
Skype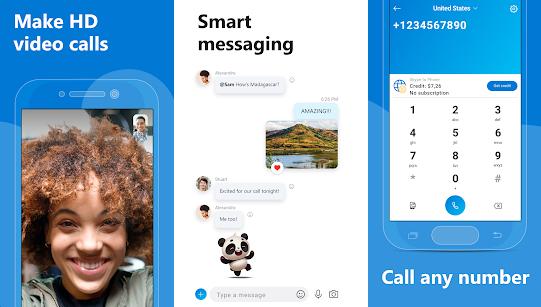 Skype is a Discord like app that supports voice and video calls. You can talk with up to 24 people at a time with the Skype instant messaging application. The application supports emoticons and GIFs. It lets users create meetings and join online video conferences. Skype is a cross-platform service. You can access your chats on mobiles and desktops. The app allows users to share files of size up to 300 megabytes. Why Skype? Well, Skype has been active since 2003. Most people who have used the internet may have come across or have heard about Skype. Convincing people to use Skype won't be a difficult task.
Mumble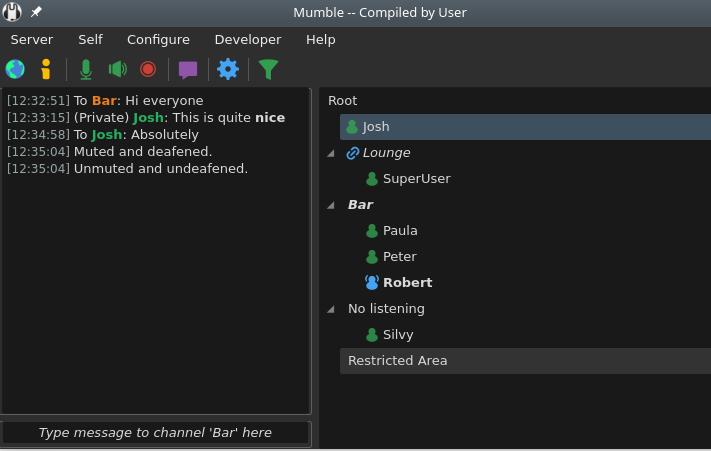 Mumble is a low latency communication app ideal for users that want their messages to be replied to or seen instantly. The application also encrypts communication between two or more users with a 256-bit encryption algorithm. It has two special features for gamers – position audio and in-game overlay. It also supports the push-to-talk feature. Unlike the above apps like Discord, Mumble's source code is listed on Github. If you know the programming language in which Mumble was written, or you know programming, you can go through the code if you have any doubts about the security.
More apps like Discord:
Conclusion: If you're looking for a Discord alternative app, use one of the 5 applications I've shared above.