Although Instacart was founded in 2012, it became a popular service when lockdown & curfew was imposed in the US. Instacart now claims to be the largest grocery delivery service in the world. It partners with large retailers and stores and delivers items on the behalf of the business to the customer. Instacart is trying to become Amazon by allowing users to buy products other than groceries but it lacks features that should be part of a shopping site. For example, the application doesn't allow users to rate products. Unless you buy and use the product, you may never know how the product is. Another drawback of Instacart is that it may charge a pickup fee. Well, Instacart isn't the only grocery delivery or grocery buying app. Here are its alternatives:
Best apps like Instacart
Amazon Prime Now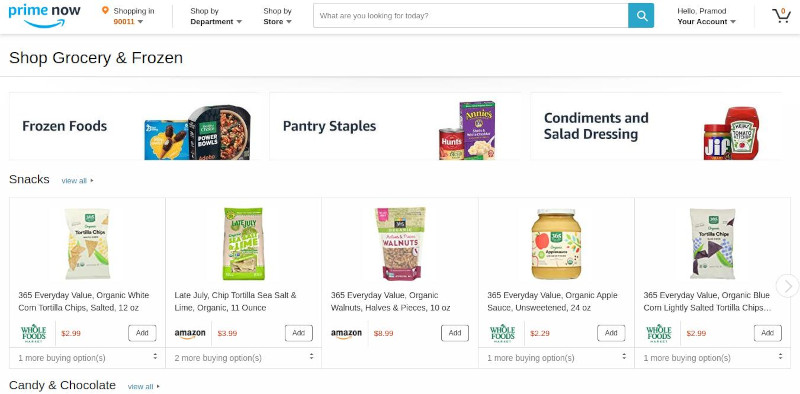 Amazon's Prime Now service allows users to see the list of cities where it operates or delivers products. It enables users to browse grocery, frozen food, etc by categories and also allows users to buy things from other sellers in case they want to buy the product from a store not owned by Amazon. If another store is selling the same product on Prime Now, you can see its detail by clicking on the "1 more buying option" which is displayed below the "Add" button. Amazon allows users to explore items by stores. Why use Amazon? Well, the reason why a user can use Amazon Prime Now is that Amazon has a vast delivery network. The Prime Now subscription will cost you $119 per year. For students, Amazon offers a 50% discount on the annual/monthly subscription plan. If you don't buy the subscription, you can get the items you buy delivered for free if the combined value of goods in the cart is 35 dollars.
Shipt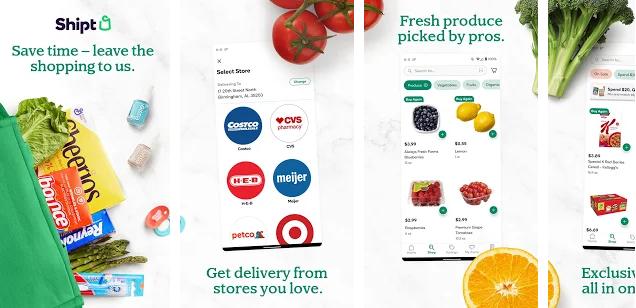 The Shipt same-day grocery delivery service is owned by Target Corporation. As in Instacart, Shipt asks users to enter the zip code, and then it shows the products that the user can buy. Shipt's grocery delivery service is available in 4900+ cities across the United States. Like Instacart, Shipt offers a paid membership wherein Shipt will deliver the orders for free. Shipt enables users to link the rewards they've earned from various retailers with the application. Once you link the rewards, you can buy products at a much cheaper price. Shipt delivers items you've ordered for free only if your cart value is $35. If the cart value is below $35, you'll be charged a $7 delivery fee. If you buy groceries online only from Shipt, you can go for the annual membership plan that costs $99.
Postmates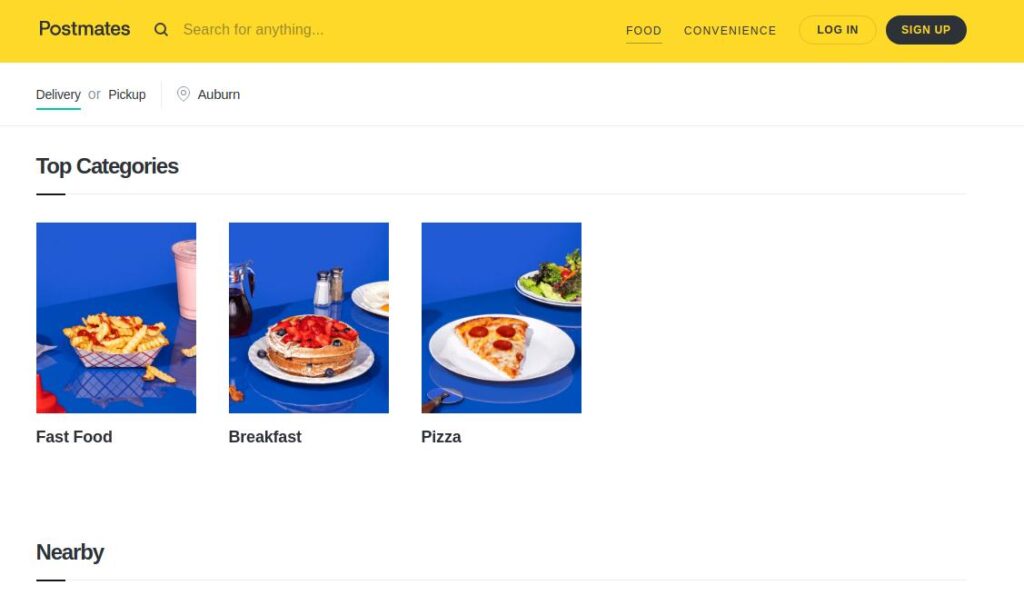 In addition to groceries, you can buy meals from restaurants with the Postmates app. Postmates offers an unlimited free plan through which customers can get their orders delivered for free on a minimum purchase of $12. This plan is priced at 99.9/year and 9.9/month. Postmates organizes giveaways and events for its premium users. The delivery fee on items ordered by normal users ranges between 0.9 to 9.9. On some orders, Postmates lets users add special instructions for the packer or the retailer/seller. The Postmates grocery delivery service is available in 50 states of the US.
Walmart Grocery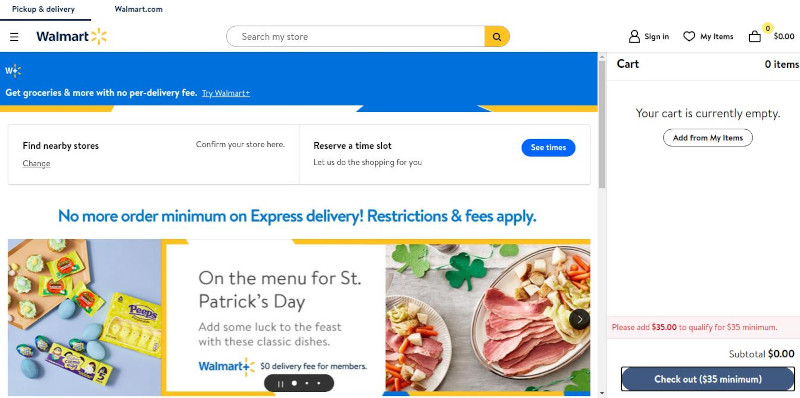 The benefit of buying groceries from apps like Instacart is that you can check prices before buying. If you're unable to find good offers on items you want to buy, you can check out the Walmart application's grocery section. Walmart might sell products at a price lower than other stores. It is the largest offline retailer in the US. The company accepts orders if the order value is $35.
Big Basket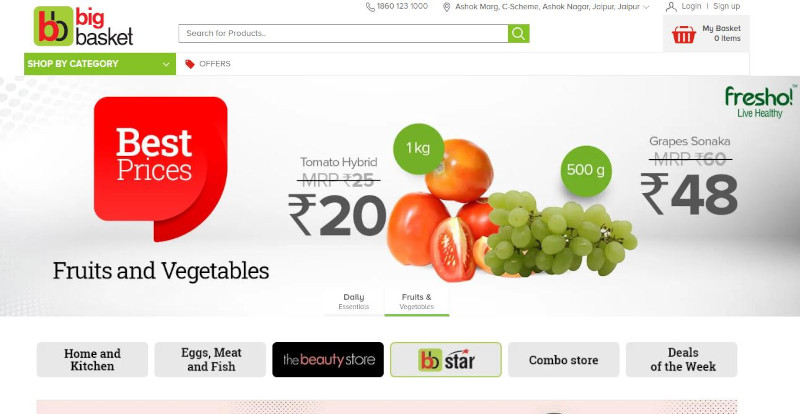 Big Basket is the most popular grocery delivery app in India. Unlike Instacart, it doesn't partner with grocery retailers. It buys and sells groceries and other products on its own. BB sells 1000s of different household products. You can buy everything that you'll find in your kitchen on Big Basket. Big Basket partners with India's leading banks to offer discounts on bulk purchases. For example, BigBasket may provide a 100 to 200 Rs discount when the user buys items worth 2000 from its platform. This service delivers products for free if you purchase items worth $16 or $17 (1100 to 1300 Rs).
Grofers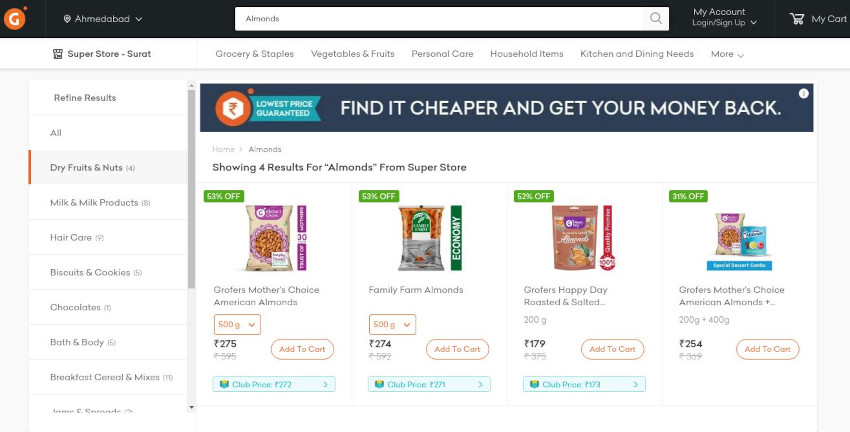 Grofers is the 2nd most popular grocery app in India. It offers a membership plan called "Smart Bachat Club" through which people can save more money than regular users. The membership costs Rs 449/year. Grofers has priced the "Smart Bachat Club" membership's monthly and semi-annual plan at 79 and 249 Rs only. Like BigBasket, Grofers sells 100s of types of products online. Grofers offers its grocery delivery service in fewer cities compared to Big Basket. According to Grofers, if you find products cheaper than the price it is selling the product for, the company will refund your money.
Other popular apps like Instacart
Common features:
Tracking orders: You can track the status of your orders with apps similar to Instacart. You can also cancel the order.
Safe: Money is transferred from your bank account to the company's bank account securely. Millions of people use the grocery delivery apps like Instacart every month/year.