Shopping apps have made our lives easier. eCommerce portals are large and they can take several seconds to open up in the browser. This happens because the browser downloads the website's static resource files before displaying the page.
As the official applications of websites request only a few parts of the page, they provide a better experience than browsers. iTunes and the Google Play Store gives you access to 100s of shopping apps. Unfortunately, only a few applications among the lot are trustworthy. Here are the best applications on Play Store and iTunes you can use to buy things online.
7 Best online shopping apps for Android and iPhone
Amazon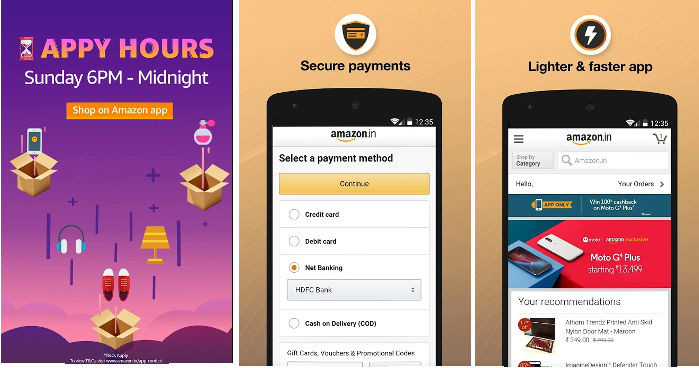 Amazon is the world's most popular e-commerce site. Its official Android/IOS app has over 100 million users. The app is popular because it offers a great shopping experience on mobile devices. Once you install it, you'll have access to 1+ million products on the smartphone.
Before buying a product, you can read its review on Amazon. Once you buy an item, you can track its shipping status on the mobile device. If the item is out of stock, you can add it to your wishlist in the app.
Amazon provides same-day delivery service in some countries. When the executive is out for delivery, you'll receive a text message that has the name/contact number of the executive. If you're not at home/office, you can ask the executive to leave the shipment with the neighbor.
Amazon allows you to complete the payment with a debit or credit card. It also provides a "cash on delivery" payment option. It lets users buy products that are sold only in the US or Europe. Unfortunately, the e-commerce firm charges a hefty shipping fee for the same.
Amazon offers email, phone and live chat support to the customers. It offers several subscription services. If you subscribe to the service, you can enjoy original video content, stream unlimited music, etc.
AliExpress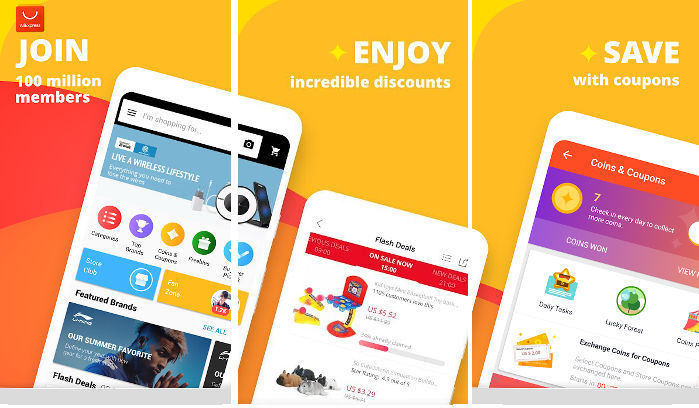 AliExpress sells 500K+ products online. Apart from phones, accessories, cameras, furniture, AliExpress sells products that you won't find on other shopping apps. Although the price of items on AliExpress is on the lower side, the delivery of the item can take weeks or months. This is the only drawback of AE.
If you're not satisfied with the product, you can ask for a refund on AliExpress. AE allows you to chat with the sellers. It offers live chat support to customers.
My experience with AliExpress: I had ordered an item on AE in 2014. The product was delivered after 3 months.
Interesting fact: Alibaba organizes the "single-day sale" every year. During the sale, the company sells goods worth 20 to 25$ billion in a single day.
Also check: Best apps like PayPal
Flipkart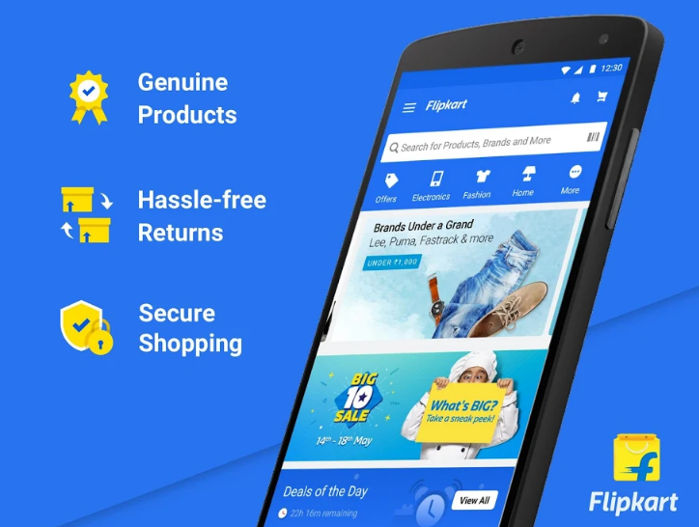 Walmart's subsidiary Flipkart is the top shopping site in India. Unlike its website, the app is fast. Flipkart is a great app to buy smartphones and laptops in India. The company organizes a sale every month. If you're lucky, you can buy a branded product for a 30 to 40% discount. Flipkart provides a special service called "Pay Later". It allows customers to complete the payment a few weeks after receiving the shipment.
eBay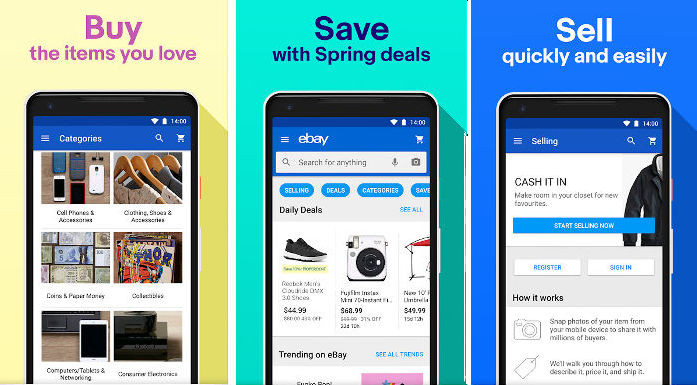 eBay allows you to list items for an auction, a feature through which you can get a great price for your old/new product. It allows users to buy products on EMI.
Unlike other sites that don't reveal how many products a seller has shipped, you can see the number of items a seller has sold on eBay. One more interesting thing about the app is that when you explore a product category, you'll find discount codes instead of an offer.
Also read: Best Radio apps for Android
GearBest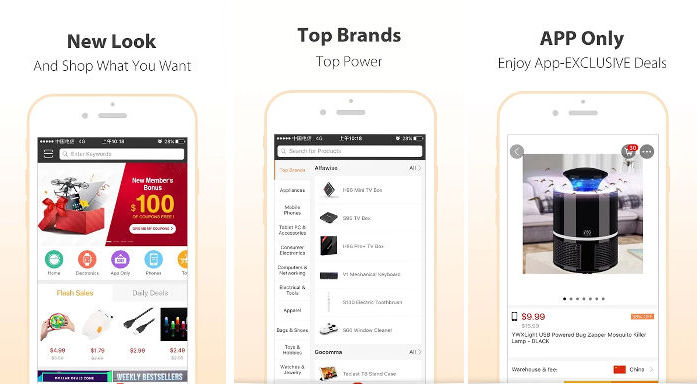 Phones and tablets launched by companies based in China are cheaper than mobiles launched by top brands i.e. LG, Sony, Samsung, etc. Although mobile devices are cheap, they are of top-notch quality.
If you're not in China and you want to buy a Xiaomi, OnePlus, Oppo, Gionee smartphone, Gearbest is your best bet. GB runs special campaigns every month. The campaigns allow users to get their favorite gadget/phone for a great price.
Must read: Best apps like Wish
Facebook Marketplace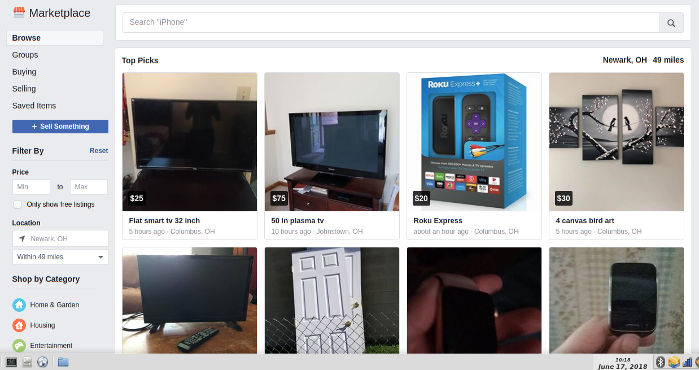 If Facebook can't buy a company, it will copy incorporate the company's top feature in WhatsApp, Instagram or Facebook. One of the newest features of the world's largest social network i.e. Facebook is the Marketplace section where users, small businesses list products for sale. The marketplace is a rip-off of craigslist/OLX. However, it's a great feature.
If a customer finds the discount/product's price attractive, they can contact the seller on Facebook or visit their place to buy the product. As in Amazon, AliExpress, Flipkart, GearBest, users can filter products on the Facebook MarketPlace. Users can also save the products to see them later.
Also see: Best coupon apps
OLX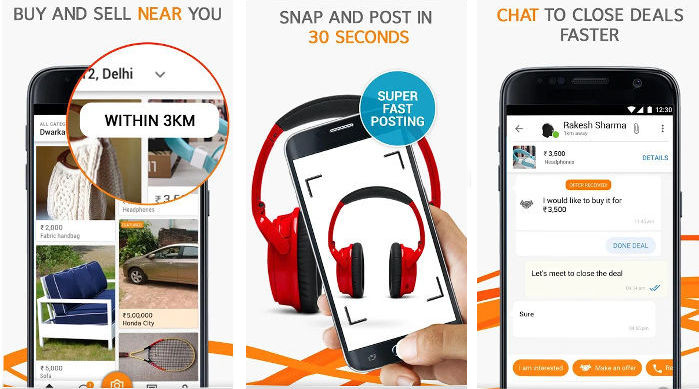 OLX is the best app to find deals nearby you. Once you find a product on OLX, you can send an inquiry message to the seller. You can also contact the seller on the phone. The best thing about OLX is that you can bargain with the seller.
Although the classified sites have a different user interface, their functionality is the same. What about Craigslist? Well, the beta version of the Craigslist app was launched on the Play Store in 2019. Its stable version was released in December 2019. CL has poor ratings.
Must see: Best apps like Craigslist
Conclusion: If used wisely, shopping apps can save you a lot of money. Although apps make our lives easier, you shouldn't forget that there are brick-and-mortar stores near you. Before placing an order, do visit the store and compare the prices of the products you're planning to buy.