Videos with filmy background music are a new rage among the youth. Almost every teenager who uses the phone's camera may have used short video apps. Why am I saying this? Out of 12 teenagers I know, 11 of them use apps like TikTok. TikTok has been banned in my country.
Although there are applications that let you create a video with custom background music, the apps will process videos on their servers and allow you to download the new video. Some applications may/may not allow you to use custom background sounds. Sometimes, you may download an app that adds music to videos without learning its functions. This short video app will make the video available for everyone automatically without displaying any privacy options. You install this app and add music to your private video with it. A few minutes later, you find out that 100s of users have watched your video. The only thing you can do is regret using the application. Another great reason to use a dedicated "add music to video" app is that someone may have sent you a hilarious audio clip, and you want to use the audio of the clip as the background sound for a video stored on your phone.
If you want to share the video with custom background audio of your choice with your family members or friends only, or you want to add custom background music/audio to a video clip, you can use one of the apps I've shared below. These applications have a single function of adding music to videos saved on the phone, and they work without the internet.
Best add music to video apps for Android and iPhone
Audio Video Mixer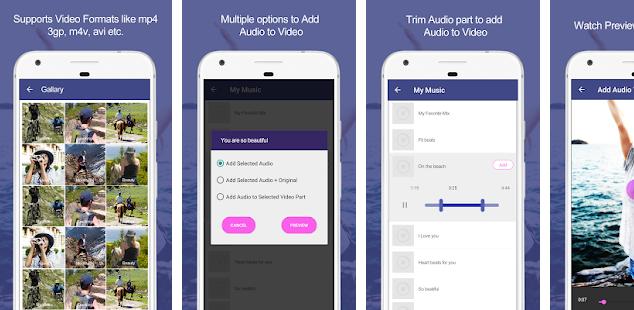 With this application, you can add music to the entire video at one go or add background audio to a part of the video. AVM supports popular video and audio file formats, including AVI, m4v, 3GP, etc. How to use AVM? AVM shows three options on its interface. When you tap on one of these options, you will be asked to choose a video. Then, you'll be prompted to select an audio file. Audio Video Mixer uses the phone's resources i.e. RAM, CPU, storage, etc to add music to videos. It won't ask you to enable WiFi or mobile data.
Background music for videos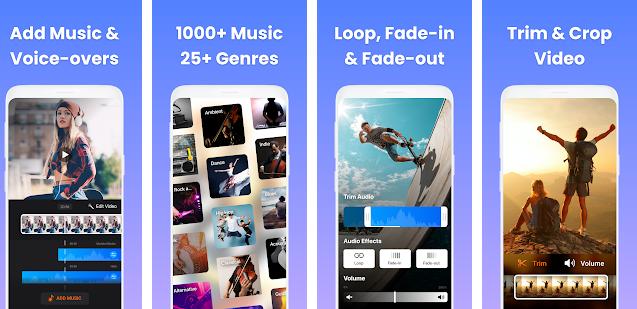 This application is slightly larger than Audio Video Mixer. In addition to letting users add music to videos, users can apply effects to the video with this application. BMV allows you to add different background audio to each frame of video. When you choose a video, BMV will show a list of frames and the option to add audio to the frame. BMV ships with some audio tracks. It enables you to record audio on the fly or choose a pre-recorded audio file. BMV can extract audio from videos. It can trim/cut/merge video and audio files as well.
Add Audio to Video by H20 studios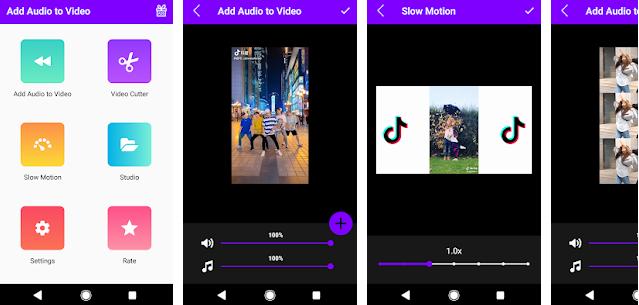 ATV is similar to the above two apps. However, it lets users decrease the audio volume, trim and apply background sound to the specific frame of the video, etc. Once you select an audio file after choosing a video, the app will add background sound to the selected video automatically. You can see all your creations in the Studio Section of the application. The "studio" interface has three tabs. If you've added audio to a video, tap the 1st tab to see the list of videos. If you have trimmed videos, tap the 2nd tab.
Replace Add audio to video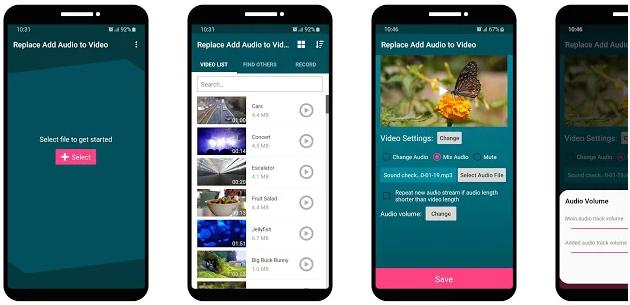 This application shows a medium size pink-colored button when you run it. You must tap this button and choose a video from the list of videos displayed on the screen. Once you do so, you must now select the audio file and tap the "Save" button. Before adding background sound, you can edit the following parameters of the video:
Frame rate, audio codec.
Bitrate, sample rate, channel, etc.
RAAV uses the FFmpeg library and is one of the smallest apps to add audio to video on our list.
Music Video Editor
The above applications will show a list of videos/clips when you tap the choose option. Instead of showing all videos on your phone, MVE shows options to select a video from the gallery, record a video with the phone's camera, and open the video list. MVE displays the following audio options in a dialog box when you try to add music to a video with it:
Add selected audio-only.
Add selected Audio + original audio.
Add audio to the selected video segment.
Before saving your video, you can watch it.