Once you install an application, you'll be able to use the app with only one account at a time. You'll have to log out and log in with new login credentials to access another account. Some applications can sync data from multiple accounts. For example, Inbox from Google can get emails from various accounts once you link your email account with it. Parallel Space was once regarded as the best app cloner tool. Even though the application received a nice makeover and got new features, people didn't stop reporting overheating and excess battery drainage problems while using Parallel Space. Several good alternatives to Parallel Space emerged on the internet as time passed. I've shared the list of best apps like Parallel Space below.
Are the applications safe? Do they share data with third parties? No, the apps create a virtual environment. When you run WhatsApp, Viber, etc, in this environment, you'll see a registration form instead of the main interface. Once you register an account with a different phone number or email ID, you can log in to the application with the new login details. Thus, you can use multiple accounts on the phone without logging out from an account in which you're already logged in. If you use an application that encrypts data before writing it to a file or database, no one or no app would be able to access this data.
Best Parallel Space alternatives
Dual Space Lite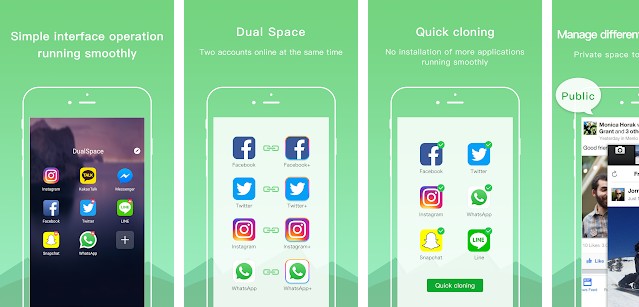 Once you run DS Lite, the app will flaunt a "Start" button. When you tap the "Start" button, you'll see a list of applications. On my device, it displayed the following services:
WhatsApp, Facebook Messenger, Facebook.
Twitter, Instagram.
You'll also see an option to add a new app to the list. Dual Space will run the application when you tap on it. DS Lite has a dedicated button to clean the system memory used by the app it has run. It has a "Privacy Zone" feature that enables you to create secret accounts. DS Lite runs in the background and keeps an eye on the notifications sent by the applications and shows them. According to its developer, DS Lite consumes low CPU and battery power.
DO Multiple Accounts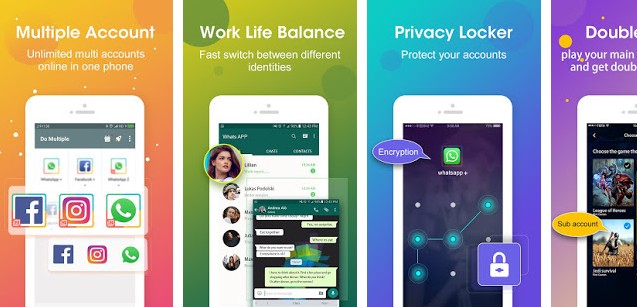 DO Multiple Accounts allows users to create multiple clones of the same application i.e. you can use more than two accounts you've created with your favorite application at the same time. DO Multiple Accounts supports customization of the application icons and notifications. It lets you enable the notification toggle. This toggle will help you to switch between cloned apps with ease. It is one of the few apps like Parallel Space that supports Google Play services. If you think DO Multiple Accounts is draining your phone's battery abnormally or is slowing down the smartphone, you can enable the Lite Mode feature of DO Multiple Accounts.
2Accounts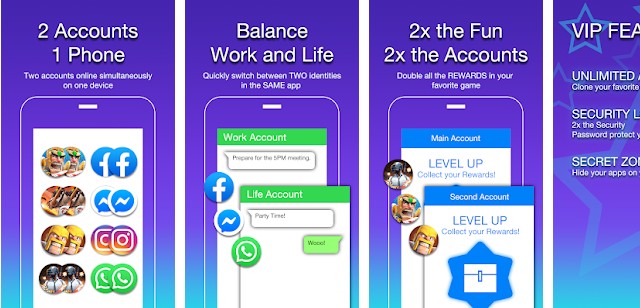 2A is similar to other Parallel Space alternatives I've shared here. It groups apps by the first letter of their name. Thus, it makes finding apps easy for users. 2A offers the following additional features:
Private space: This option will move your applications to a secret zone i.e. it will hide apps from other users.
Task Manager: This tool shows the amount of RAM used by 2Accounts, other apps, and the amount of free system memory.
Multi Parallel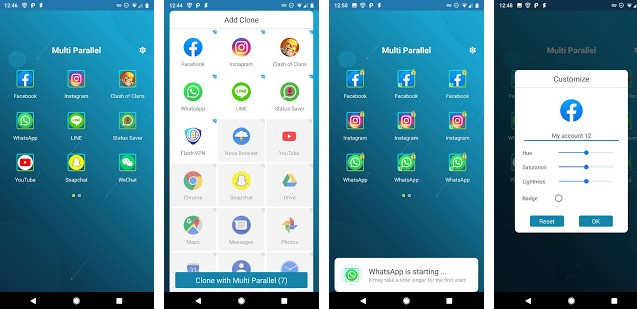 Multi Parallel is a lightweight alternative to Parallel Space. Once you create a clone, it will add the cloned entry to the phone's notification panel. It will also show the non-cloned app on the panel. Multi Parallel adds a shiny border to the icon of the cloned application. Thus, it is easy to distinguish between cloned and non-cloned apps. If you find this feature annoying, you can disable it from the Multi Parallel app's settings interface. MP's settings UI also has an option to enable the Lite Mode. When this mode is active, the RAM used by the application will be low. Also, you won't be able to use any of the Google services.
Clone App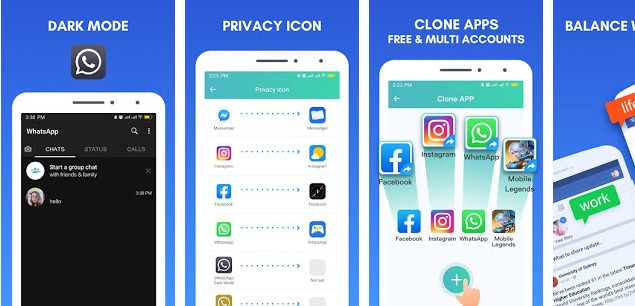 Unlike some utilities I've shared here, Clone App doesn't have advertisements. Also, it is the only tool with a VPN service built-in. To use the VPN service for free, you'll have to earn bandwidth by inviting friends or by purchasing the Pro version of CLA. Clone App lets users add an app to the "Privacy" list. It also ships with seven free WhatsApp color themes. CLA enables you to set a custom icon for Facebook, WhatsApp, and Instagram. It has a "Magic Sticker" feature that adds new stickers to your smartphone.
Final thoughts: The tools I've shared above are the most downloaded Parallel Space alternative applications. They have an excellent rating, built-in privacy features, and they work like a charm.