Subway Surfers is a fantastic endless running game. When you install and run it, you will find options to choose a character, buy accessories, coins, etc. There are male and female characters in Subway Surfers. As a new player, you will be able to play Subway Surfers with only one character. You can unlock the remaining characters by collecting gold coins. To do so, you will have to play Subway Surfers for many hours. The mission of players of this game is to collect as many gold coins and awards as possible. The game is not as easy as it seems to be. You will come across many hurdles.
The game speed will increase if your character survives for a few minutes. Moreover, a cop will be behind you. When the cop comes in contact with you, the game will be over. Along with the gold coins, you will find hidden surprises on the way. The game features a leaderboard where you will find a list of players who have managed to collect the most gold coins. The developers introduce a new environment in the Subway Surfers game every month. Hence, you will not get bored with the graphics. Subway Surfers is a top-rated game. If you have been playing it for several months, you may have unlocked all characters or find the game boring. In this case, install and play one of the top endless running games I've shared below.
Best games like Subway Surfers
Sonic Dash 2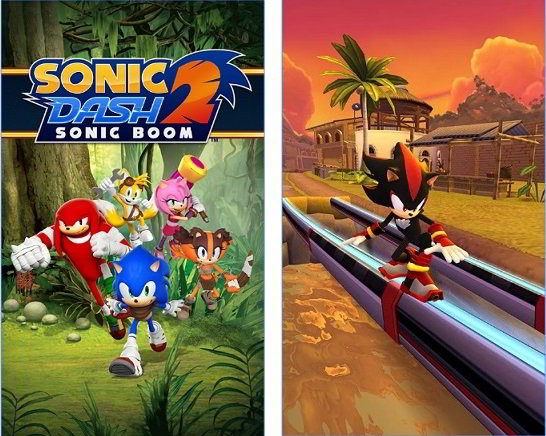 SD2 is the successor to one of the most popular games ever, the Sonic Dash. The game features 3D graphics and many challenging tasks. SEGA developed it. Sonic Dash 2 has a "teamplay" game mode in which you can race against three characters. The characters in SD2 have special powers. When you are playing SD2, the character will have to overcome plenty of obstacles. In Sonic Dash 2, your character will have to run on one of the three tracks displayed on the screen. The user can switch to a different track for collecting objects like orbs, rings, etc. Like Subway Surfers, the SD2 game features hidden things which make the character indestructible for a few seconds. This endless runner game packs unique prizes and daily challenges. It has over 50 million players. Sonic Dash 2 is compatible with the iOS and Android 4, 4.2, 4.3, 4.4, 5, Marshmallow OS.
Despicable Me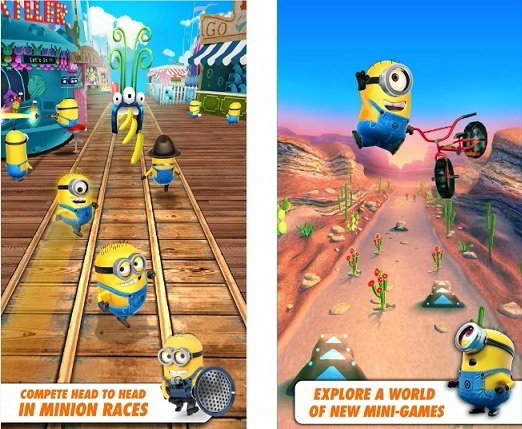 Despicable Me is one of the best games like Subway Surfers. It is an endless running game with adorable and colorful characters called Minions. The character you select will be running in a dangerous environment with plenty of obstacles. You will have to keep your eyes open else the character will die. Like the Subway Surfers game, you can control the character's movement by swiping right or left. Collecting bananas is the primary objective of the players of the Despicable Me game. DM features many hidden objects for improving the gameplay. It packs iconic locations that are found in the Despicable Me movie. It has hidden surprises and superb 3D graphics. DM includes mini-games for those people who do not have time to enjoy this game for over ten minutes. It was published by Gameloft. You can play Despicable Me on devices running on iOS and Android 2.3+ (Gingerbread) OS.
Temple Run 2 & 3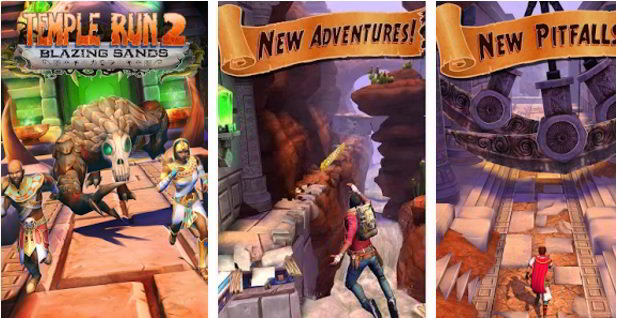 If you like adventure, trekking, and surprises, Temple Run 2 is for you. Developed by Imangi Studios, this game has over 1 billion players. It is the sequel to Temple Run. Temple Run 2 offers many new obstacles, excellent graphics, and plenty of power-ups to make the game more enjoyable. It has new obstacles and neat graphics. The game includes four unique characters, each having its own abilities. As in Subway Surfers, you will be able to play with only one character initially. When you have collected enough gems/coins, TR 3 will let you unlock the remaining characters. Apart from collecting gems & coins, the goal in this game is survival. If you do not concentrate on the gameplay, the character will die by falling off the ridges, crashing with an object, etc. This game is challenging and exciting. It keeps you entertained as long as you play it. It is yet another top game like Subway Surfers. TR 3 has a different environment and better graphics than Temple Run 2.
Jetpack Joyride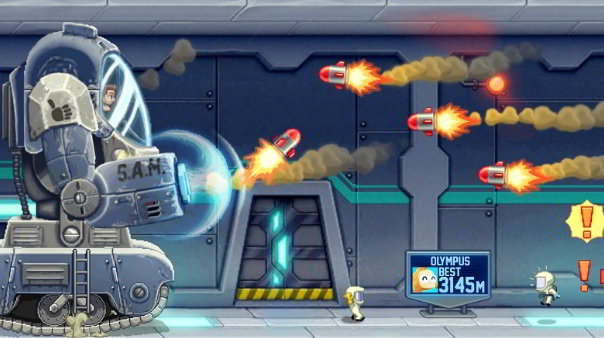 In JJ, you have to control the movements of a character called Barry, who has broken a top-secret lab and annexed a jetpack. The laboratory is protected with various guns and high-tech weapons. You will have to make sure that Barry is unharmed by the attacks. The jetpack is easy is to control. Like other endless games we have shared in this post, you will have to collect coins that can be later used for equipping Barry with new stuff. It isn't easy to get out of the laboratory. How long can you survive?
Hill Climb Racing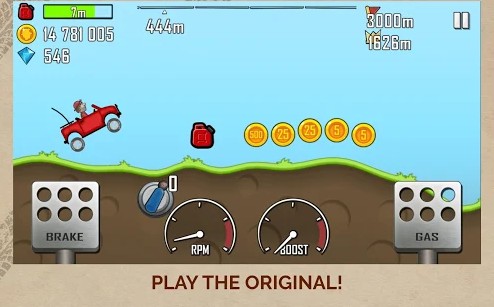 In Hill Climb Racing, you must drive a car till the fuel lasts or complete a challenge put forward to you by the game. For example, you may be asked to drive 800 meters. While driving, you may come across uneven surfaces and fuel cans. You'll have to drive carefully as the car may turn upside down. To ensure that you don't run out of fuel, you must touch your vehicle with the fuel can. HCR will reward you with points/coins for each meter you drive. You can use the points to unlock new cars, stages or upgrade your vehicle with better parts. HCR enables users to reduce the car's speed and apply a brake. It also lets users drive in reverse.
Other good endless runner games like Subway Surfers:
Final thoughts: Endless running games are fun to play. They are challenging as well. If you are searching for games like Subway Surfer, download and install the apps shared above. The games like Subway Surfers I've shared above are addictive. You will enjoy playing them.