Football, aka soccer, is one of the most followed games in the world. It is a national sport in many countries and a religion for millions of people across the globe.
Hardcore soccer fans will either glue their eyes to the television or visit the stadium to watch live-action with bare eyes whenever a match is live. Stadiums are usually jam-packed. People spend 100s of dollars to get a ticket to watch their favorite players. They are ready to wait in a queue for several hours to grab the stadium ticket.
During FIFA world cups, people from countries whose national teams haven't qualified for the big event support other teams. This proves that the craze of soccer is in every part of the world. For example, India is a big country where you'll find hardcore fans of Argentina, Portugal, Brazil, Germany, etc.
Football is an addictive sport. If you can't play the game outdoors with your friends because of age restriction, disease, or some other reason, you can enjoy the sport on your mobile device by downloading the best soccer games for Android.
Unlike PC titles, the Football games for Android are free, but they have in-app purchases, with which you can upgrade the characters, stadium, and more.
Best Football games for mobile platforms
Fifa Soccer by EA sports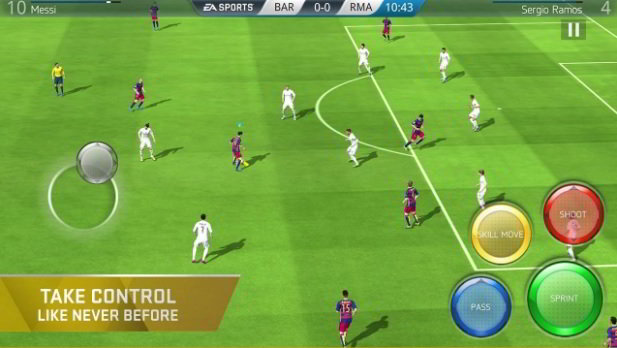 EA has been consistently introducing its Fifa series of games. The company began launching the PC version of Fifa games for Android and iOS devices ever since phones with good hardware specifications were launched. In 2014, EA introduced Fifa 2014. Next year i.e. 2015 Fifa 2015 edition, was published on iTunes and the Play store. This Year, Fifa 2016 is available for download.
The latest version of EA's soccer game provides better control over the players, skills, controls, team fellows, etc. It has better AI and excellent graphics. The game lets you simulate a match between any of your favorite teams.
The Fifa Soccer game for Android allows users to function as managers. The gamer can buy, sell, transfer players as it is done in reality. The best thing about this free game is that you can create a team with the world's best soccer players.
Fifa 2016 Football game supports various modes. It lets you create bonds between two or more players, as it happens in actual games. The EA soccer game for Android features a special challenge mode that enables you to test your skills as a gamer. Fifa 2016 offers a vast collection of players. There are more than 15K players from over 400 teams. The game's size is 1.4 gigabytes. It requires a mobile device with good internet connectivity.
Must Read: Best App Locks for Android
Dream Soccer League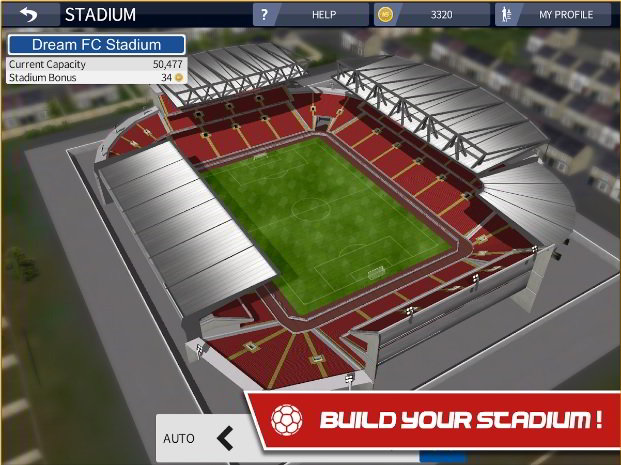 DSL is one of the most downloaded football apps of all time. It is a free game that you can download from the iTunes store for iPhone or Google Play Store for Android devices. The 2016 version of DSL is better than its predecessor. The game has good graphics.
The user will find options to manage the club, transfer players, manage teams, start a match, etc, on the home screen. Users must tap on the "play now" option to begin the game. Once they do so, this Android football game will show the players on each side in a list and an option to change the kit.
Managing a team involves changing the player's position on the field. The transfer option is an interesting feature of the Dream Soccer League game. Each character in DSL has a rating, min value, and max value. The gamers are allowed to buy or sell the players of their choice. DSL lets users upgrade the player's skills and customize stadiums. The game has many features and excellent graphics. You can play it offline or online in multiplayer mode. DSL is one of the best soccer aka football games for Android and iPhone.
Must Check: Best News Apps for Android and iPhone to stay updated with latest stories
Score! Hero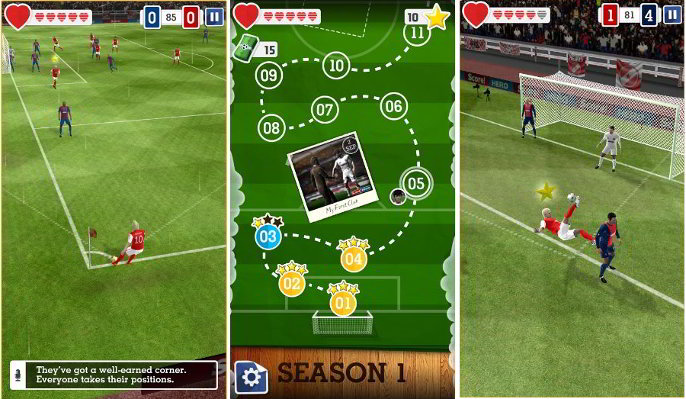 The above two games are large i.e. consume a huge amount of ROM/storage memory. If you're searching for a smaller football game for Android which offers excitement and fun, you must download Score Hero. When you run SH, the game will prompt you to choose your hero. Users are allowed to select a character from their favorite teams.
Once the gamer chooses his desired character, Score Hero will play an animation that explains how to play the game. SH offers various exciting tasks that you must complete. Completing one task will unlock another. You'll be rewarded a trophy or award for each finished task.
Score Hero lets you customize the characters. It has many levels of gameplay. The game has beautiful graphics, nice 3D animations, smart Artificial Intelligence, and supports Google Play Leaderboard/Cloud module.
Also Read: Best app for Internet Broadband speed Test on Android
Soccer Stars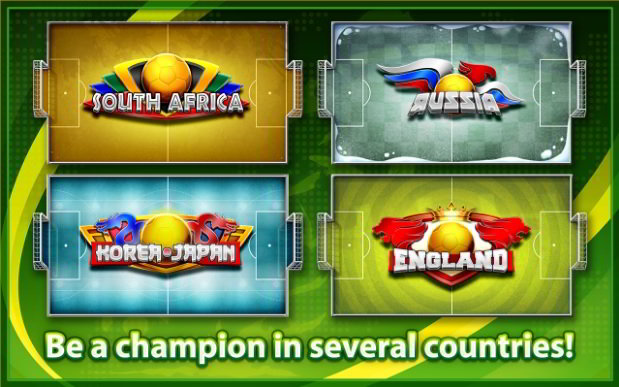 If you're bored and want to play a fun game, download Soccer Stars from Miniclip. The game resembles Pool/Air Hockey. Nonetheless, it is enjoyable, and you can play it offline. SS APK size is just 35 megabytes.
SS shows three options on startup – play the game as a guest and log in with Google or Facebook to play SS online. Choose the 1st option to play SS in offline mode. Now, you'll find various options to play one on 1, mini-games, tournaments, and play soccer with friends (multiplayer mode).
Hitting a goal is the main objective of the player of SS. The game rewards coins to the user for each goal they manage to score. Before the start of each match, the Soccer Stars game will show an animated tutorial that explains various controls and styles of gameplay that the game offers. SS is easy to play and lightweight.
Recommended reading: Best app to add text to photo
Head Soccer La Liga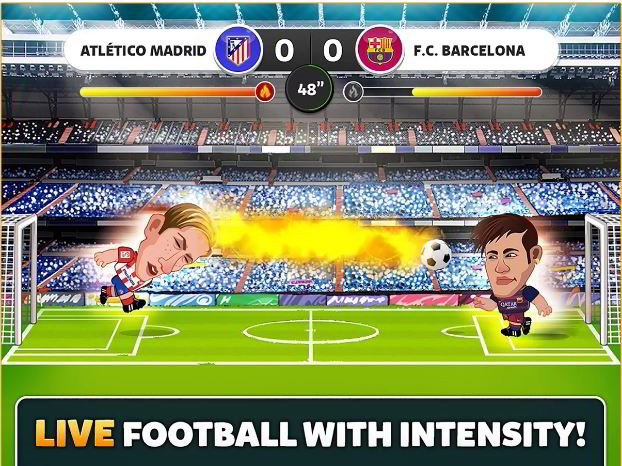 HS LL is a game that involves big-headed football players that the users can customize as per their requirements. Once you start the game, Head Soccer League will show the options of playing a friendly match, participating in a league, tournament, cup event, editing the player's appearance, or playing the game in survival mode.
The Head Soccer La Liga game features several matches. It lets you upgrade your character's speed, shot, jump, sprint, etc. No matter what match or event you select, the game is between two characters. If you win the game, you'll earn virtual money with which you can upgrade the player. HSLL, in my perspective, is one of the funniest football games for Android or iPhone.
Other best Android football games you may like:
Real Football: Android
Beach Soccer: Android
Final thoughts: If you can't play soccer outside the house, download and run the above-mentioned best football apps for Android or iPhone. The 1st two games are excellent. The remaining ones are meant for fun and entertainment.