We listen to music when we're bored, depressed, confused, happy, or anxious. Songs from our favorite artist ease our nerves. Frankly speaking, it isn't easy to live without music.
Most people will connect a headset to their mobile device to enjoy songs. Then, they'll turn on the radio station. The problem with this approach is that you have no idea what song the channel will play next. Not to forget about Ads. Advertisements aired on the radio channels last for 5 to 10 minutes.
The best way to enjoy music is to download apps to stream or download your favorite songs free of cost. If you save the track on your mobile phone, you can hear the downloaded song as many times as you want without turning on the mobile/WiFi data connection. Many companies have launched music streaming apps. Unfortunately, not all applications allow you to download songs on your device.
Below, I've shared four great applications that allow users to listen/download songs on their mobile devices:
Top apps to download songs on phones or tablets legally
Spotify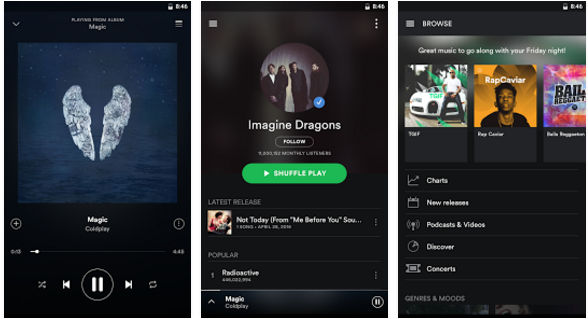 Spotify is the most famous music streaming service in the world. Its Android and iPhone application has over 200 million active users. 80+ million users have given Spotify an excellent rating of 4.5 on a scale of 5 on various App Stores.
The Spotify app has a material design-based UI. It provides several features. The app displays the album art of the track you're listening to. It also suggests songs, albums, and artists when you're in listening mode.
The app features 100s of playlists created/shared by other users and music experts. It includes a search option. Spotify users can download MP3 songs on their mobile devices only if they become premium users. You'll enjoy high-definition music without advertisements if you opt for the premium membership.
Google Play Music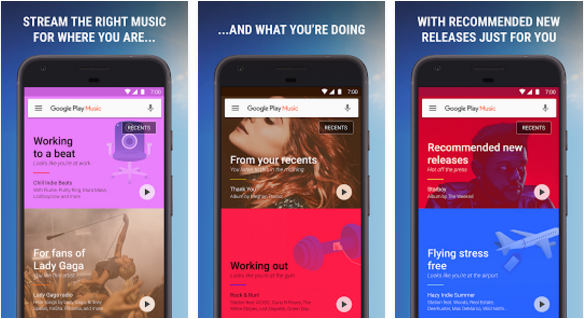 Play Music is a premium music subscription service launched by Google, the search engine giant. To use GPM, you must buy one of its subscription plans. Once you've purchased a plan, you can stream and download unlimited songs on your mobile device.
GPM gives you access to millions of English and Regional songs. It doesn't have advertisements. GPM lets users filter songs by their name, genre, album, singer, etc. It also allows you to search for songs by name.
Google Play Music features a library section where users can upload the songs saved on the storage memory of their mobile device. It features a radio section through which you can continuously listen to your favorite artists' songs. The Play Music app comes pre-installed on all handsets running on the stock Android OS.
Amazon Prime Music is an excellent alternative to the above two applications. Try it out if you don't like Google Play Music or Spotify.
YouTube also enables you to download music videos. The problem with YouTube is that the downloaded content will be removed automatically after a few days if you don't connect your phone/tablet to the internet.
Must see: Best radio apps for Android
Wynk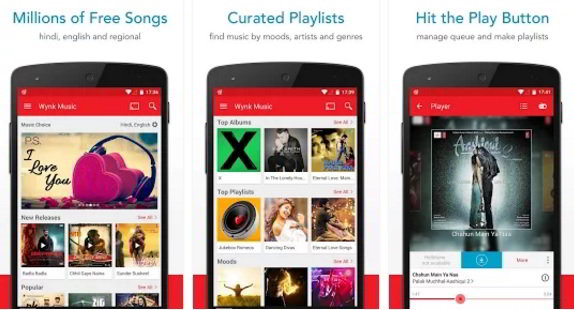 Wynk is a free app from Airtel with which you can listen to up to 2.5 million songs. The app is advertisement-free. It features an inbuilt music player. Hence, you can use Wynk to enjoy MP3 tracks saved on your mobile.
Wynk is compatible with Google Chromecast. It allows you to stream songs on a PC from a mobile device. To use this feature, make sure your internet connection speed is fast.
Apart from songs, the free Wynk app features 20+ radio stations. It offers playlists for various moods. Experts compile the list.
Wynk has a beautiful user interface. It is free to use for 30 days. You can download a max of 100 songs during the trial period. Premium subscription costs just Rs 99. If you want to download unlimited songs, become a Pro user of Wynk.
JioSaavn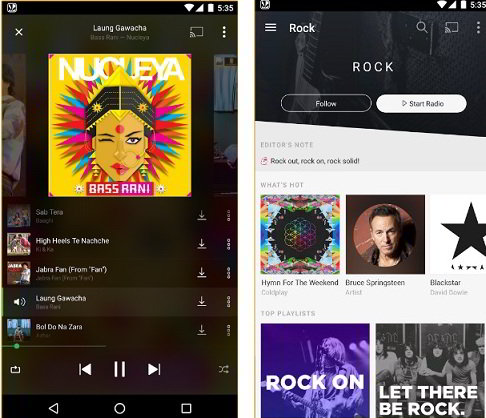 Saavn is one of the most downloaded Indian apps on the Google Play Store. It has a library of 30+ million songs. You can stream as many songs as you want with the free Saavn app. To download a song, you'll have to become a Pro user. The subscription fee for the same is Rs 99. The Pro version of this music streaming app does not have ads. It lets you download songs in HD quality (320 kbps).
The app gives you access to original content, including audio programs narrated by famous artists. It provides an option to create playlists and share songs with friends on social networks.
Gaana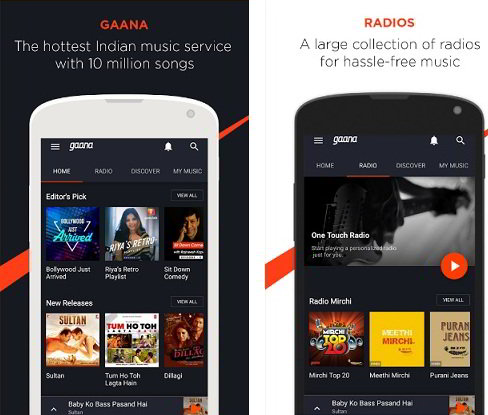 Owned by Times Group, Gaana is a free music streaming app with an easy-to-use interface. The app has a separate section for Indian songs (Bollywood). Songs in this application are grouped into the following categories:
Ghazals, bhajans, dance, romance, etc.
Gaana is the only app on our list that lets you go through the lyrics of a song. It allows users to listen to over 9 million songs in various languages. You can also tune in to the popular radio stations in your country with the Gaana app.
Like other apps I've covered here, Gaana provides a premium subscription service. You can stream songs in HD quality when you buy a subscription plan. You can also download songs.
Final thoughts: If you love music, install one of the above apps on your tablet or phone. Spotify, Google Play Music, Wynk, and Saavn have cheap subscription plans. They give you access to several million HD-quality songs.