Finding and downloading songs with a browser app is not a difficult task, but you have to be careful while downloading files from the internet. If the files are shipped in a compressed ZIP or RAR file, you may end up downloading ransomware, malware, trojan worm, etc. If you try to extract the infected file, the malicious code will execute, and the Android OS will start behaving strangely.
The best way to enjoy music without downloading MP3 or MP4 files is to tune into the local radio channels. Most mobile phones provide a radio app for listening to local radio stations. Frankly speaking, the local stations are horrible. They broadcast annoying chat sessions and stream the same songs every day. Furthermore, you'll start hating the RJ's voice if he cracks an unpleasant joke when you're in a bad mood. Install and use the applications I've shared below if you want to discover new music or listen to international FM radio channels.
Best radio apps for Android
TuneIn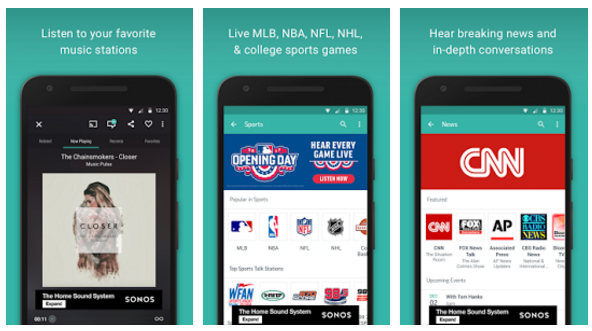 TuneIn is the world's most popular radio app. According to the Google Play Store app download statistics, it has over 100 million users. TuneIn is a tiny app that gives you access to 100s of local and international radio stations. It detects your location automatically and suggests popular channels in your region. The radio app also allows you to browse the FM channels available in other states of your country. First-time users of TuneIn will see a large popup that has the option to enable the 7 or 30 days free trial of the premium version of TuneIn. To close the popup and open the main interface, users should tap the close icon.
When TuneIn opens its main interface, you'll see a list of news and music channels. To get started with it, connect your mobile device to the internet and select a channel that you want to listen to. TuneIn allows users to browse and find radio stations by their name, category, etc. It supports car mode and includes a "favorite section" where you'll find a list of the world's hottest radio stations. The app displays the details of the song it is currently playing. It remembers the radio station which you have recently listened to. You can configure TuneIn to function as an alarm clock. The application ships with a settings interface and has a nice UI.
Radio Online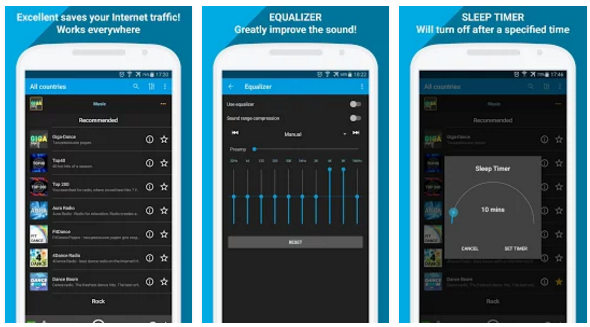 The PC Radio app has a good user base of 10 million. By default, it displays all FM channels on the main interface. To see the list of stations available in your country, tap the globe icon, and select a country. The app enables you to refresh the list of radio stations displayed on its interface. It offers an equalizer tool to adjust the bass, treble, etc. To stream a radio station, tap the play button. If you want to switch to another station, tap the next button. PCR will provide a great experience when your phone is not in power-saving mode. It features 100+ channels.
iHeartRadio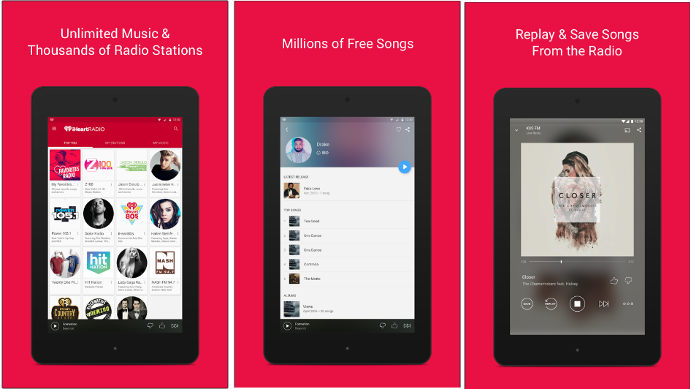 With 50 million users, iHeartRadio is one of the top 3 Android radio apps. IHR has a great interface, and it gives you access to over 1000 FM stations that stream music, news, talk shows, etc. The application lets users listen to the songs vocalized by their favorite singers. It allows you to create a playlist of your favorite songs. Likewise, this radio app provides an option to browse playlists created by other users. IHR enables you to listen to podcasts from renowned personalities. It has an option to skip the current track. Unfortunately, IHR is available for download only in select countries.
Also see: Best battery saver apps for Android
Pandora Radio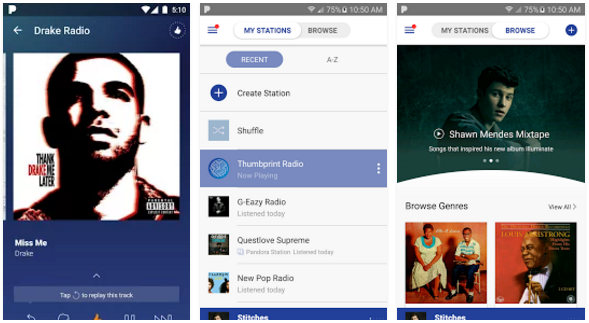 Like other Android radio apps I've shared above, Pandora recommends radio stations to the user. One thing that differentiates Pandora from other apps is its like/dislike option which is powered by a special algorithm. This algorithm analyzes your dislikes/likes and generates a list of FM channels that you'll find interesting. Pandora allows you to discover new music and listen to chartbuster tracks from various artists. It gives you access to playlists containing the hottest rock, pop, hip hop, etc songs of the decades. Pandora is available for download only in the United States.
Must Read: Best apps to download music
Simple Radio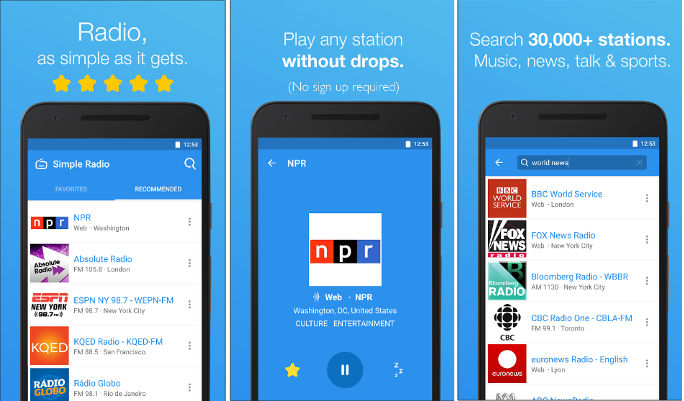 SR is another great Android radio app for streaming music online. It gives users access to over 30000 stations. According to its developers, SR has 5 million active listeners. The app is easy to use. Its interface is divided into two sections – favorites and recommended. The favorite section features a list of radio stations you have bookmarked. Tap the recommended tab to see the list of the radio stations the application wants you to listen to.
Other similar top-rated radio applications for Android:
Final thoughts: Music can ease our nerves. Hence, if you're bored or stressed, download and run the above best radio apps I've shared above on your Android device. The 5 applications let users listen to hundreds of radio stations. They don't force you to register an account. They require low system resources. Hence, the apps don't affect the performance of the Android OS in any way.
Also read: Best what song is this app