UPI, aka Unified Payments Interface, is a service that has filled the gap between the banks and the user. It has made people use banking services often. A person with a bank account can create a UPI ID and send/receive money in real-time within a few minutes. How is this possible? Well, the UPI service finds the bank account from the user's phone number and bank name within a few seconds. Once your account is found, you have to create the UPI ID and share the same with people. UPI is so intuitive and powerful that even influential people such as Bill Gates, Mark Zuckerberg, etc have appreciated it. Who can use the UPI Payment service? It doesn't matter whether the person has just a few hundred rupees in his bank account or crores of Rupees, the UPI service is available for anyone who has a bank account with one of the Indian banks.
You can use UPI apps for paying credit card, gas, electricity, gas bills, etc, collecting payments from customers, etc. The most significant advantage of using a UPI application is that the money is credited instantly to your bank account. If you own a shop, you don't have to count the notes at the end of the day, as the banking applications can generate statements on demand. Below, I've shared the list of the top UPI apps in India:
Best UPI apps in India for Android and iOS
BHIM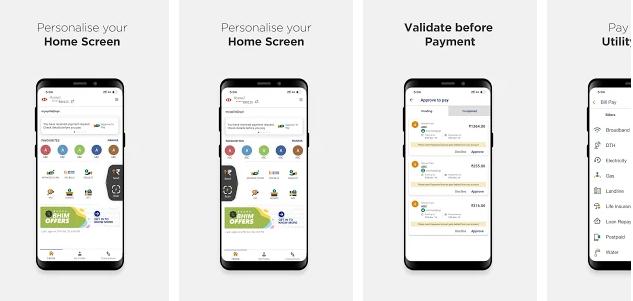 The Government of India launched BHIM/Bharat Interface for Money in 2016. It is currently one of the top 5 UPI apps in India. BHIM lets you create a free UPI ID within a few minutes. You can share this ID with people from whom you want to accept payment or use the ID to send money to any person using the UPI service. The BHIM UPI app can also create and share a QR code with other users. The most remarkable feature of BHIM is that it enables you to send money to people even if you don't know the person's bank account number. Like reverse phone lookup apps, BHIM shows the user's name when you enter the phone number. India's popular banks have launched their own version of the BHIM app for their customers. Thus, if you don't want to use the BHIM application, you can use the UPI application launched by your bank.
Google Pay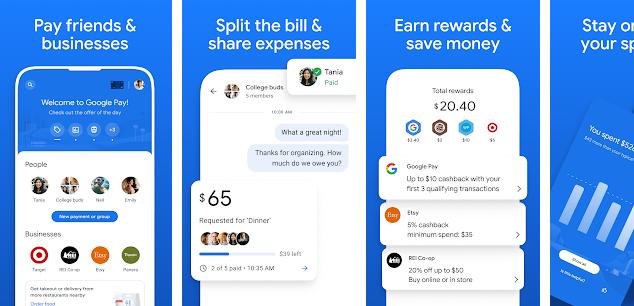 If you're looking for the best UPI apps with cashback offers, you can use Google Pay. On successful recharges and payments, the Google application may offer a scratchcard which you must scratch by placing your finger on the screen and swiping it. The scratchcard may reveal any cashback amount or display the "Better luck next time" message. Google Pay deposits the cashback directly to the bank accounts. It doesn't have a wallet utility. It is a great application, but sometimes it fails to find the bank details by phone numbers.
The above two applications don't have a built-in digital wallet. If you're looking for a wallet + UPI payment app, use the following applications:
Amazon Pay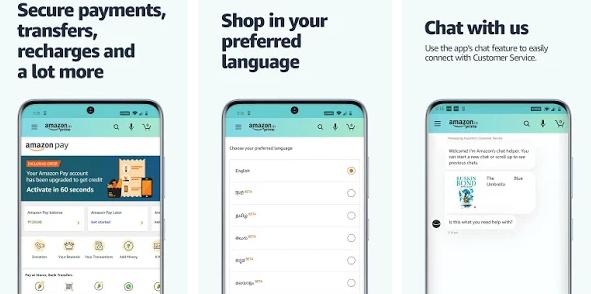 Amazon has integrated its UPI service in Amazon Pay. The eCommerce giant has not launched a dedicated Unified Payments Interface application. If you use the Amazon UPI service, you'll earn an excellent cashback of 10 to 300 Rs. New cashback offers are introduced almost every day. The company shows the cashback amount that you'll be rewarded with instead of offering scratchcards. The cashback you earn is credited to your Amazon Pay wallet instantly or will be credited when you buy something from a partner site. Many popular portals accept payments with Amazon Pay.
PhonePe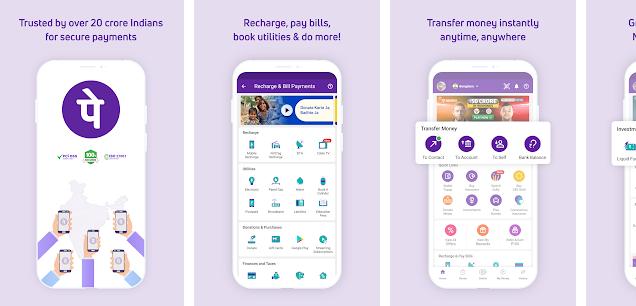 PhonePe is the most popular UPI payment app on our list. It was introduced by Flipkart, which is now owned by Walmart. Like other UPI apps, PhonePe offers cashback on various offline and online services such as petrol, gas, Google Play recharges, top-ups, etc. PP makes users aware of the cashback expiry date. It has a feature called On Switch that can open the websites offering cashback when you buy a service or product from the website and checkout with PhonePe.
Why have I not mentioned PayTM?
Even though PayTM is a popular application, PayTM is a bloated application. It has stopped offering good cashback to users since 2016.
Are the applications safe?
Yes, the services I've shared above let users enable passcode protection. You can also configure them to unlock via fingerprint.
Note: Some of the UPI payment apps I've shared above will display the BHIM payment page. The user enters the PIN to make the payment. The UPI ID you create with any of the applications I've covered above is supported by all UPI apps launched to date.