BHIM, aka Bharat Interface for Money, is an app launched by the Government of India that enables normal users and business owners to transfer or receive money online. According to PM Narendra Modi, the application will back the demonetization move and simplify digital payments. BHIM is a superb alternative to mobile wallet apps and net banking. Since yesterday, I've been using the app, and I've become a huge fan of it. The app takes about 3 megabytes of storage memory and is dead simple.
BHIM review and Step by Step Guide
BHIM is available for download on the Google Play Store and iTunes. Once you install the app, run it. BHIM prompts users to verify their phone numbers to check whether the number they have entered is registered with the bank account or not. The application will send an SMS text message from your phone to verify your number. If you're using a dual SIM mobile, make sure you set the phone number linked to your bank account as primary.
Once BHIM verifies your number, it will ask you to enter a four-digit passcode, after which it prompts you to select your bank. The app supports the following banks:
Allahabad, Andhra, Axis, Bank of Baroda.
Bank of Maharashtra, Canara Bank, CSB, Centra bank of India.
ICICI, SBI, Dena, Federal Bank, HDFC, and more.
The app displays a list of banks. You must select your bank from the list and wait for BHIM to fetch your account details. The app shows the bank account number and the IFSC code of the selected bank's branch. Tap on the a/c number and enter a six-digit UPI PIN. BHIM lets you set up the UPI PIN later. Once you enter the PIN, tap on the setup button. Now, the app will display a message that you're ready to receive money on your mobile. It will also show a special address on which you can receive payments.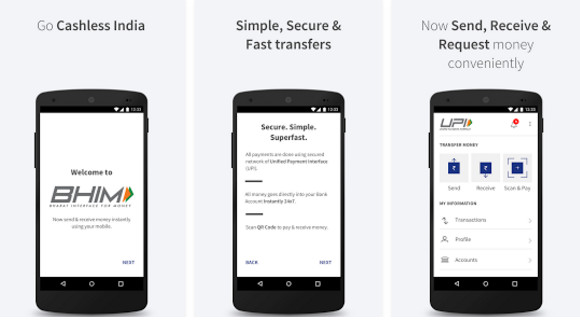 Note down the address and share it with your customers if you're a business owner. The message also shows a Go To Home button. Tap the button, and you'll be redirected to the main interface. This interface shows options to send and request money. It also has an option to scan the QR Code and pay cash.
The app allows users to add payment addresses. The app also enables users to make payments by scanning QR codes for quicker and easier transactions. Users can download the QR code as an image file. They can also share the QR code with other users. BHIM supports notifications. It allows you to change the English language of the interface to Hindi.
While sending payments, the app identifies the debit card associated with your bank account and asks you to enter the last six-digit of the debit card and its expiry date. You can request other users to send money by entering their mobile number or payment address. BHIM makes you aware of recent transactions and their status.
Pros
Supports all major banks.
Error-free application with options to receive and send payments.
Support for QR code.
Secure.
Cons
Also see: Best budget apps for android to track daily expenses