Colleges, universities, and schools conduct exams in August, November, December, April, or May. Exams decide the fate of students. If a student fails an exam, they will stay in the same class. If he passes, he will be promoted to the next class. Exams are crucial. To ensure that you don't fail them, you should prepare yourself for it beforehand by studying thoroughly, getting the hall ticket, revising the lessons, etc. Here are the 7 great applications that will help you with these tasks:
Best exam preparation apps for iOS and Android
Quizlet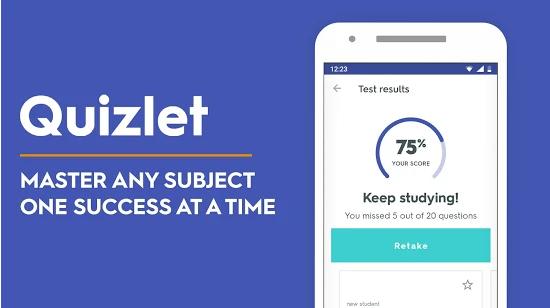 According to its developers, most students who use Quizlet have reported higher marks in the examinations. Quizlet prepares students for the exams with the help of interactive flashcards. Before you can start using Quizlet, you must log in with your Facebook or Google account and enter the birth date, parent's email ID, and user name. Quizlet gives its users access to free study materials created and shared by students or teachers. Topics are divided into the following categories:
Arts and humanities.
Math.
Languages.
Science, etc.
Once you choose a category, Quizlet will show a list of various topics. When you tap on a topic name, the application will display the following options:
Learn, flashcards.
Write, match, Test.
This exam preparation app lets you play educational classroom games. Teachers start the classroom game, and students participate in it. Tests in Quizlets are customizable. Users can configure the test to have N options. They can also set question types. Currently, Quizlet supports the following question types:
True/False.
Multiple choice.
Written.
Once you take part in the test, you can see the result in Quizlet.
To-Do list
Before the exam commences, you may have to purchase various things, get the admission card/hall ticket, pay fees, etc. To ensure that you don't forget these things, you'll have to create a checklist. The to-do list applications will help you with this. They'll also show a notification when a task is due. If your to-do list isn't extensive, you can use the countdown timer apps. These applications will show the time left for the exam.
Notes
During examinations, teachers may conduct special classes for their students. To ensure that you don't miss the important points the teacher covers, you must take notes. The note-taking applications will help you in managing and taking notes. What if your teacher doesn't allow you to use smartphones in school? You can attach the photos to the notes or use document scanner apps to extract text from pictures.
Learning
Quizlet covers several topics in short. If you want a detailed explanation of various things, you can refer to the learning applications. The apps are free and have complete information on various topics. For example, Wikipedia has a page dedicated to DNA. This page has 10000+ words explaining various topics of DNA.
Local exams
The topics/subjects/lessons taught at schools are the same. However, the language and the syllabus might be different. Fortunately, you'll find several niche exam preparation apps on the Play Store and iTunes. For example, in some states of India, the govt organizes the SSC exam. You'll find SSC exam study applications on iTunes and Play Store.
My Study Life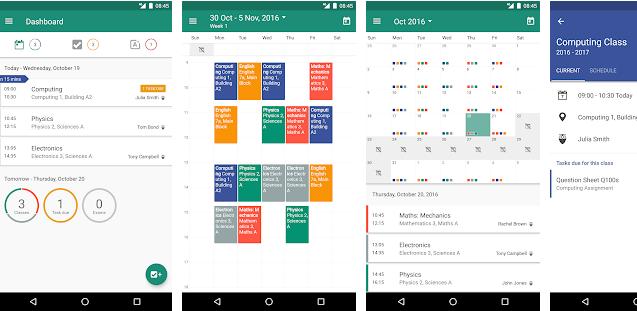 My Study Life is a cross-platform exam preparation app for students and teachers. It enables users to set reminders for exams, assignments, and revisions. Setting up classes, subjects, reminders, etc, takes some time, but once you're done with this task, you can see the schedule on mobile devices, PC, etc. How different is My Study Life from other to-do list applications? In My Study Life, you can create a complete schedule having details of the subjects, exam seat number, room, exam duration, etc. You must sign in with Facebook, Google, or the Microsoft 365 account or create a new account to use MSL.
Study Tips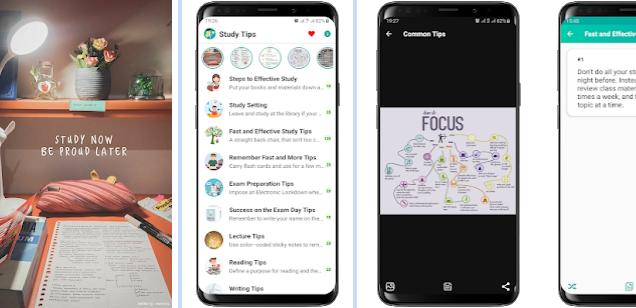 This application shows a list of tips that you can follow while studying or preparing for an exam. It also features images with inspirational quotes. ST lets you bookmark or copy the tip to the clipboard. It also enables you to share tips on social networking sites/applications.
Study Bunny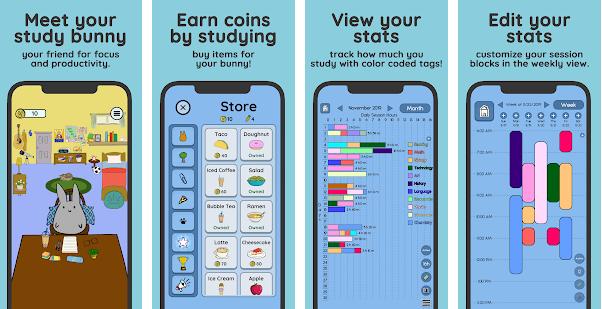 SB is an exam preparation app for iPhone and Android that will keep you focused on your studies. It features an animated countdown timer. Study Bunny displays options to pause/resume the timer. In addition to the timer, Study Bunny enables you to create a to-do list. It also allows you to create flashcards. For each session you complete successfully, you'll earn some coins. You can use these coins to buy in-app purchases.
Final thoughts: The above applications will prepare you for the exams and help you stay focused. Use them if your school/college/university exams will start soon.