Within 5 to 6 years, WhatsApp has become the most popular app on the planet. The app is so popular that 1 out of 3 people on the Earth use it daily. Before WhatsApp was launched, 60 to 70% revenue of telecom firms came from voice calling and SMS services. The messaging service changed the picture of the telecom industry completely. Peopled ditched the SMS services of their telecom service provider and started using WhatsApp for private or business communication. WhatsApp introduced the free video calling feature to make things worse for the telecom operators.
The app uses a unique algorithm to provide an excellent video calling experience. The popularity of video calling and chatting has increased three folds ever since WhatsApp was updated with the video calling feature. Now, people make more video calls than voice calls. The Google Play Store and Apple iTunes are flooded with video calling applications. Although plenty of apps enable you to make free video calls, not all applications are trustworthy. Below, we've shared the list of the most secure and powerful Android and iOS apps for making free calls.
Best free video calling apps for iPhone and Android
WhatsApp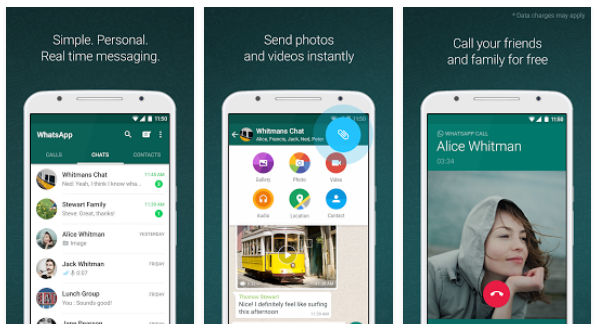 Even though the current year is 2021, WhatsApp still leads the race of free video calling apps. The reason why you should use it is apparent. WhatsApp has over a billion active users. As it is easy to use and free, most internet users use WhatsApp for texting or video calling. Making a WhatsApp video call is easy. To place a call, tap the calls tab. You'll now see a green circular icon floating to the right of the screen. Tap this icon. WhatsApp will now display a list of contacts and an option to make a voice or a video call denoted by a phone and camcorder icon. Tap the camcorder icon beside the name of the person you want to call. That's it! Offline users will see a missed call notification when they're online. Very few people have experienced call drops or quality issues with WhatsApp.
Must check: Best WhatsApp alternatives
Skype Lite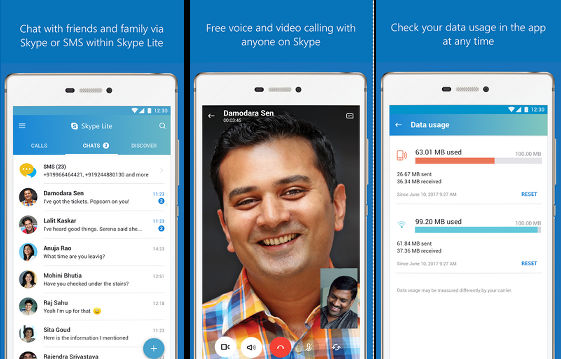 Skype allows users to register an account with their email address or phone number. While registering an account, Skype sends a 6 digit passcode to your phone or inbox. The users must verify the passcode to use this application. Skype Lite runs in the background and uses the Android push notification system to make you aware of incoming calls. When you run it, Skype Lite scans your contact list. Then, it displays the phone numbers and names of the users using this app. The Skype video calling app allows users to make free international voice calls to users belonging to the US and Canada. Apart from making local/international video & voice calls, you can use Microsoft Skype Lite as an instant messenger application. To see the amount of data Sype Lite has used, tap its menu. Skype Lite is trustworthy and secure. It is owned by Microsoft Corporation, one of the largest tech companies in the world. Microsoft holds 100s of security patents.
Check: Best dating apps for Android and iOS
Google Duo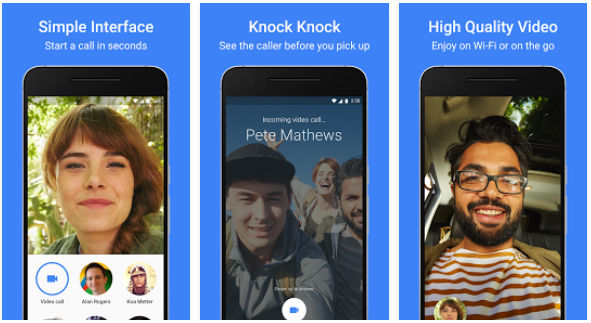 With 100+ million users, Google Duo is yet another popular video calling app. Before making calls with the Duo app, users must provide the app permission to access the contact list, access the phone's camera, and record audio with the phone's microphone. Then, they must verify their phone numbers. Google Duo works in two modes, video and audio. In video mode, you can make video calls. The other mode enables you to make voice calls. GD's interface is divided into three sections i.e top bar, frame, status bar. You can switch between the two modes by tapping on the toggle option displayed on the top bar. The frame is nothing but the output of the front camera unit. The status bar displays an option to select contacts. As it is tightly integrated with other Google services, Google Duo is a must-have app for Google users.
Also see: Best email client apps for Android
IMO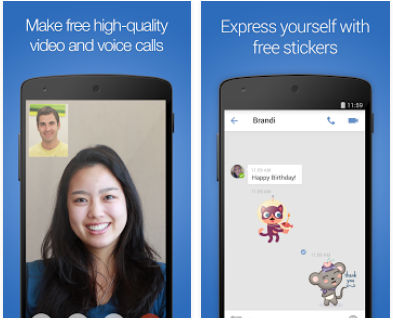 If you're searching for a lightweight video calling app for Android or iOS, download IMO. According to its developer, IMO is an instant messaging tool, but most people use IMO for video calling. IMO has an ordinary interface that doesn't boast flashy animations or effects. Hence, it works like a charm on low-end handsets and mobile devices connected to slow 2G networks. IMO's voice and video calls over a fast 3G or 4G-LTE connection are of high-definition quality. If you've enabled GPRS on your phone, you can still make a video call, but the video quality won't be great. Apart from calling, you can use IMO for texting, sharing photos, videos, stickers, etc. IMO employs a robust encryption algorithm. It enables you to make unlimited one-to-one or group video calls. It also provides 100s of free stickers. IMO lets you disable notifications and sounds. It includes an option to delete calling and chat history.
Tango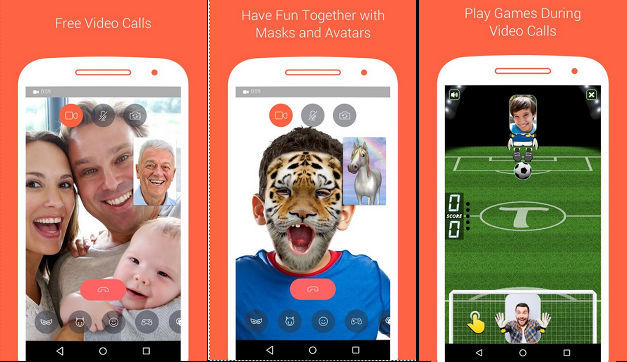 Tango takes your video calling experience to the next level by providing real-time filters, masks, and special effects. It includes in-call games. Tango doesn't have country restrictions. Hence, you can make free calls to someone residing in another country. You can make as many local calls as you want with Tango. If your phone lacks a high-quality front camera, you can switch to your phone's back camera with this application. Tango lets you see your friend's activities. It allows you to find and follow other Tango users.
Also read: Best apps like Flipagram to create videos from photos
YeeCall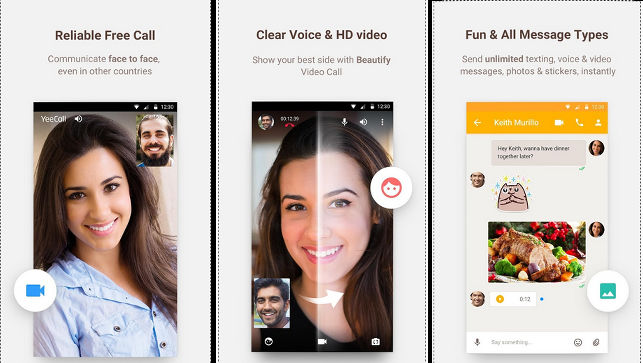 YeeCall ships with a "beautify video" feature that removes blemishes from the face of the skin to make you look younger during a video call. It enables users to record and share audio and video messages. YC offers 100+ free stickers. It lets users send text messages to friends. It includes a unique feature called ChatFun that enables you to participate in a group chat between strangers. Calls and chat messages in YC are encrypted. YeeCall is a free video calling app for Android and iOS. The only thing you've to worry about while using it is the mobile or WiFi data.
Must check: Best app to add text to photos
JusTalk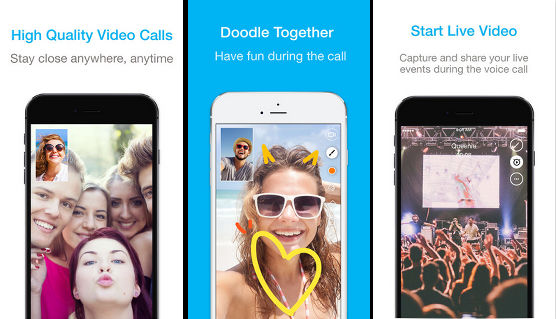 As the name suggests, Just Talk is a communication app. It enables users to make high-quality voice and video calls for free. JT works when the user has enabled EDGE, 3G, or 4G data connection on their mobile device. It doesn't provide a great experience on slow 2G networks. The JusTalk video calling app for iPhone and Android has a simple user interface. Like Tango, Just Talk allows you to play games with the callee. JT lets you create and share doodles with friends. You can also exchange text messages with the person in your contact list with it. JusTalk is powered by a data compression algorithm that results in 40 to 60% data saving during an HD video call. It lets you make group calls.
Similar video calling applications:
Final thoughts: Video Calling is complex technology. A poorly designed application will annoy users. To avoid frustration and call drops, use one of the 7 video calling apps I've shared above. Millions of people use these apps every day. Communication between the caller and callee takes place over a secure encrypted channel.