Before 2005, people tuned in to a sports radio channel to get Olympic, Football, Rugby, NFL, Cricket updates. In the age of smartphones, you don't have to be in a stadium, listen to the radio, or be in front of the television as you can watch an ongoing match or an event on your Android device or iPhone/iPad. Mobile apps allow you to watch live sports for free or by paying a small subscription fee. Although several apps on iTunes and Play Store claim to update the user with the latest scores in real-time, only a bunch of applications can live stream the match. Below, I've shared eight great applications you can use to watch live sports on Android or iOS devices.
Best apps to watch live sports (or highlights)
ESPN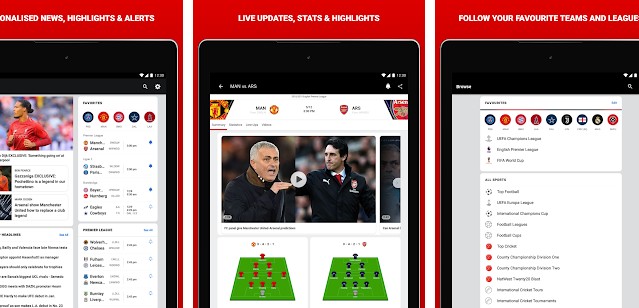 ESPN has 50+ million users. It is one of the most popular apps to watch live sports and see the live score of the ongoing match. ESPN covers the following sports:
NBA, Boxing, Horse Racing
NFC, Rugby, Soccer, Cricket, Olympics, and more.
Although ESPN covers several sporting events, it provides a great user experience. The application asks you to choose your favorite sports and teams when you run it for the first time. Once you select your favorite sports, ESPN will display its main interface, where you will find the following four tabs:
Home: This interface displays the hottest/latest news in the world of sports and mini clips of a match that took place recently.
Scores: This section shows the score of a match currently being played or the score of a live sporting event.
Watch: To watch live matches or events, open this tab.
More: If you tap this option, ESPN will display a list of your favorite events and sports and an option to open the settings interface. You can also edit your favorites from this section. Here's a list of options you'll find in ESPN's settings interface:
Enable software rendering.
Disable video autoplay when mobile data or WiFi connection is active.
Disable notifications for teams, players, etc.
Enable/turn off notifications for breaking news, etc.
Sky Sports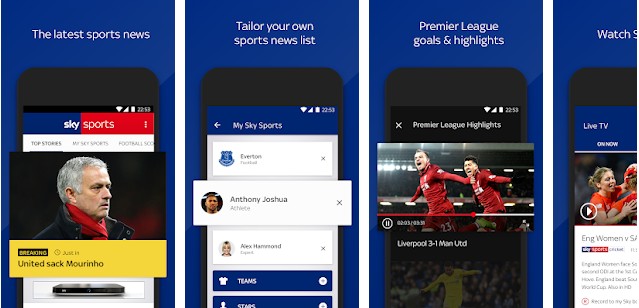 The Sky sports streaming app is similar to ESPN, but it covers matches wherein a European country has participated or is participating in. Also, Sky Sports is available for download only in Europe, and its live channels feature is available for users based in the UK and Ireland. Sky Sports has a good interface. The app has a different section for each sport it covers. It enables you to customize alerts, follow your favorite athletes, teams, etc.
Red Bull TV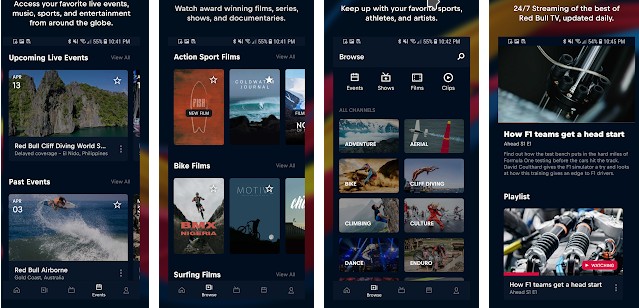 This application allows you to watch sports that are not covered heavily by tv channels. Sports in Red Bull TV are grouped into the following categories:
Rally, snowboarding, skiing.
Bike, Aerial, Cliff diving, etc.
In addition to the categories, Red Bull TV also provides a search tool that you can use to find sporting events by their name. Red Bull makes you aware of the upcoming matches/events. It allows you to watch award-winning sports series, films, documentaries, etc. It is one of the best apps to watch live sports.
beIN sports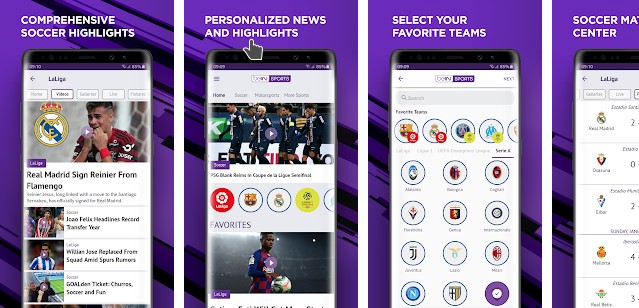 beIN is a must-have application for soccer, tennis, and motorsports lovers. Like the above two sports streaming apps for Android OS, iPhone, and iPad, it allows users to watch live football/tennis matches on their mobile devices. beIn covers major events such as UEFA Champions League, Premier League, La Liga, Ligue, Bundesliga, etc. The application allows users to watch match highlights and see live scores. It ships with a sports TV guide feature that displays the schedule of the upcoming matches on TV. As in ESPN, you'll find sports news on the application's home interface. beIN allows users to choose their region. If you select a region, beIN will recommend sports popular in the selected region.
NFL Game Pass International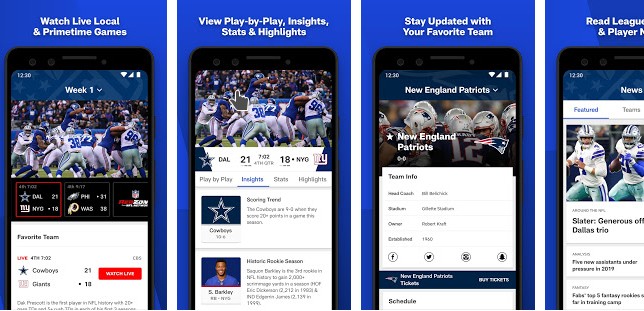 Love NFL? This sports streaming app is for you. The Game Pass International application lets you watch 250 live matches if you subscribe to its annual plan, which is priced below $15. NFL Game Pass allows users to download and watch the full game replay, game highlights, or the coach's film. Users can configure the NFL application to save the downloaded files to the microSD card. Game Pass lets its users change the interface language and watch the original NFL events.
SuperSport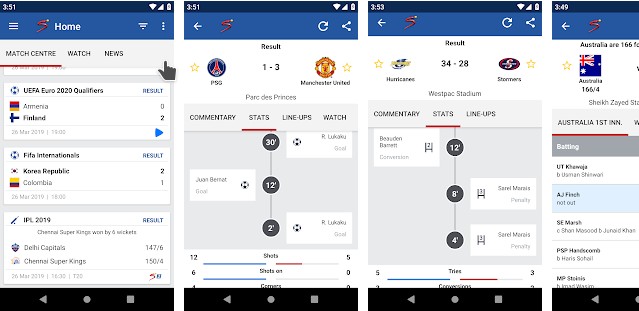 SuperSport enables paid/premium users to watch live matches. It allows free users to watch match highlights. The application supports the basic customization of the user interface. It also lets you favorite a sport, set up reminders, and read news of the following sports:
Football, rugby, cricket.
Golf, motorsport, tennis.
CBS Sports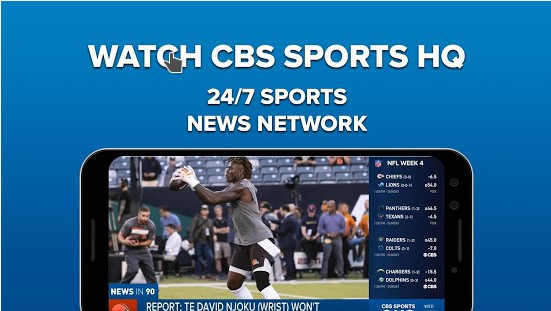 The CBS sports streaming app for Android and iPhone support dark mode. It enables you to watch or listen to live streaming of major wrestling, basketball, golf, NASCAR, etc events. CBS gives its users access to wrestling/golf, etc podcasts, and news of their favorite athletes, teams, events, etc. If you have missed a match, you can watch the full highlights or see the match scorecard with the CBS app.
NBC Sports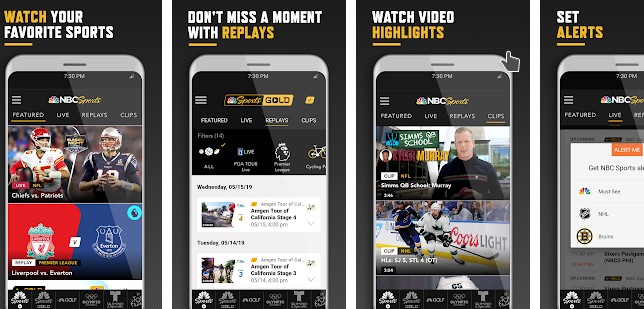 NBC has published several applications on iTunes and Play Store. Its NBC sports streaming app enables you to see matches of your favorite teams/countries live on your mobile device. NBC Sports can display captions when you're watching a highlight or a live game. It supports push notifications and has the option to change camera angles.