Clean Master Lite is a toned-down version of the Clean Master Android app. It has been designed for budget mobiles equipped with 512 to 768 megabytes of RAM. It has over 45+ million active users and an excellent rating of 4.6. CM Lite and Clean Master (full version) employ the same algorithm to find useless files on your mobile device. Their interface is also the same. The only difference between the two applications is their features.
Almost all apps available on the Play Store require some permissions to function. CM Lite is no exception. The app requires Accessibility and Usage access permission to work. Unlike other apps that take you to the Android permission interface, CML users must enable the two permissions manually by navigating to the Android settings interface.
Clean Master Lite review
User interface and features
CM Lite's main interface flaunts a button to scan the internal/external storage memory. It also displays the amount of free storage and system memory on the phone. To find useless files, the user must tap the scan button. Then, they must wait for the scanning task to complete.
The junk file scanner will find residual files, WhatsApp logs, obsolete APKs on your mobile device, and it will display the same in a list. You can deselect the files you don't want the app to delete. CML took about 10 seconds to find 200 MB junk files on my Android device.
CM Lite is a junk cleaner app. Unlike CCleaner and other similar apps, it doesn't have an option to uninstall system or user applications. CML ships with a virus finder utility. If your phone is infected by malware or virus, use this tool to remove the infected file. The scanner scans important locations in the file system. It doesn't allow you to specify custom scan locations.
CM Lite also has a phone booster utility that clears the system memory by killing idle Android apps running in the background.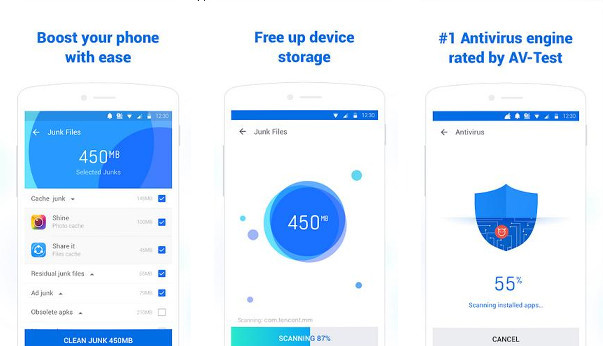 CM Lite offers a WhatsApp booster tool. This utility makes you aware of the image, audio, and video files the WhatsApp messenger has saved on your phone.
Must see: Best Android task killer
CM Lite provides a settings interface where you'll find an option to add home screen shortcuts to boost the phone's performance and hibernate active processes. It also enables you to turn on the APK scanning feature. You can configure the app to scan/prevent scanning the system memory for unwanted files.
CM Lite lets users add processes to the ignore list. This feature comes in handy when an app is running in the background, and you don't want CM Lite to kill it.
When your smartphone's battery is running low on power, Clean Master Lite will display a notification. To improve battery life, you must tap the notification. The app doesn't have advertisements, nor does it have an option to download the full version of the Clean Master.
3 things I liked about CM Lite
UI: The app's user interface is stunning and easy to use. You don't have to waste your time locating the important tools of CML.
No annoyances: CM Lite doesn't have popups, unnecessary features, and advertisements.
Lightweight: The app is RAM and storage memory-friendly. It occupies 5 to 6 megabytes of storage space and consumes 4 to 5 MB of RAM.
Fast: CM Lite takes a few seconds to distinguish between junk and important files. It is also quick in removing unwanted files from the phone's storage memory.
Also read: Best cleaner app for Android