Although Android is one of the finest operating systems, its memory management feature is not robust and effective. One of the major problems with Android is that it keeps inactive tasks in the RAM for a long time. Such tasks waste the system memory and page file. As idle tasks waste RAM, active applications may embarrass users with their performance. Hardware components require power else they'll not work.
If many processes are running in the background, the battery juice will drain fast. Management of memory is left up to the users. The Android 4.4+ OS allows you to see the list of active apps in the background. It also lets you kill inactive applications by swiping left/right. The problem with this tool is that it doesn't show the amount of RAM an app uses. Hence, killing an app that uses a minuscule RAM doesn't make any sense.
For better management of the system memory, we need a powerful task manager or app killer for Android, which gives full details on active processes. Most users have an Android device with 1GB of 2GB RAM. Hence, we should use a task killer app that takes system memory into consideration before killing an app. Below, I've shared a list of the best Android task manager apps. Download one of the apps I've covered below to improve your device performance or manage the application processes.
5 Best task manager for Android and app killers
SystemPanelLite Task Manager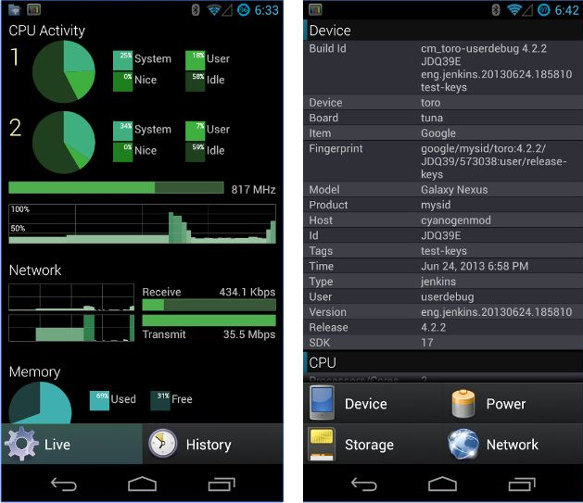 An incredibly small and powerful app killer, SPTM has a beautiful interface that shows the details of processes. The application scans the system memory and identifies active and idle processes running in the background. Then, SPTM compiles a list of apps and shows the following details:
Percentage of processor, memory, and storage memory used.
Current CPU clock speed.
Network bandwidth i.e. bytes sent and received.
Memory used by each app.
When you turn the screen on after the display turns off automatically, the SystemPanelLite Task Manager will refresh the values mentioned above. SystemPanelLite for Android has a system resource monitoring tool that shows the below information of a mobile device in real-time:
The temperature of the battery and processor.
Used and free system and storage memory.
Live network and processor activity.
SPTM features a one-click option to kill all tasks. It has a dev info module that shows complete information of the hardware components in your phone or tablet. If you're looking for the best app killer for android, you can use SPTM.
APK size: 850 Kilobytes.
Go TaskManager Ex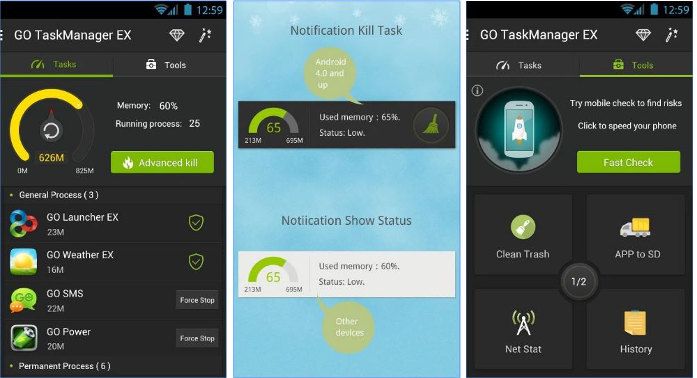 Most Android task manager apps have an ordinary interface. GTE is among a handful of app killers that provide excellent UI and UX. It has been launched by the developers of the popular Go launcher app for Android. Apart from killing inactive apps, GTEX lets you optimize the Android OS for speed. It allows users to:
Delete unwanted cache files.
Transfer apps to SD card.
Erase history.
The free Go Task Manager for Android provides a general kill button that uses a smart algorithm to boost RAM. It lets you create a list of apps that shouldn't be force-killed. Go TM includes an "auto-kill" module which frees the system memory whenever the screen turns off. You can configure it to alert you whenever the system is running low on memory.
Zapper Task Killer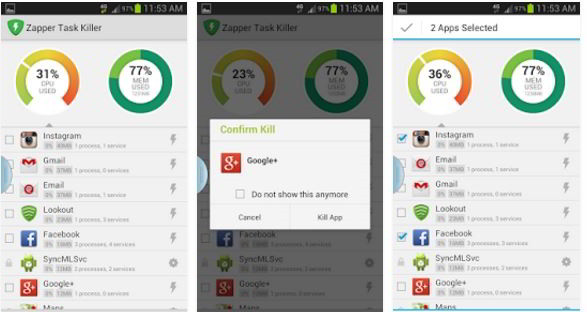 Zapper is the tiniest app on our list. Its APK size is 450 KB. Please don't go by its size. The app works great. Zapper shows the percentage of used memory and CPU along with a list of apps running in the background. To kill a process, tap on its icon or name displayed in the list and select the "kill app" option.
ZTK lets you sort the list of processes by their CPU and memory usage. It displays the number of child processes and services created by an app and their RAM usage. ZTK does a great job of tuning the performance of the Android OS. It can refresh the list and select each app on the list. If you use it regularly, you'll enjoy lag-free gaming and multitasking. ZTK is one of the best Android app killers tools.
Also check: Best file manager apps for Android
Super Task Killer and Fast booster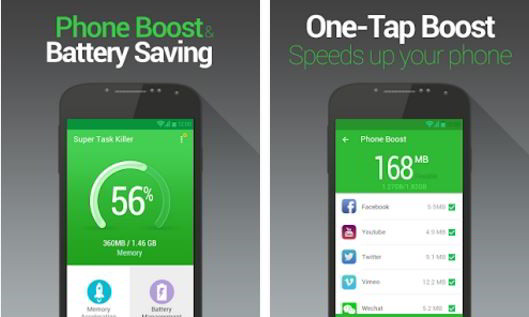 Yet another top-notch Android task manager app, the Super Task killer provides two main features:
Boost phone.
Save battery.
When you tap on the 1st option, you'll see a 1-tap option for terminating background processes. STK shows the total volume of freeable RAM. The battery saver module of STK improves battery life by reducing display brightness and turning off WiFi, Bluetooth, data connection, updates, and phone vibrator. Super Task killer has the following features in addition to phone booster and battery lifesaver:
App, Network, and file manager.
Process whitelist, auto boost function.
Charging reminder.
Advanced Task manager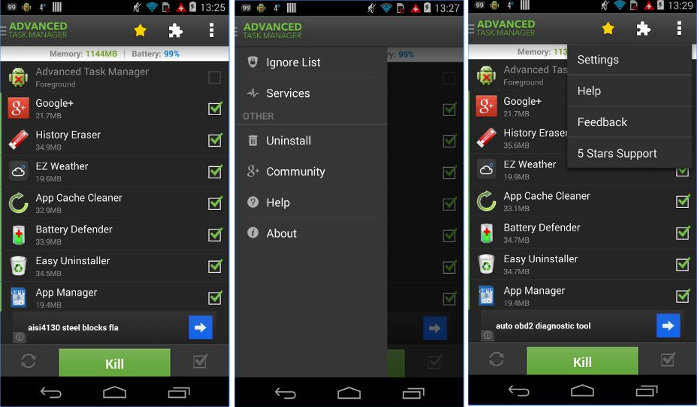 ATM is a free tool that enables you to manage processes created by the system and non-system apps. The Advanced Task Manager keeps an eye on the processor's performance and utilization. If a process lags because of the non-availability of the processor, ATM will automatically notify you about it. The Advanced Task Manager app for Android has a 1-click tool to kill all processes running in the background. It provides an ignore list where you can add the apps you don't want ATM to terminate. It features a virus scanner tool and an APK manager utility to uninstall applications you've installed.
Other top-rated task manager apps you can use:
Final thoughts: If you're using a mobile phone with 512 MB, 1GB, or 2GB RAM, use one of the top 5 Android task manager/app killers I've shared above to boost RAM, reduce device temperature, improve battery backup, and more.
Must see: Best Android cleaner apps