Question and Answers sites such as Quora, Yahoo, Reddit, Stack Exchange are very popular in the US and India. Google will now take on a bunch of QnA sites with its new app called Neighbourly.
What permission does Neighbourly require?
Location access (GPS).
WiFi/Mobile data access.
What Neighbourly does?
The Google app finds the email address you've linked with your Android device, and it displays the same in a tiny popup. Users must tap the email address to get started with Neighbourly. Once you select your email ID, the app reads your location, and then it displays questions posted by people nearby you in a deck of cards like interface. If you know the answer, reply to the question. Neighborly won't pay you money to answer the question, but it will reward you with a badge.
To see the previous/next question, swipe left/right on the screen. To get notifications for questions you've asked, you must follow questions in the Neighbourly app by tapping the bell icon. As in Quora, users can bookmark or share questions. Users can also up-vote the answers. The best reply will be displayed at the top of the list of answers.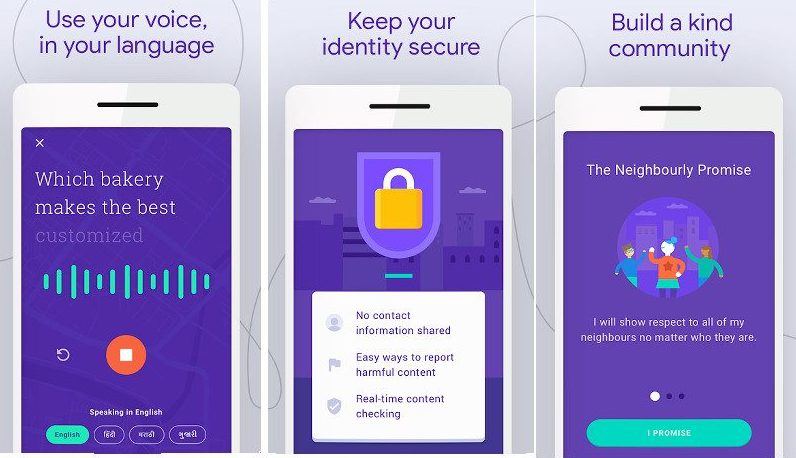 If the app is not available in your location, you can opt-in for an invite by registering your phone number. When someone near you starts using Neighbourly, Google will let you ask/see questions. If no one in your city is using this app, you won't be able to use it.
You should give up the thought of using Neighbourly with a VPN because the app uses GPS data only. Google Neighbourly doesn't allow users to switch cities. However, you can change the locality.
Google Neighbourly can translate voice into text. Hence, you don't have to type a question. The app's speech engine supports nine local languages. Therefore, you can speak in a language you're comfortable with.
The app will display notifications each time someone posts new questions, answers to questions you follow, etc. You can turn on/off notifications from its settings interface.
As of today, Neighbourly is available in 10 Indian cities. Google is testing the app with limited users. Once it finishes testing, the application will be available in 1000s of cities.
It's not clear whether Google will launch the web version of Neighbourly. Google's new application will pose a serious threat to Question and Answer sites if it does so.
Pros
Cons
No categories, tag, and an option to filter or search questions.
Final thoughts: Neighbourly is similar to Quora. It has a better design than other Q&A apps, but the features are almost the same.
Also read: Best apps like Reddit