JioBrowser review: Good alternative to UC Browser
Jio, India's leading mobile data service provider has launched a new browser app called JioBrowser on the Google Play Store. Although it's new application, JB, has been well-received by the users.
Can JB compete with Chrome, Firefox? Does it save mobile/WiFi data when you're browsing the web? Here's our honest review JioBrowser:
The size of JioBrowser is around 4 megabytes. Thus, its installation won't take much time. On startup, JB displays a presentation that explains its various features. You can skip the slides and start using JB straightaway. The interface of JioBrowser is same as that of UCMini. The UI is divided into 3 sections. In the 1st section, you'll see a search bar. Below the search bar, you'll find a tabbed interface. Below the tabbed interface, the app features a status bar.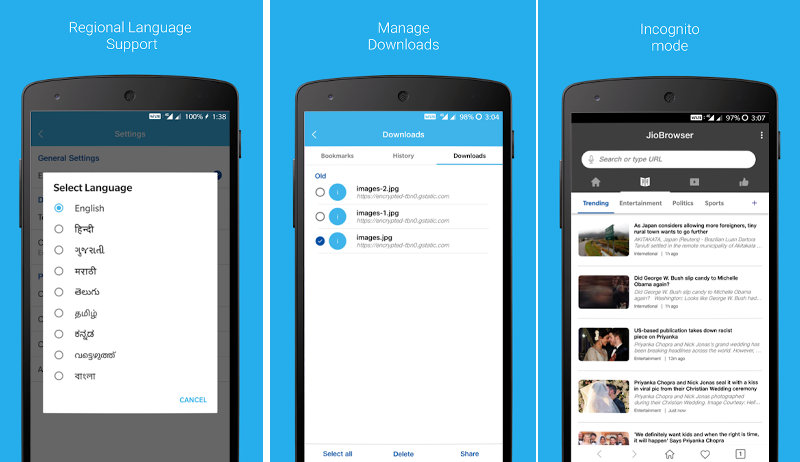 Let's have a look at the various sections of the tabbed interface.
In the 1st tab, you'll see the latest news from various sites. The news item features a rectangular thumbnail, category, and the location.
The 2nd tab also displays news but the stories are categorized. You can subscribe/unsubscribe the categories.
The 3rd tab shows a list of popular videos published by news agencies/companies. You won't find any Tik Tok, funny or controversial videos in this section.
The 4th tab contains names and icons of popular websites in your country. This interface is read-only. You cannot change the order of icons nor you can add/remove links.
Must read: Best Android news apps
Useful utilities
Bookmark: The JioBrowser enables you to favorite page or websites you've enjoyed going through. You can categorize bookmarks in it.
Tabbed browsing: Like other top mobile phone browsers, JioBrowser lets users open and manage tabs.
Incognito: If users don't want the browser to record their browsing history, they can switch to the incognito mode in JioBrowser. To browse in incognito mode, tap the tab icon of the bottom bar. Now, tap the incognito icon.
Languages: JioBrowser supports 8 local languages. The default language is English. You can change it from the browser's settings interface.
Other features of JB
JioBrowser has an option to clear cache, browser cookies and other files it has saved on the phone. Thus, you don't have to use a third-party junk file cleaner application.
The browser app can download multiple files at once. It lets you manage the file download tasks.
Users can change the text font size in JioBrowser. They can also browse websites in text-only mode by disabling JavaScript from the application's settings panel.
The app will display an ad if it's in the page of the source website. It doesn't display ads in between feeds.
Conclusion: JioBrowser is a simple yet powerful app to browse the internet. Although JioBrowser doesn't have ads and some features that you'll find in Chrome & Firefox, it is worth using due to the following reasons:
Intuitive user interface.
Lightweight (low RAM and CPU consumption).
Bookmark/Download Manager.
The only drawback of this application is that it doesn't allow you to hide/disable the news feed. Maybe, the app has been developed for the users who love reading news on websites. If you're frustrated with Uc Browser or other ad-laden browsers, try JioBrowser.
Download from Play Store
Must see: Best Android browser apps
Summary
JioFi offers a good user experience on low-end as well as high-end mobile devices. It is a great application for users searching for a lightweight browser with a built-in news reader/aggregator.