TikTok is a social media app that allows users to create and share lip-syncing videos. It gives you a chance to become an internet sensation. The app was earlier known as Musically. In 2018, it was rebranded to TikTok. Musically had become a new rage on the internet. This application had over 1 million users within a year of its launch. TikTok is carrying this trend forward. It is being updated with new features every 2/3 months. Although there's no age restriction in this app, TikTok is used primarily by youngsters.
The Tik Tok app's size is around 60 megabytes, and its user base is 100 million. Is it a safe application? Should you dump WhatsApp, Snapchat, Kik, and start using Tik Tok? Here's our honest review of this free video-sharing app.
TikTok app review (Musically)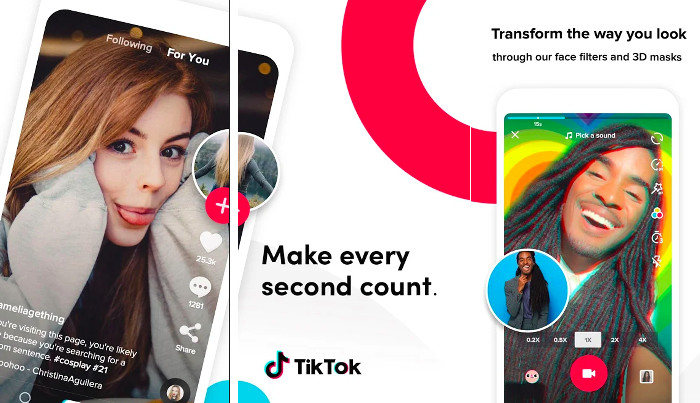 As in other social media apps, you must register an account to use Tik Tok. Once you register a new account or log in to TT with your Google or Facebook account, the app will ask you to verify the phone number. Users must complete this step to see the main interface.
The main UI of TikTok is beautiful and intuitive. It has 5 sections. The 1st section allows you to see videos shared by other users. The length of the videos can be up to 60 seconds in Tik Tok. Users can comment on media clips. They can also like or share the clips on Facebook, WhatsApp, etc. Users can pause and resume the video playback. To watch the next clip, swipe down, and to see the previous one, swipe up. If you find the video interesting, you can follow its uploader in this application.
Must see: Best meme maker apps
To discover interesting videos, tap the 2nd tab of TikTok. The media files you'll find in this section are categorized by their hashtag and number of views. The "Discover" section boasts a search utility. It also allows you to find a video/hashtag by scanning a QR code sent by your friend.
The 3rd tab/section allows you to record videos. To use this feature, you must provide the following three permissions to the TikTok app:
Take pictures and videos.
Record audio.
Access photos, media, and files.
Before you start recording, you can select a filter or effect, set the playback duration, choose background audio for the video in the Musically app.
The 4th tab of TT displays notifications. It also allows you to see the direct messages sent by friends or fans. The 5th tab of the TikTok application enables you to change the avatar image. It lets users modify the privacy/general settings, add profile video, enter the link to your Youtube/Instagram profile, and find/follow friends using the app.
Also check: Best apps like WhatsApp
Settings
TikTok provides many options in its settings interface. Its settings panel gives you access to a wallet utility to buy coins for spending on in-app purchases. You cannot use the wallet for other purposes.
TikTok gives account owners an option to block other users from downloading videos uploaded by them. You can allow or disallow people from reacting to your videos or sending direct messages to you. This application enables you to block trolls/users sending inappropriate messages. Users can manage the blocked users by selecting the "Block List" option in the setting's panel of Tik Tok.
The video-sharing application displays the size of the cached files it has saved on your mobile device. It provides an option to clear the cached content, disable notifications, etc.
Pros
Nice UI.
Option to prevent downloading of videos.
Good privacy features.
Cons
There's no setting to prevent auto-playing of videos.
Too many annoying video clips.
No filter to show videos of certain types.
No option to stream videos in lower quality.
Final thoughts
TikTok is an addictive and safe application. It doesn't have offensive content and advertisements. If you're looking for a video-sharing app, try TT, and you won't be disappointed.
Also read: Best apps to create videos from photos