The Spotify music streaming service is available in over 55 countries. It is used by over 100 million users and has an excellent rating of 4.5+ out of 5. What features does Spotify offer to its users? Is it better than other similar services i.e. Pandora, Amazon/Google Play, Apple Music service? Below is my honest review of Spotify.
Spotify review
Spotify requires account registration. It also lets you sign in with your Facebook account. You must log in to your Spotify app/website account to stream songs. Anyways, once you log in, you can access your playlist and favorite songs on any device that supports Spotify.
Spotify allows users to see the tracks their friends have bookmarked or are currently playing. It supports Linux, Windows, Mac, Android, and iOS operating systems. The app's UI employs a dark color theme. It is beautiful and bug-free. The interface allows you to browse the collection of songs Spotify has to offer. The app lets you favorite a song, artist, album, etc. Its interface gives you access to songs and artists you've favorited.
Spotify app features:
Playlist
Spotify gives you access to 1000s of playlist that contains tracks from famous artists as well as artists you may have never heard of. Users can share playlists with friends on social networking sites and apps. They can also bookmark it. By default, the application displays songs in a list. You are allowed to change the view from list to grid. Spotify enables you to create a playlist. A playlist in Spotify can have up to 300 tracks. The app lets you set a description and upload an image for the playlist.
Spotify Player
The music player displays the length of the track. It also features a button to shuffle, repeat, open the next/previous track, manage the queue of songs, and manage the playback on a connected device. When the player is playing a track, you'll see a list of artists that have composed tracks similar to the one you're currently listening to. This feature helps users discover new artists and tracks.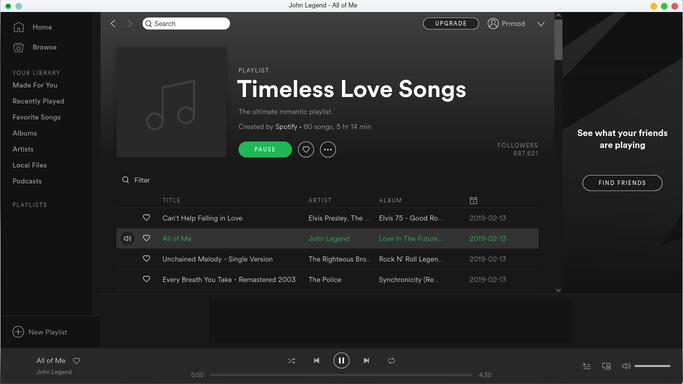 Ads
If you've not upgraded to the premium version of Spotify, you'll see ads at random intervals on the app's interface. Spotify will also play a track that recommends you to upgrade your account.
Must read: Best radio apps for Android
Settings
Spotify enables you to change the music streaming quality and the interface language from the settings interface. The app supports 20+ languages. This interface provides an option to make playlists you've created public, enable/disable private sessions, show the recently played button on the interface, etc. There's no option to change the color theme.
Spotify's song player can recognize and play the tracks you've saved on your phone/PC. To use this feature, you must enter the path of the folder where you've saved songs in the setting's interface.
Spotify can automatically play a similar playlist when the one you're currently listening to ends. Its premium version allows you to download the tracks to a folder of your choice. When you change the app's setting, you must restart it to make the new changes come into effect.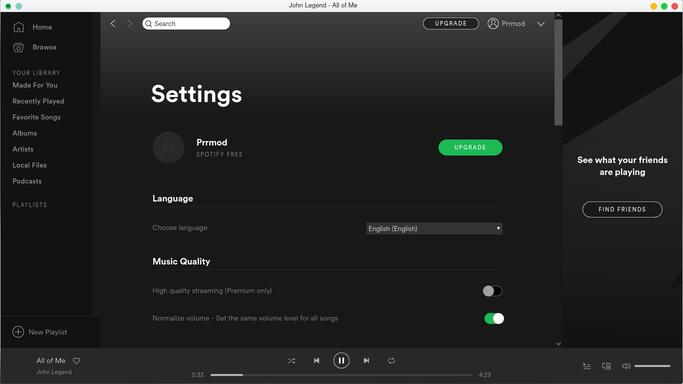 Premium plans
The music streaming app offers six subscription plans starting at Rs 13. It is also allowing users to try the premium features for 30 days. The music streaming service accepts payments made with PayTM or a credit/debit card.
Must see: Best song recognition app
Things I liked about Spotify
Spotify plays the songs immediately when you hit the play button. Other apps take some time. I found this feature most interesting. The audio quality in Spotify is excellent. The app's interface is fast as well as easy to use.
Final thoughts
Spotify is offering countless hours of free music (with ads). Its song recommendation algorithm works like a charm and keeps music lovers in listening mode for several minutes. The free version of Spotify contains ads. If users don't want to see/hear ads, they can upgrade to the premium version of Spotify.