Songs keep depression and headaches at bay. They help us sleep better. Songs can change our mood when we are angry, sad, or lonely. Music is essential, and we cannot live without it. Before the internet network was born, people tuned into the local radio station and bought VCRs to enjoy music. The internet and computers have changed the picture entirely. Because of the computer, we can convert a music file from one format to another. New encoding algorithms generate smaller music files as compared to old algorithms. Because of the small size of files, we can save 100s of tracks on our mobile devices.
The internet gives us access to millions of songs. This is the internet age, and music crazy people don't bother to listen to songs from an unknown artist. All they need is an enjoyable background score, soothing lyrics, or a superb voice. If you have heard a new song at a public place, radio station, in public transport, or with your favorite music player app, but you don't know the singer behind it, download and use the following apps to identify songs.
Best music recognition apps for Android and iPhone
Shazam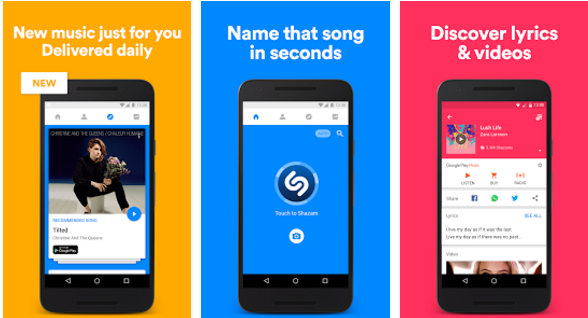 Shazam is the most downloaded song identifier app. It has a superb rating of 4.4 on various app stores. It is a powerful app that gives you access to many songs. Despite having an enormous music library, Shazam displays song details within a few seconds. The app is so popular that famous artists such as Adele, Demi Lovato, and others use it to discover new music. Shazam offers a user-friendly interface. The UI is fast and beautiful.
How to make Shazam identify a song?
Download the app and open it.
You'll enter into the tagging screen aka interface.
Tap on the circular button with the Shazam logo.
Play the song you want the app to identify or hold the phone near the music source.
Shazam will now take a couple of seconds to recognize the song.
After Shazam recognizes the song, the application will show its following details:
Launch date, album name.
Lyrics, artist details.
The music recognition app displays links to music streaming services. Apart from identifying music, Shazam can recognize TV shows too. The app packs a visual recognition module that can function as a good QR code reader. Shazam can work as a karaoke app as it displays lyrics of a song line-by-line.
SoundHound Music search and play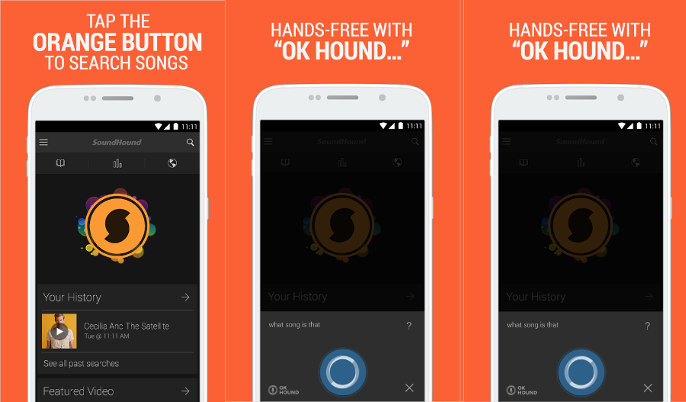 SoundHound is the 2nd best app to find song names. It is also one of the greatest alternatives to Shazam. SoundHound has a superb interface. It doesn't prompt users to register an account or sign in to the app with Facebook or Google. When you run SH, you'll see:
Black/dark gray interface.
Toolbar with options to open search history, discover new music, music world map, inbuilt music player.
Round button with an orange SoundHound logo.
Tap on the circular button, and the app will enter into listening mode. Hold your mobile device near the speaker of the TV, PC, laptop, and wait for a few seconds. SoundHound will now recognize the song. It will then show the song's details and lyrics. SoundHound recognizes the words you speak. Hence, instead of playing a track, you can hum the song's lyrics and wait for the app to show its details.
Also read: Best Android budget apps
TrackID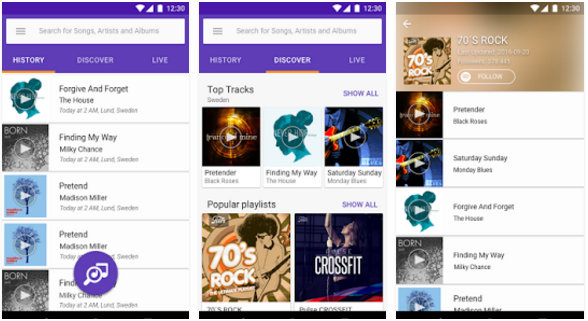 One of the biggest names in the electronics and digital goods business, Sony Corporation owns the TrackID app. TrackID is a powerful app to find the song's name online. It works in the same manner as Shazam and SoundHound.
This song identification app shows a slideshow when you run it for the first time. The 1st slide displays brief information on the app. The 2nd slide asks you to accept terms and conditions. Tap on the "I Agree" button to enter the main screen. Once you do so, TrackID will show a circular search button and options to:
Open search history.
Discover top tracks country wise.
Listen to the live music stream.
Tap on the round button to make TrackID recognize the song and show its information. Sony TrackID does a commendable job of identifying songs. It has a well-designed music player utility. The app shows links to the song's official YouTube video. It supports over 59 international languages.
Recommended reading: Best video player apps for Android and iOS
Sound Search for Google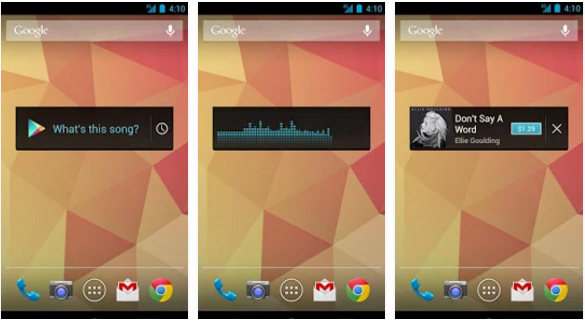 If you're an Android user and looking for a simple tool to identify a song, this music identifier app is for you. Sound Search is a utility launched by Google. Once you install Sound Search from the Google Play Store, the application will add a simple widget to your mobile device's home screen. The widget has "What Song is this?" text. You have to tap on the text and wait for Google to recognize the song. Users can add this widget to the lock screen. Once Google Sound Search finds the song's name, it will open a link to download the song on the Google Music Store. Learn how to use Google SS here.
Must see: Best root apps for Android
MusixMatch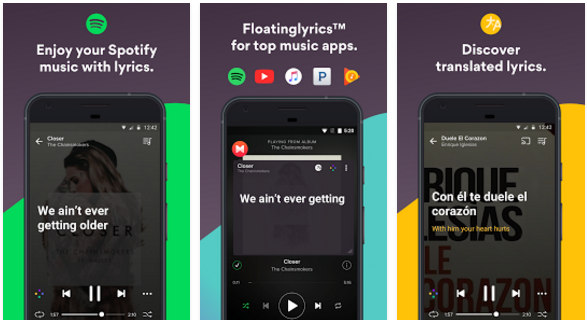 MusixMatch is yet another reliable and popular music recognition app for Android and iOS. It provides many exciting features and is one of the best apps to identify songs. Unlike other apps we've mentioned in this article, MM shows options to register a new account, log in with FB or Google account, and skip account registration. Tap the skip option when you see these options. MM will now ask you to play a random song on YouTube to make you aware that it works. Once YouTube plays the music, open MusixMatch again and then tap on its menu bar. Now, select the "identify lyrics" option and tap the dark orange button.
Final thoughts: The six apps I've shared above are top-rated song identifier apps for Android mobiles and iPhone/iPad. They have an accuracy of 95 to 100%. They are free and don't ask you to create an account. You can use one of them anytime you want. As the apps are error-free, the OS on your phone or tablet will not crash.