Some websites track your activities and location to provide a better user experience and service. Popular websites such as Google, YouTube, Facebook are banned in some countries. To bypass the restriction or to prevent sites from tracking you, you can either use the VPN application or a new privacy-focused browser called Tor.
The Tor Android app is based on the Firefox browser. It works in conjunction with the Orbot app to make users anonymous on the internet by hiding their location and computer details. This month, it was launched on the Play Store by a non-profit organization called The Tor Project. Is the new Tor browser reliable and fast? Is it safe? Let's find it out!
Tor browser Review
The Tor browser app's size is 32 megabytes. To use it, you must install the Orbot proxy app. Then, you must start the Orbot proxy service.
Orbot supports two modes – Normal and VPN. As in VPN apps, you can select a location manually in the Orbot app. In the 1st mode, the application automatically chooses the node closest to your location or a node that is not overloaded with too many connection requests. In case you're not happy with the performance of the current node/server, you can change the server by tapping the "refresh" button on Orbot's notification interface.
Tor will display a search box and a tabbed interface with three tabs – top sites, bookmarks, and history when you're not browsing a website. The 1st tab allows you to see the websites you've visited the most. The "bookmarks" section displays a list of websites/pages you've saved for later browsing. To see your search history, open the 3rd tab.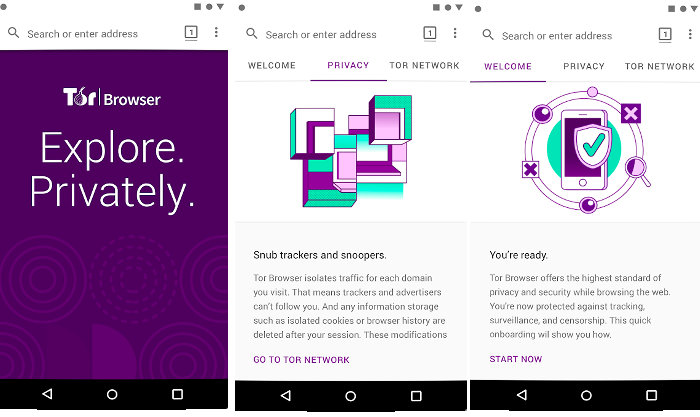 The Tor browser app allows you to add a website to the top sites list manually. It comes pre-installed with the No Script and HTTPS Everywhere security extensions. No Script prevents the browser from executing synchronous and asynchronous JavaScript code. HTTPS Everywhere ensures that the browser will encrypt request data before sending it to the server where the web app you're trying to access is deployed.
In addition to the above two plugins, you can beef up your online security/privacy by turning on the Firefox browser's inbuilt security features such as Tracking Protection, Master password, Send Do not track requests, etc.
Tor Browser's default search engine is DuckDuckGo. DDG is one of the few search engines that doesn't track you or your online activities. You can change the default search service provider in the Tor app.
Browsing speed
As Tor relays network traffic across various countries, you'll experience a drop in internet speed. Tor is a great app to surf websites, but you'll not be able to enjoy YouTube/DailyMotion videos in HD or FHD quality.
Orbot works excellent with the new Tor browser. When it is active, you can see the network traffic flow and the internet connection speed in the phone's notification panel. To change your identity, tap the refresh icon.
Other features
Tor is based on Firefox, a browser that has a reliable and powerful download manager.
The browser allows users to adjust security levels. It provides a slider for the same. By default, the security level in the browser is set to standard. If you're very concerned about your privacy, you can change the level to "safest". When your security level is set to "safest", Tor won't play media files automatically. It will also block javascript, icons, symbols, and images on web pages.
Although Tor is still in the Alpha stage of development, it is stable and bug-free. In the upcoming updates, Tor might provide an option to turn on/off the Orbot proxy service on its interface.
Pros:
Good features.
Easy to use.
Cons:
Conclusion
Tor/Orbot is a powerful browser and security application. It is an excellent alternative to free or freemium VPN apps. It supports Android 4+ OS-powered devices. When you're using Tor, no one can trace your location and the computer that had requested the page.
Also see: Best password manager apps for Android