Kik is one of the greatest messaging apps of all time, but people are searching for its alternatives because of some evil-minded users who want to troll people and spam the communities. We have compiled a list of the best Kik like apps for Android and iOS devices for such people.
5 great apps like Kik
WhatsApp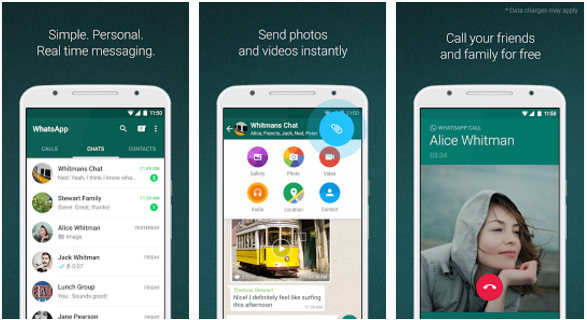 WhatsApp is the most popular messaging service right now. It is so popular that one of every three people in the world uses it daily. WhatsApp has become an alternative method of communication. It lets you create and manage groups. It also allows you to make free voice calls over the internet with VoIP technology.
The latest features introduced in WhatsApp messenger are video calling and disappearing messages. If two or more people use WhatsApp on a 4G or 3G ready handset, they can communicate face-to-face with each other. Users can configure WhatsApp to automatically delete messages from the chat interface of a specific user. In addition to the features mentioned above, WA also lets you set a display picture, status message and share documents, pictures, videos, PDFs, and more. Before you can start using WhatsApp, you must verify your number. This app like Kik is free for a lifetime. It is the best alternative to KIK messenger.
Also check: Best apps like WhatsApp
Line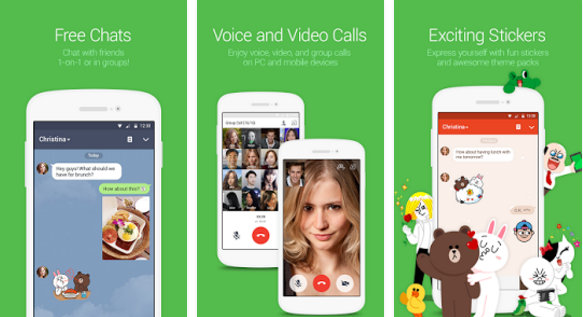 Line, developed by a Japanese IT firm Line Corporation has 600 million users across the Globe. Millions of girls and guys in the US, Canada, Europe, Brazil, and Asia use this Kik like app daily. Line messenger has a beautiful interface. It provides 100s of free stickers to make messages more interesting and creative. It allows users to make voice calls and group calls with 200 users.
Line provides a unique feature called "keep", with which users can save their favorite messages, pictures, videos and share them with friends when required. As Line has more users than the social networking service Twitter, many celebrities use it as an alternative to Twitter. The app lets you follow celebrities and get updates from them regularly. It also enables you to make international voice calls. It allows users to create polls and share the same with friends.
Must see: Best contacts apps for Android
Viber Messenger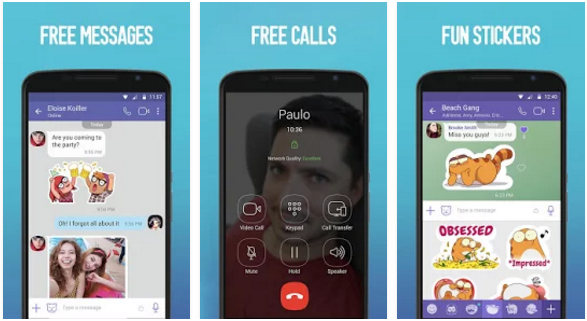 Viber is one of my favorite applications on this list. It has between 500 Mn to 1Bn active users. Viber offers many unique features. Hence, it is one of the best alternatives to Kik. This free messaging app has a trusted contacts feature, which lets users mark a contact as authenticated. As in Line, you can make a group call with up to 200 people at a time with it. Viber supports private communication with the hidden text messages feature. You can use it to make video or voice calls for free. Viber also supports stickers and self-destructing messages.
WeChat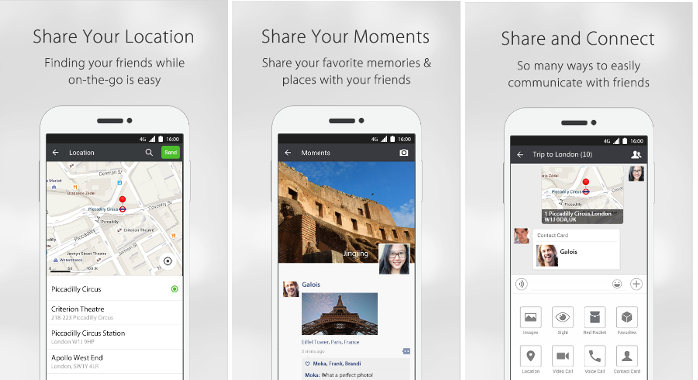 Owned by the Chinese technology firm Tencent Corporation, WeChat is a free IM service that lets you find new friends with the friend radar feature. WeChat is one of the most secure apps because it is the only messenger that has been certified by TRUSTe. This app like Kik supports group calling to up to 500 users. It lets users share multimedia pictures with their friends in real-time. WeChat supports 20 different languages. It supports HD voice calls and video calling. It offers over 99 free stickers and a personal photostream in the form of Moments. Other interesting features of WeChat are Time Capsule, Mini Programs, Payments, etc.
Also check: Best apps like TikTok
KakaoTalk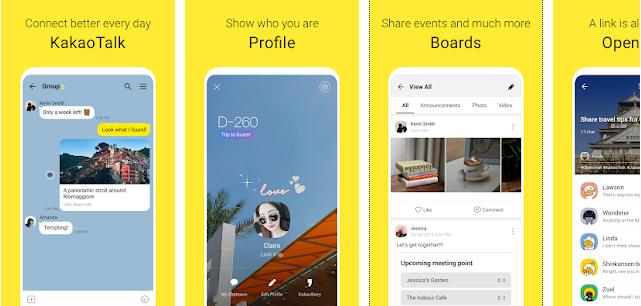 KakaoTalk has 140+ million users. It is one of the largest and most feature-rich applications on our list and one of the best apps like Kik. KakaoTalk lets users send text/video messages and share voice notes with their friends. It also allows users to make video/voice calls and create groups. Once you create a group, you can add your friends to the group and chat with them. KakaoTalk has a voice changer tool built in. It has a good collection of beautiful emoticons. If you don't like the default emoticons, you can buy new emoticons in KakaoTalk. The app allows users to share their live location with friends. You can use KakaoTalk as the default SMS app on your device. In addition to phones and tablets, you can use KT on your PC.
Google Allo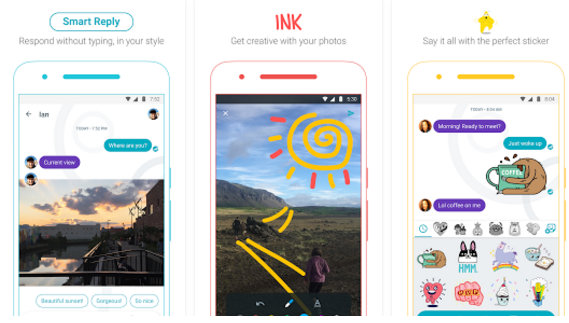 Google's latest Kik alternative messaging app i.e. Allo, has become a great alternative to WhatsApp and Kik quickly. Allo users are required to verify their phone numbers. Once you verify the number, you'll have access to the following cool features of Allo:
Smart reply: This feature of the Google Allo messenger app allows you to respond to messages sent by your friends quickly. Allo scans your previous messages, and then it suggests text and stickers. Users must select the sticker or message they want to send to their friends.
Shout/Whisper: Want your friends to reply to your messages quickly? If yes, then use the shout/whisper feature, which enables users to adjust the size of the text message.
Doodle: Unlike WhatsApp, Allo lets users add doodles to photos. You can use this feature to make funny memes on the fly.
Google Assistant: Allo ships with Google Assistant, which is an Apple SIRI alternative. Users can invoke Google Assitant by adding @google before their message.
Allo has many more exciting features. It is one of the latest apps like Kik messenger.
Update: Google Allo was removed from the Play Store in March 2019.
Also see: Best video calling apps
Final thoughts: People who feel insecure, unsafe, or are bored with Kik messenger should try one of the messaging apps I've shared above. These five applications are similar to Kik and are widely used. Hence, the chances of finding new or old friends are high.