A few years back, WiFi-only tablets were only used to browse the internet, make video calls, and play games. As these tablets didn't support SIM cards, people were afraid to buy them. Most messaging apps on the Play Store and iTunes require phone number verification. As the tablets lacked a SIM card slot, they were not compatible with popular apps. Another drawback of the WiFi-only tablets is that the users must be in the range of a WiFi hotspot to use the internet connection. Now, you don't need a SIM card to make calls or use messaging apps, thanks to the free WiFi texting apps available on the Google Play Store and iTunes.
The WiFi texting app will assign your device a unique phone number which you can use to verify your number for using WhatsApp, Instagram, etc. It will also allow you to make free calls and send messages to friends. WiFi texting apps function as a messaging service and a mobile virtual network operator. They are secure and easy to use. They have a built-in dialer, phonebook, and an inbox utility. These apps come in handy when your voice calling plan has expired, the phone's SIM card slot is not working, or when your device cannot connect with the cellular networks. Below, I've shared the list of 5 great WiFi texting apps for iOS and Android operating systems. To make or receive calls with these apps, you have to connect your tablet or phone with the WiFi network and use the applications.
Best WiFi texting apps for Android, iPhone, and iPad
TextMe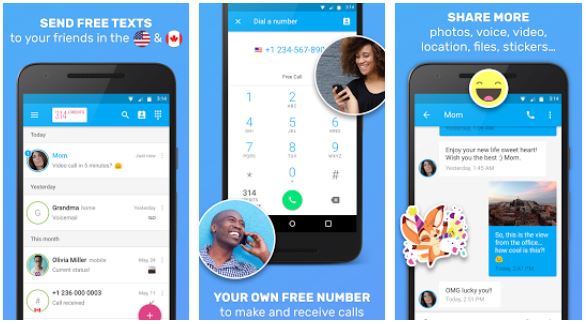 TextMe allows you to make free HD video and voice calls to other TextMe users. To use it, you must register a new account or log in with Facebook or Google account. TextMe credits the account of the new users with 10 points. You can use this credit to make calls. TextMe enables users to earn extra credits by completing any of the following 5 tasks:
Watching video.
Complete an offer.
Watch a premium video.
Buy credit packs.
Invite friends to join TextMe.
If you have exhausted the free credits, you can buy calling credits in this app. TextMe assigns a US phone number to your account. It provides an option to change the number and disable inbound calls. You can set a ringtone for the US number in TM. TextMe has a contact manager utility built-in. It lets you set a passcode to block unauthorized users from accessing your call logs. TM supports voice mailing service. It includes a rate finder utility that you can use to find international calling rates.
TextNow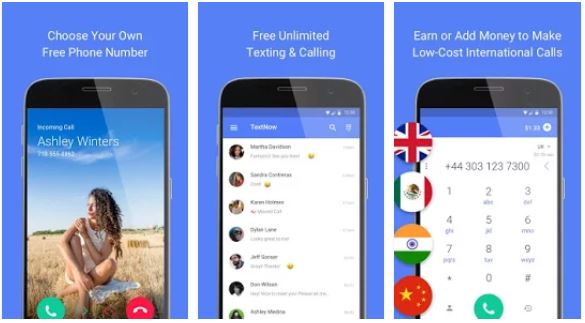 TextNow is a top-rated WiFi texting app on the Play Store and iTunes. It has a user-friendly interface. When you log in to it, TextNow will display a list of US numbers and an option to change the area code. You must select the number you want to link with your account. Domestic, aka local calls made with this app is free. You must add credits to your TextNow account to make an international call. TN maintains a history of the recently dialed numbers and missed calls. You can share pictures, emojis, and text messages with other users of this app.
TextNow supports call forwarding and Google smart-lock service. It allows you to set ringtones for specific callers. It lets users protect their conversations and calling history with a passcode. TN provides a beautiful widget that you can place on the home screen to quickly make calls and send messages.
Also see: Best reverse phone lookup apps
NextPlus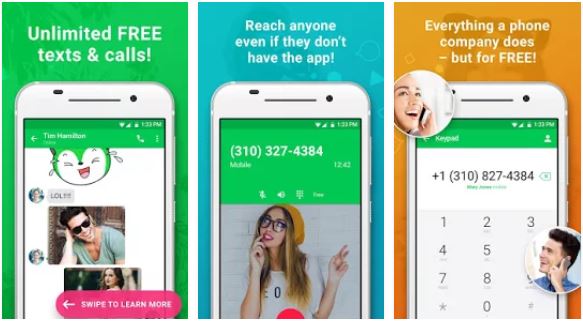 NextPlus is a free WiFi texting app that has a size of 29 megabytes. It lets you share stickers, voice messages, and images with friends. You can also play free games on it. To make calls or send texts with NextPlus, you must log in to the app. Users get a free phone number in the city and a pin code of their choice when they join NextPlus. NP allows you to change your phone number. It enables you to make free calls to a friend using NextPlus. To call an international or non-domestic number, you must buy credits. NP allows you to bookmark a contact. It has a contacts manager utility and a tabbed interface that displays missed calls, dialed phone numbers, and messages.
Must check: Best Android file transfer apps
TextFree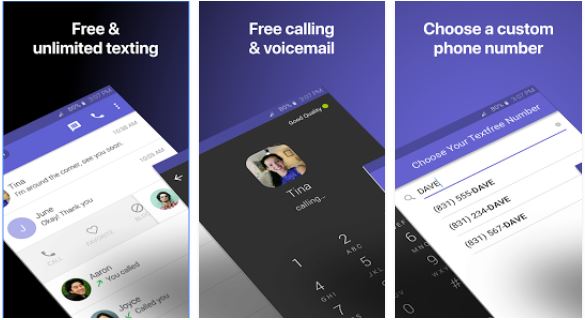 TextFree is a top-rated WiFi texting app for iPhone, iPad, and Android devices that has a simple interface. It gives users a US phone number to make calls or send messages through their WiFi-only devices. It allows you to send free texts and make unlimited free calls to other TextFree users. TextFree lets users send MMS, videos, and cool stickers to their friends. It also supports group messaging. TextFree enables users to customize or change their US number and leave a voice message. It contains in-app purchases. It also displays ads. TextFree rewards users free credits for watching videos.
Must see: Best WiFi Signal Booster app for Android
Free Tone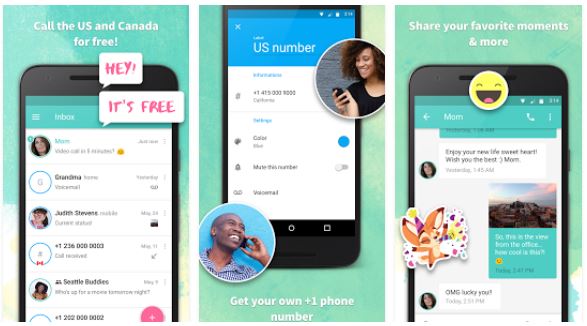 Free Tone is a free WiFi texting app for Android and iOS designed and built by the developers of TextMe. It has a lovely UI. It allows users to choose a local US number to send free texts and make domestic or international calls. FreeTone lets US residents make free calls to all numbers in Canada and the United States. It supports MMS and voicemail. You can also make HD video calls with this app. FT allows its users to send stickers, images and participate in group discussions.