RSS reader is an application that reads RSS feeds of websites. Instead of displaying the plain RSS feed, the app displays the articles in a beautiful interface. If you use an RSS reader app, you don't have to open websites on the desktop or mobile phone browser to read articles. You can subscribe to as many websites as you want with the feed reader application. Some RSS reader apps let users save RSS feeds for offline reading. Hence, you can connect the phone to the internet and save the stories shared on your favorite websites for later reading.
There are 100s of RSS/news/blog reader apps on iTunes and Google Play Store. Below, I've shared the list of the most reliable, fast, and user-friendly feed reader applications you can use on your Android or iOS device:
Best RSS reader for Android and iOS devices
Feedly
Feedly is the most popular newsreader app on Play Store and iTunes. It has 5 million users and an excellent rating of 4.5. It has an immaculate interface. With Feedly, users can subscribe to the RSS feed of their favorite websites. The app has an option to categorize the feed into various groups. Unlike the web version of Feedly, account registration is not necessary to read the news in Feedly. Feedly includes a search box with which you can see the stories published on your favorite sites by simply entering the website name and tapping the search icon. Feedly lets you sort stories by date. It can open the website page where the story appears.
Feedly allows you to view stories in four modes – magazine, title, cards, and list. You can share stories on 10+ platforms with it. The app lets you change the interface theme from light to dark. Feedly allows you to see the list of most popular news sources. It supports hashtags. Whether it's the Android or iOS operating system, Feedly is the best RSS reader app.
Inoreader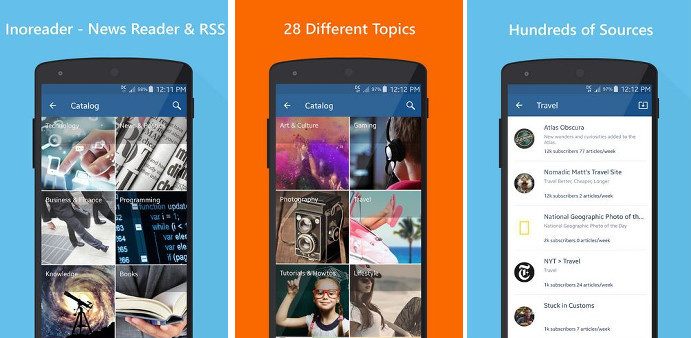 Inoreader is an excellent alternative to Feedly. It gives users access to the news grouped into 28 categories. While exploring the topics/categories, users can subscribe to the websites they find interesting. Inoreader supports three color themes. Users of this application can see the list of stories in three different views. Inoreader users can sort their subscriptions alphabetically. They can change the text font color, size, etc, and share stories with friends.
The Inoreader newsreader provides a search option. It allows users to bookmark an article. It has a dedicated button to mark all stories as read. Like Feedly, the free version of INO has some drawbacks. The app doesn't syncs stories automatically. It doesn't save the content of RSS feeds in the user's subscription list for offline reading. The biggest drawback of Inoreader is that it doesn't allow users to subscribe to the feed of websites that aren't listed in its 28 categories.
Must check: Best apps to create videos from photos
RSS Reader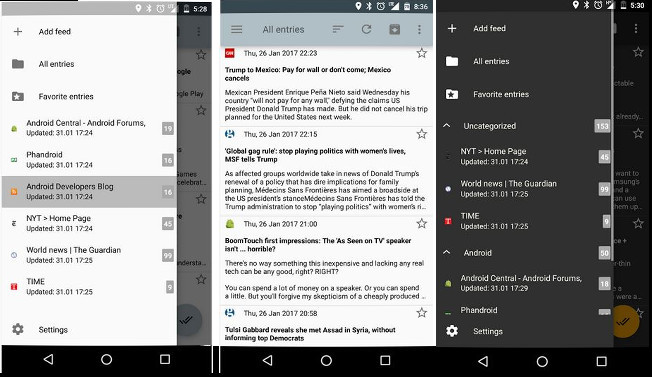 Feedly and Inoreader require account registration, and they don't save the RSS feeds for offline reading, but they are cross-platform applications. If you don't have a PC or tablet and want to keep yourself updated with the stories published on sites you like, use the free RSS Reader app from Svyatoslav Vasiliev. RR is a feature-rich app that doesn't prompt users to register an account. It can save the feeds in your subscription list to your smartphone. The application lets users specify the cache size. The cache is the folder where RR will keep the RSS data, images, etc.
This RSS Reader has a built-in browser. Users can set their preferred date or time format in this app. They can also enable or disable groups, images, and floating buttons. RR can import feeds from Feedly, Inorder, etc. To use this feature, you must use the import OPML data feature of this app. If you don't like RR and want to switch to another application, you can export your feed list by tapping on the export OPML feature.
NewsTab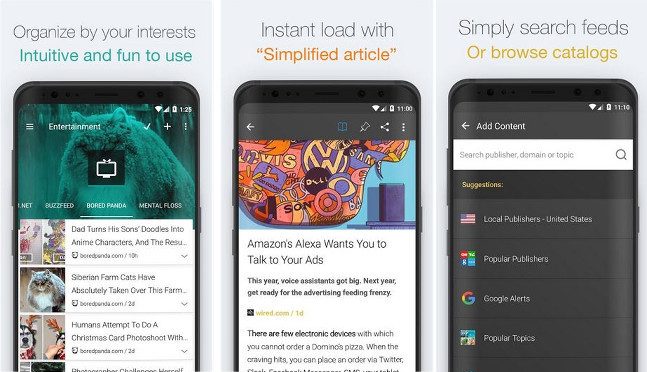 NewsTab has 50000 users, and it has a good rating on the Play Store. Registering an account is optional in NewsTab. NT provides a "Create a guest account" option which lets users explore the topics and read posts shared on the websites. The best feature of this app is its Daily Digest feature which saves the top stories of the day on the phone's storage memory for offline viewing/reading. The app detects the user's location and creates a list of topics from the websites popular in the user's country.
NT displays an animated background for the titles. It can automatically mark the post as read when you scroll down the page. Users of this app can change the interface color, font size, and font. You can configure NewsTab to hide articles that you've read. The app allows you to set the amount of space it should use to save the RSS data. NewsTab can read and analyze OPML files generated by other RSS applications. Hence, users can import feeds from other services into NT. NewsTab is one of the best free RSS readers for Android and iOS.
Must see: Best Android browser apps
Flym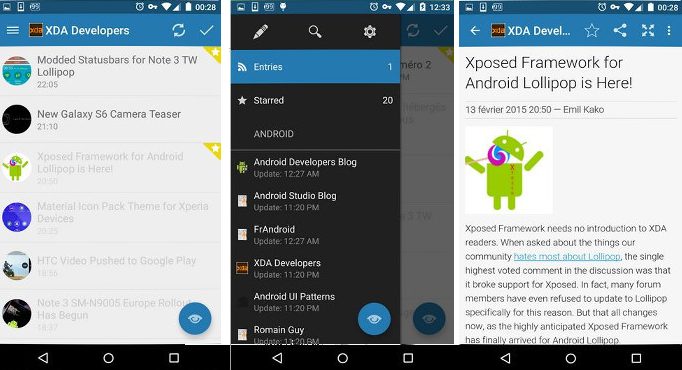 Flym is an open-source RSS reader for Android devices. It lacks advertisements and consumes 3 megabytes of storage memory. The app has a simple interface, and it is easy to use. It allows users to read articles published on the websites offline. It has a search option with which you can find stories containing specific words. Flym lets users import or export feed lists. It supports two color themes – light and dark. Users can configure the Flym RSS reader app to refresh the RSS feeds automatically.
Flym can fetch feeds published in the Google News portal. It can preload pictures on websites when your phone is connected to a WiFi hotspot or router. Flym can save the articles you've enjoyed reading for later reading. It lets users set an expiry time for the saved stories. It also allows users to change the text size. Flym adds two beautiful RSS reader widgets to your device.
Similar RSS reader apps: