1000s of adults are fond of drawing. When people draw something on the canvas, they may want to fill the drawing with color. Generating new colors by mixing two or more colors is not easy. If mixing doesn't yield the right color, you'll have to dump the new color. Thus, we can say that it takes months or even years of practice to create the perfect color.
Once the drawing is ready, users will take their printouts or frame it. Instead of spending money on hardcopy coloring pages, taking printouts, or learning to mix colors, you can use a coloring app on your Android or iOS device. Why use an application? Well, apps support millions of colors. With a tap on a button, you can see a color chooser tool or a palette that shows various types of colors. You have to select a color and tap on the drawing part to fill it with the chosen color. If the color doesn't look good, you can change it within a few seconds by simply tapping on undo button, selecting a new color, and tapping on the part of the drawing once again.
Best color apps for iPad, iPhone, and Android
Colorfit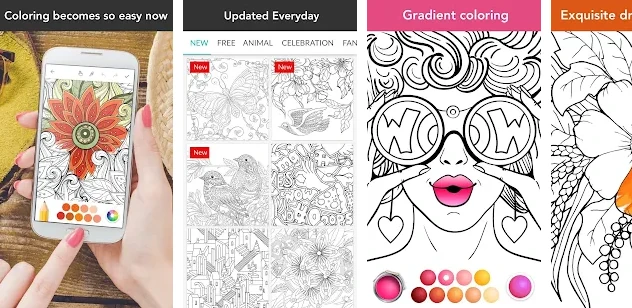 Colorfit is a popular coloring app for Android devices. It shows a list of pages that you can open and color. Pictures in this application may be locked. To unlock them, you'll have to spend diamonds. Each diamond is worth 10 points. If you log in to Colorfit, you will get 2 diamonds. Pages in Colorfit are grouped into these categories:
Free, animals, birds, butterly, celebration.
Fantasy, flowers & plants, future, kid.
Landscapes, messages, mandala, ocean, other, pattern.
Each category has several pictures. If you don't like these images, you can build coloring pages from scratch with Colorfit's built-in drawing tool. What does this tool offer? Colorfit offers 16 types of brushes. It enables you to undo/redo the last operation and has the option to reset the canvas.
Picsart Color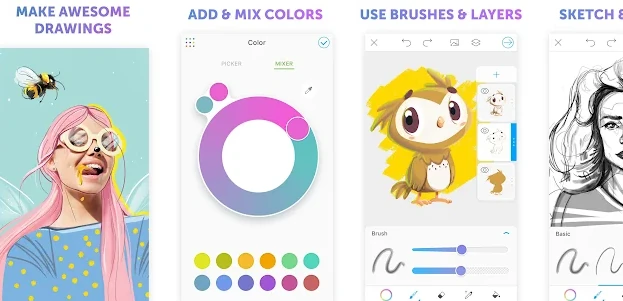 Picsart is an adult coloring book for Android and iOS. It features a canvas on which you can practice your coloring skills. Like the above app, Picsart can fill an enclosed drawing with a color of your choice. Picsart lets users draw shapes and change their size by swiping two fingers on the screen at a time. The app lets you insert flowers, faces, animals, figures, mountains, and many other things on the canvas. It ships with brushes of 16+ styles and has the option to fill the drawing with patterns, design, etc.
Colorfy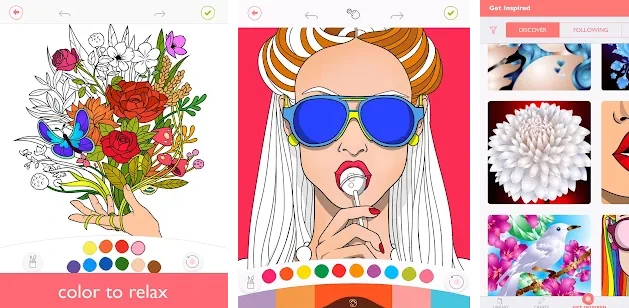 Colorfy features 100s of coloring pages which you can select, colorize, and share with other users of the application. You can see the work of other users too. Likes pages, palettes in Colorfry are grouped into categories. You can change the category by tapping on the left/right-pointing arrow in Colorfy. This app lets you create a mandala. It also enables you to take a picture of a drawing and color it. Colorfy allows users to create beautiful messages containing smileys, drawing patterns, etc.
Coloring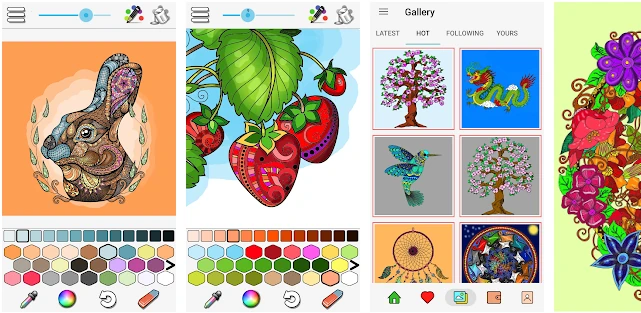 Coloring features 60+ free images. To access these pictures, tap on the "Free" tab. The other tabs of the app feature "Premium" artwork. Once you download a picture by tapping on it, Coloring will let you color it. This application provides an eraser and a color picker tool. It also ships with a color palette. You are allowed to create a custom color palette featuring colors of your choice. Coloring lets users follow other users of the app and see what they've shared. It ships with a spray and brush tool.
Coloring Books For Adults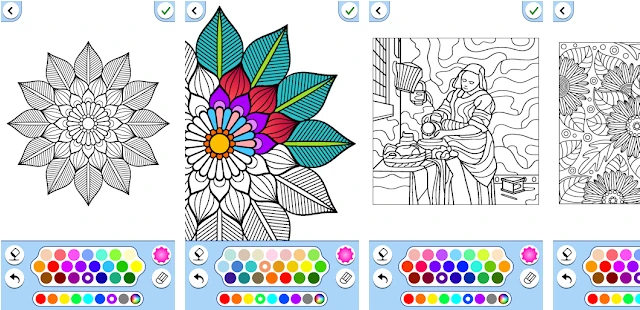 CBA is an excellent alternative to the above applications. It saves your work to the "My Work" folder. It ships with the "design" builder tool that automatically creates a design from selected shapes. Once you choose a shape and tap on the screen, swipe your finger on the screen to adjust the design's shape.
Animal Coloring Book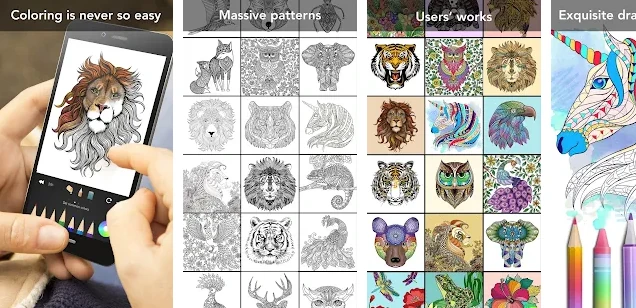 ACB is a free coloring game for smartphones that enables you to color insects, animals, birds, animal faces, and ocean creatures. When you choose a category, ACB will load a canvas that has a drawing. This app also shows a set of tools, pencils of various colors, and operations ACB supports. It shows the shades of colors when you tap on the pencil twice. You must choose a shade and swipe on the screen to color the photo.
Photo To Coloring book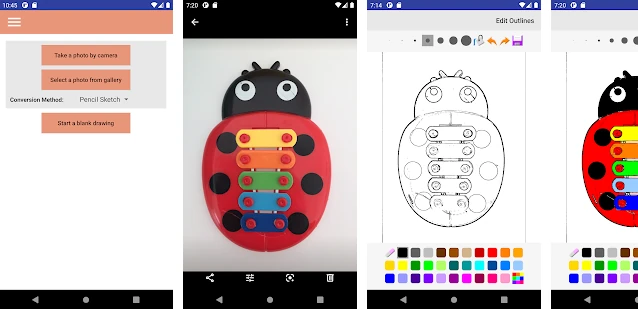 This app removes color from pictures you or anyone else has drawn and converts them to digital format so that you can re-color them. PTCB supports two conversion methods – edge detection and pencil sketch. You can also draw a new image with this application by tapping on the "Start a blank drawing" option shown on the PTCB's main interface.
Adult Coloring Book Premium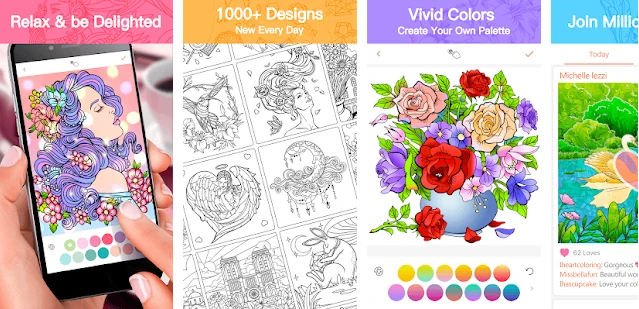 ACBP features many free coloring pages. It is updated with new images every 24 to 40 hours. The pictures are beautiful, and you'll enjoy coloring them. Images in ACBP are grouped into 10+ categories. Like some apps I've covered here, ACBP saves the photo to your phone and loads it with its mini photo editor. The editor shows a color palette below the canvas. It also displays an option to zoom the picture. You can share the colored photo with other users of this app and see the work of other users.
Note: Some of the applications I've shared have complex pictures. Thus, you will have to spend some time filling them with colors.
Closing words: Coloring is an activity that can keep kids of all age groups or adults busy. Use one of the above applications to play with colors, pass the time, or keep your kid busy.