A lawn is a mini playground for children and a perfect place for adults to sit and relax. Whether the lawn is in front of the house or on the backside, it is important to keep it green, neat, well-groomed, and tidy. If you don't do so, the space you've left in front or the backside of the house will look ugly.
A lawn may look ugly or unhealthy due to various reasons. For example, working people may not get time to groom their lawn or you've bought a new house with a beautiful yard and you don't know how to maintain the yard. Well, if you're a professional who can't spend time on the lawn or you are interested in grooming/maintaining the lawn by yourself but don't know the steps/process, etc, you can use the following lawn care apps:
Best lawn care apps
Landscaping Calculator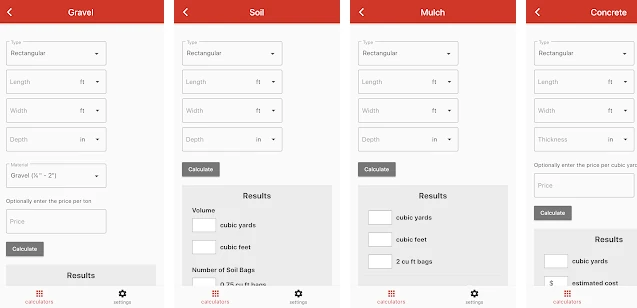 Sometimes, you may want to lay pavers on the lawn, or you may want to replace the soil of a certain area of a yard with a better or fresher one. The Landscaping Calculator is an app that shows the weight and number of bags of soil/gravel/concrete, etc required for an area of land. To see the number of bags, you must choose the land dimensions from the drop-down list and enter the diameter/depth/width/height of the land and tap the "Calculate" button.
Plant care
Plants can be an important part of the lawn. Sometimes, children may ask you the name of the plant/grass or the sapling/grass leaves might be infected with some bacteria or fungus or you may spot a new growth in the lawn. The plant identification apps will come in handy in these three cases. With these applications, you can:
Identify plant/lawn diseases and get their remedy.
See the name of the plants.
Find out whether the plant growing in your lawn is a weed or not.
Lawn reminders
People plan to mow, water, aerate on their lawn, or sprinkle fertilizer on it on a holiday but may forget to do so. The reminder apps are designed for people who forget tasks. They will show a custom message in the notification panel along with the task due date so that you can complete the task on time.
Lawn care videos on YouTube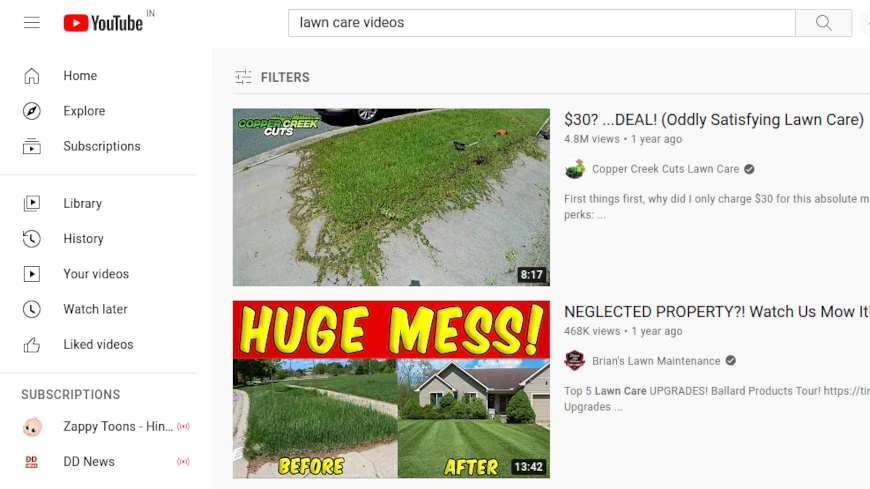 If used properly, YouTube can be a great teacher. You can learn mowing, aeration, soil replacement, and various other things by simply watching videos with the YouTube app. Hundreds of YouTubers have created and uploaded videos that explain the best things you can do for your lawn. You can watch the video as many times as you want until you've mastered the steps or have learned the process.
Reddit

The Reddit app has a subreddit called "Lawn Care" where you'll find people sharing tips or looking for help on lawn-related issues or learn what other users are doing to keep their lawn lush green, tidy, etc. This subreddit has over 320k members. LawnCare is a big and great community for people looking for help from lawn experts. Reddit also has gardening, plant-related subreddits. You can join these subreddits to learn more about plants and their diseases.
My Lawn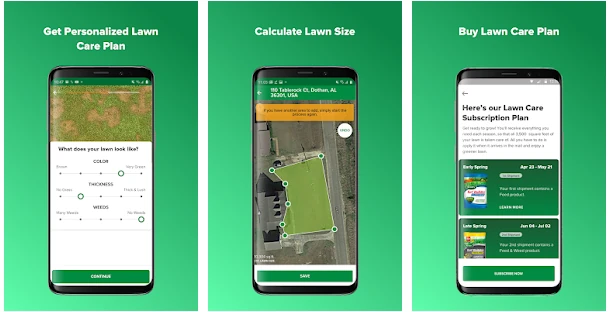 My Lawn lets its users add the following details of their lawn:
Grass type, lawn condition.
Lawn size, location.
Once you enter these details, My Lawn will create a custom lawn care plan for you. Users can subscribe to this plan and let a professional take care of their lawn if they want. Before subscribing, users can customize the plan. This app lets users see the size/area of their lawn.
Yard Mastery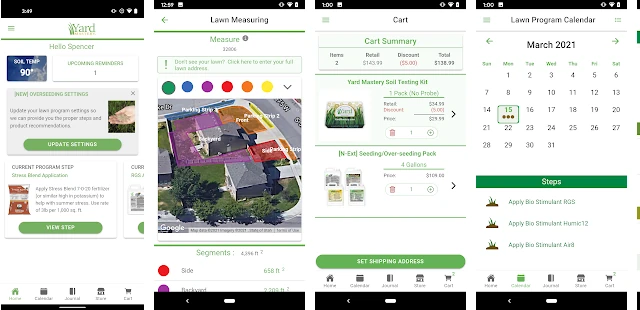 Yard Mastery is a great app for lawn owners. It features a "lawn measuring" tool through which users can measure their yard. It comes with a "fertilizer calculator" utility that takes the lawn size as input and shows the amount of fertilizer required as output. Yard Mastery detects the temperature of your place and shows the current soil temperature. It has a journal utility built-in through which you can keep a track of your lawn care activities on a given date. Yard Mastery has a store section through which you can purchase fertilizers, herbicides, seeds, etc. It also lets you set up reminders.
Planta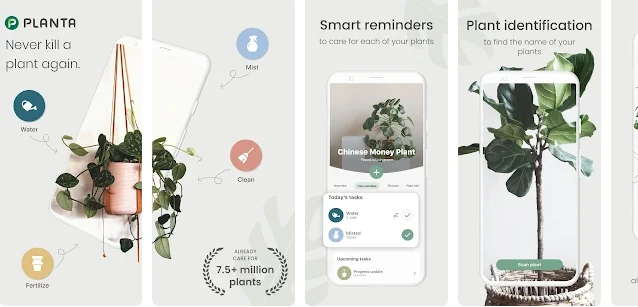 According to its developers, Planta is an application that will help you in keeping your plants alive. This app is a good alternative to dedicated reminder apps. It not only lets users set reminders but also shows important plant care tips. The application has a database of 7.5 million plants and a search utility to find plants by their name. It enables you to create a schedule for watering, cleaning, moistening, fertilizing the plants. Planta can show reminders in the morning or evening at a time of your choice. It features a light meter tool that shows a list of plants that can grow in the existing light condition of the corner, room, or any other part of your house. Planta also ships with a plant journal tool.
Weather
Overwatering can make the soil anaerobic. To make sure that you don't water the lawn on the day it will or is expected to rain, you must use a weather app to keep an eye on the weather. The applications not only show the current temperature but also displays the humidity, precipitation level, and what the weather will be like in the coming days. If the weather forecast is "it will rain today", you can let nature take care of your yard.