In many countries, people observe fast for the entire day or week. When they do so, the only thing that people eat is raw fruits or a meal cooked without oil or spices. According to Harvard University, fasting can reduce bad cholesterol in the body, and it can also help you control or reduce weight without exercising.
If you're healthy and practice fasting, you should continue your routine. If you're unhealthy, you can use the fasting apps I've shared below. The applications have features that will help you achieve your health goals via the simple and effective route of fasting.
Best fasting apps for Android, iPhone, and iPad
Fastic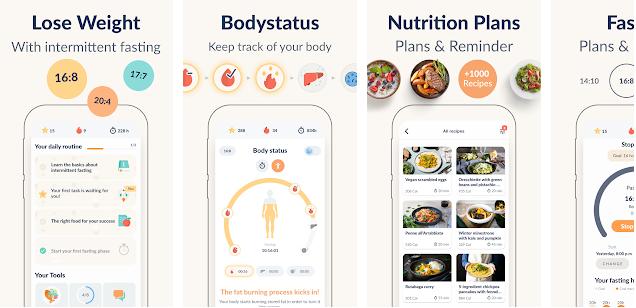 Fastic displays 11 basic questions one after another and prompts you to choose an answer. Some of the questions are as follows:
What do you want to achieve with fasting?
How can the app help you in accomplishing your goal?
Fastic will build a plan once you answer each question. The program is based on your answers. Once your plan is ready, the app will open its main interface, where you'll find options to:
Start the Fastic program.
Invite your friend to use the application and see his fasting plan.
Set water drinking reminders, etc.
The plans in Fastic include challenges. To participate in the challenge, you must buy the "Plus" plan of Fastic. The Fastic application ships with a timer utility. It allows you to set the duration for which you'd not eat food. Once you set the duration and tap the "Start" button, the timer will stop after N hours. For example, if you set the duration to 9 hours, the timer will stop after 9 hours. You must not eat food for 9 hours. The only thing you can intake is tea/coffee without milk/sugar and water. Fastic can import the step counter data from popular health apps such as Samsung Health, Google Fit, Fitbit, Garmin, and Polar. It enables you to track weight, fasting hours, and water you've drunk.
Fasting app by Leap Frog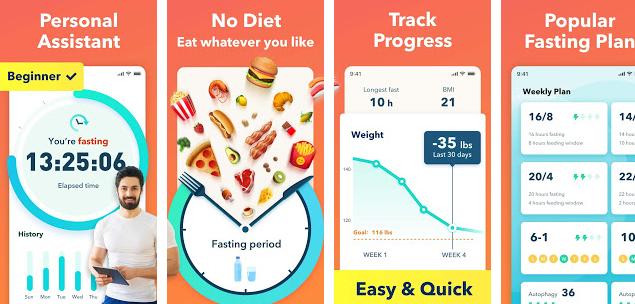 Like Fastic, this application will ask you to select your objectives from the list of options displayed on the screen. You can skip this step if you want. Leap Frog's application also prompts you to enter the duration for which you exercise. Unlike Fastic that asks you to register an account to unlock some of its important features, Leap Frog's app doesn't require a/c registration. It displays an option to upgrade to the "Premium" version in the settings interface.
On its main interface, FA shows a list of programs. The programs display the fasting time in hours. Once you select a program/plan, FA will show a "Start Fasting" button and some valuable tips. This Fasting app for Android, iPhone, and iPad will start its timer if you tap this button. FA lets you track water intake, and it generates various types of graphs from the fasting data it has collected. FA divides the fasting hours into various levels. It will display the current level in the phone's notification panel.
Zero – Simple Fasting Tracker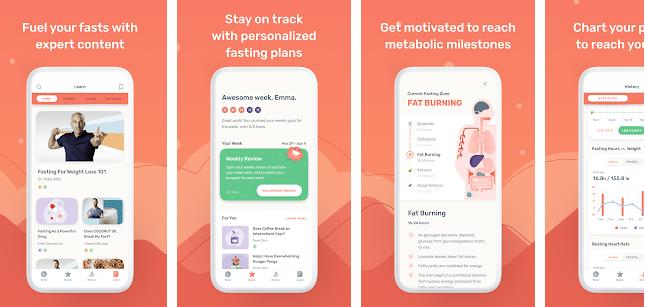 Zero is a very popular fasting app among iOS users. It has 200k ratings on the iTunes store and has been rated by 28K users on the Play Store. As in the above two applications, Zero prompts you to choose your objectives when you run it for the first time. It also requests you to enter the first/last name, birth date and select your gender. Zero's other features are the same as that of the LeapFrog fasting app and Fastic.
Zero ships with a paid feature called "Coach" that will get you in touch with an expert. It includes a weight/heart-rate/sleep logger, countdown timer utility, and a statistics interface where you'll find the fasting-related data. Zero lets you change the timer direction, weight units, etc.
BodyFast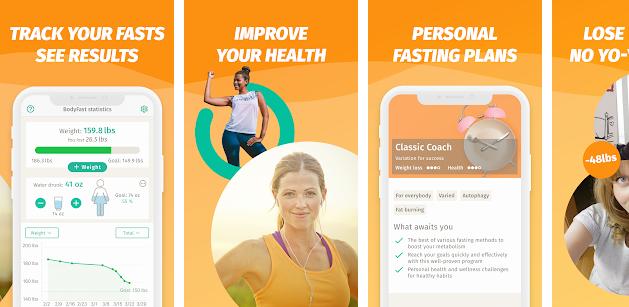 BodyFast is the only application on our list that asks you to choose your level as a person who is fasting. If you're new, you can select the "Beginner" level. Then, you must select your goals. Once you choose your goals, BodyFast will prompt you to select your preferred weight unit, select target activity/gender, and enter your age, height, weight.
Plans in this fasting app for Android and iOS are divided into three categories – Standard, Special, and Autophagy. Each plan has free as well as paid programs. To start a plan/program, you must tap on it and follow the instructions displayed on the screen. In addition to water and weight, you can track your hip, upper arm, thigh, and waist dimensions with the BodyFast fasting app.
Intermittent Fast – The 14 days beginner program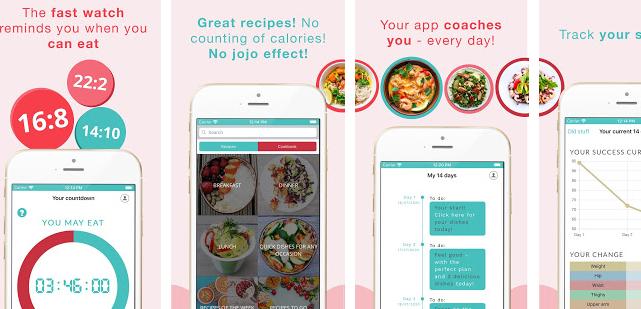 IF is a great fasting application for beginners. You must register an account and enter your name, age, height, and weight to use it. IF also prompts you to select your fitness level and choose the date on which when you want to start fasting.
Once you enter the requested information and tap the Next button, you'll be asked to choose your favorite mealtime i.e. breakfast, lunch, or dinner. Once your account and fasting plan are ready, you'll see a timer and several tabs on the screen. The timer is displayed inside a circle. The circle highlights the hours during which you can eat food with red color and the time frame in which you should not eat food with cyan color. The following tabs are important:
Plan: To see the daily plans generated by the app for you, open this tab.
Statistics: Here, you'll find a graph and a utility to enter the body dimensions.
The fasting programs in this application last for two weeks. As fasting can help users lose weight, IF is an excellent application for overweight people. Once you complete the 14-days challenge, you can restart/retake the challenge.
The above fasting apps for Android and iOS allow you to abort fasting in between. They give you access to tips related to fasting. They will help you in switching your body from "normal" to the "fat-burning" mode.