The human brain can save a huge amount of information, but we cannot control what information it saves. We remember things only if we memorize them or have them in front of our eyes for a long time. For commemorating information, we make use of mobiles, tablets, paper books, etc.
Papers have become an outdated technique of making notes. They are unreliable because people could lose the paper before executing the task written on it. We can't carry a book and a pen everywhere we go.
The best way to remember things quickly is by using a note-taking app. Here's a good example that proves that technology is better than traditional note keeping methods.
Imagine that you're traveling on a train. Suddenly, you see a banner ad that has information on a product you like. The ad has the contact number of the shop selling the product. It also reveals a mouth-watering discount. If you're not carrying a pen and paper, you may not be able to note down the contact details. If you have installed a notes app on your mobile device, you could have quickly jotted down the phone number.
Notes app are of two types, offline and online. Online notes app such as Evernote and Google Keep will sync your notes to a cloud server. The major disadvantage of using them is that accessing the core features of the app requires account registration.
The note-taking apps are great alternatives to notebooks. You can create as many notes as you want and guess what? you don't have to pay any subscription fee for using them.
Below are the top Android apps for writing notes:
5 Best note apps for Android
ColorNote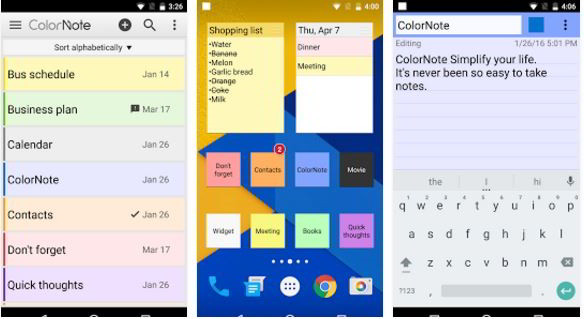 Once you run the ColorNote app, you'll see a simple UI that flaunts an option for adding a note. Tap it. The app will now open a popup box with the option to create notes of two types, text and to-do checklist.
After selecting the note type, start entering your content. ColorNote will save the note automatically when you press the back button or enter any character on the text field. It lets users do the following things with their notes:
Change color, send it to other mobile devices or computers.
Archive, set as a reminder.
Delete.
The application lets you filter notes by their modification/creation date, reminder time, name, and color. It allows users to back up their notes online.
Keep My Notes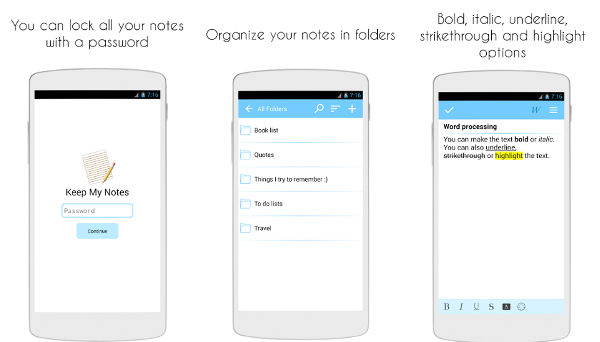 KPN lets you add notes to folders. You can create as many folders and notes you want with this application. KPN provides an undo/redo tool. It allows you to change the font size of the text content. It includes an option to underline or highlight certain words.
KPN displays the number of characters and words your note has on its status bar. Users can sort their notes by creation or modification date in KPN. They can back up/restore their work. The app can convert your handwriting to text. To use this feature, you must enter words on the phone's screen.
Must Read: Best Android Journal apps
Simple Notepad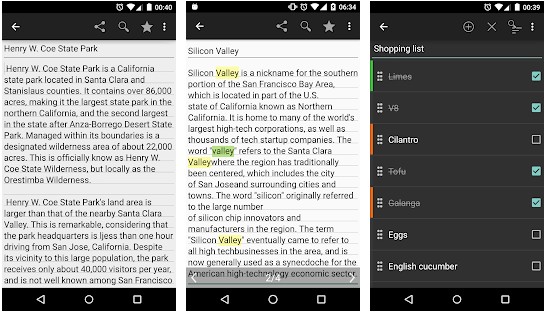 SN is a lightweight utility (476 Kb) and it is powerful. The app doesn't ask users to log in to it i.e it saves your notes offline. To create a note, tap the edit icon. Once you do so, the app opens a neat UI that flaunts a text editor tool and a menu icon. When you tap the menu icon, you'll see the following options:
Mark the note as read-only.
Attach a picture, show character/word count
Set reminder, Add to calendar.
Hide title, set Password.
Quick-lock, create a shortcut.
Discard changes, delete the note.
SN allows you to search for notes by its title or text content. The app supports UI customization. You can change the interface color or the font size from the settings panel. You can also change the looks of the text editor in Simple Notepad. Notes created by the user are shown in the main UI of the application.
Users can configure Simple Notes to blink the phone's led light, vibrate the phone or play a sound when the reminder is triggered or for due tasks. SN supports voice inputs. It can display the note's last modified date.
Check: Best Android office apps
ClevNote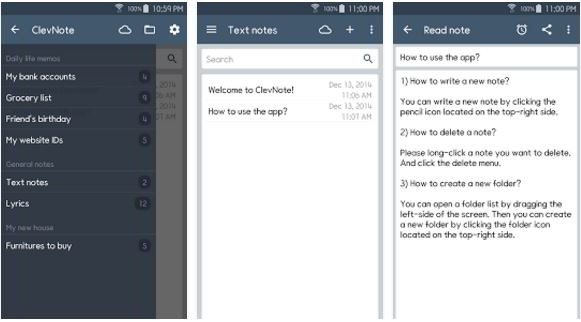 ClevNote is a smart application with many features. It allows you to categorize notes into folders. By default, the app creates the following folders where you can save your notes:
Bank accounts.
Grocery, birthday, website URL.
CN lets you lock folders and sort them by:
Title.
Creation/modification, reminder, and last read time.
The app has advertisements, advanced folder options, passcode lock feature, and an option to backup or restore the notes.
Voice Notes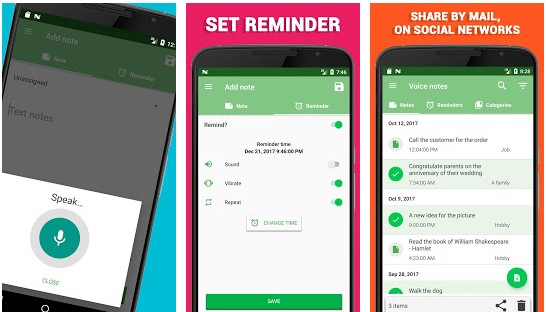 Voice Notes is an Android application that enables you to create text notes with your voice. Its size is less than 13 megabytes. VN is powered by a speech recognition technology that converts the words you speak into text in real-time. The conversion is accurate. Once your note is ready, you can categorize it, or set a reminder for it.
VN application allows you to export or import notes from/to the MicroSD card. It has a statistics section where you'll find the total notes, reminders you have created to date and the number of times you've exported/imported/deleted the notes.
Also see: Best Android email apps
FiiWrite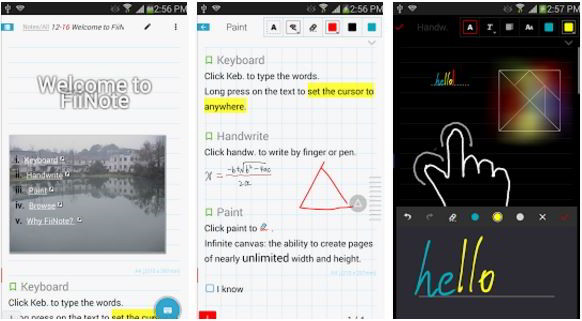 If you hate creating digital notes with the Android keyboard app, FiiWrite is for you. This application provides a canvas where you must draw words you want in the note. It has a function to change ink color and thickness of the brush.
FiiWrite includes a lasso tool. It allows you to create unlimited digital notebooks with colored templates of your choice. It supports Android 2.2+ devices.
Must see: Best drawing apps for Android
Conclusion: If you're searching for a free tool to create, manage and take notes on your Android tablet or phone, download the apps we've shared above.