Since the 2019/2020 pandemic, many organizations have asked their employees to work from home. When you work from home, you may want to talk with your boss or co-workers to share reports, progress, get feedback, etc. While many people use messaging apps to get in touch with their contacts/employees/employers, some users prefer talking face to face with people with a video calling/conferencing app.
For some reason, 1000s of users started using Zoom to participate in or create video conferences. Ever since experts revealed on social media that their data is routed through China, people have started ditching Zoom and are looking for other video conferencing services. Below, I've shared the list of best Zoom alternative video conferencing mobile and web applications such users can use.
Top 6 best apps like Zoom
Skype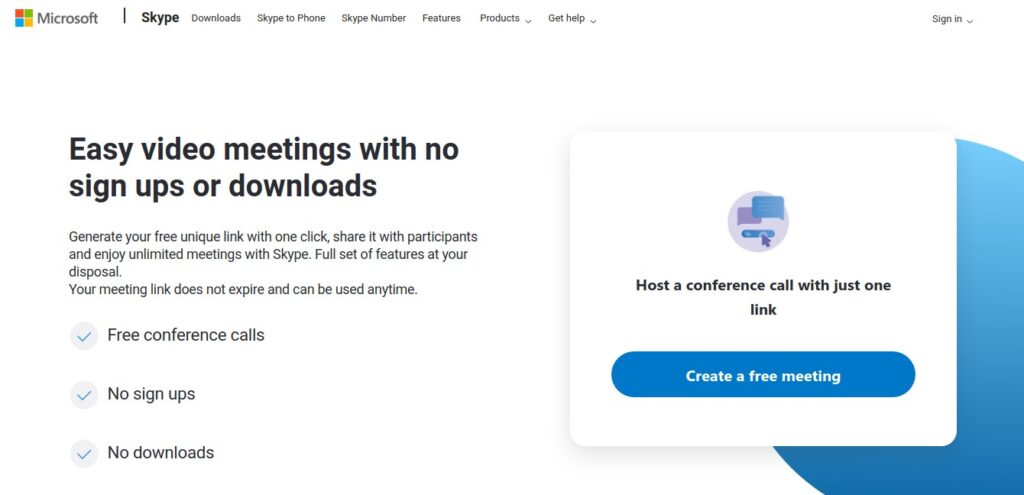 Skype allows users to join video conferences for free. Also, it doesn't ask users to register an account or download files. The application lets you blur the background before joining a call. It can also record your calls on demand. Recently, Microsoft had introduced a unique feature called "Meet Now" that lets users invite people to join the conference with a URL.
The Skype website displays a "Create a free meeting" button. When you tap this button, the site will show a URL. You should share the URL with other users and click the "Start Call button".
Skype is a service owned by Microsoft Corporation. The Azure cloud service handles Skype data. Microsoft has data centers in every part of the world (including China through a partnership). Considering the criticism Zoom has attracted in recent times, I doubt that your data will be routed through China or hosted on a server located in China.
GoToMeeting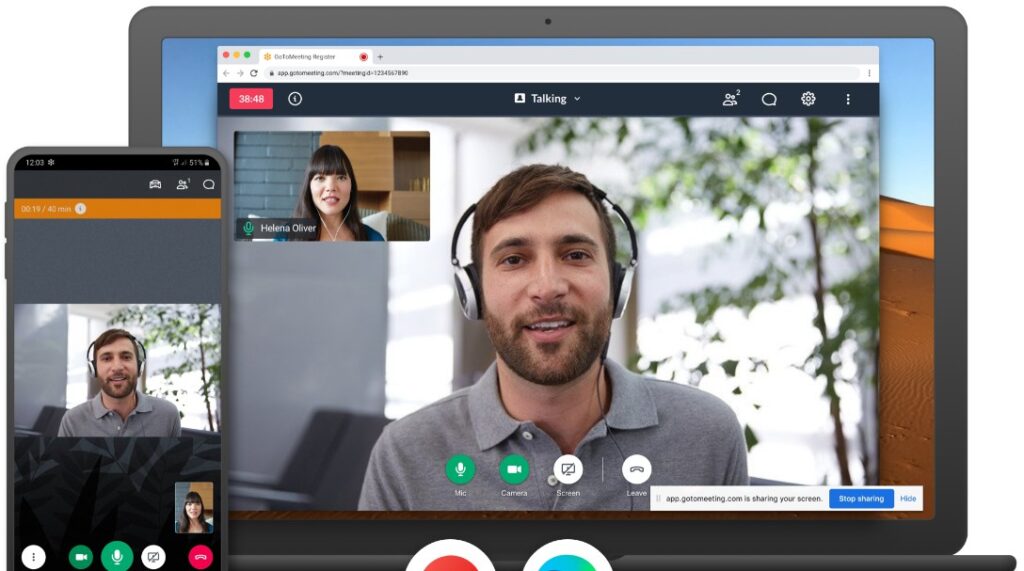 GoToMeeting free edition lets you host video conferences of up to 40 minutes in length. Once the user joins the conference, GTM will show a timer. You should conclude the meeting within the time displayed by the timer. GoToMeeting supports screen sharing and can connect up to 3 users at a time. The screen sharing feature is helpful for the users that want to show proof to the boss that they are working on the project and are not wasting time at home.
GoToMeeting lets users chat with the participants in real-time. Although GTM is free, it doesn't compromise the voice call quality. GTM is owned by LogMeIn, the company behind the LastPass password manager app.
Google Hangouts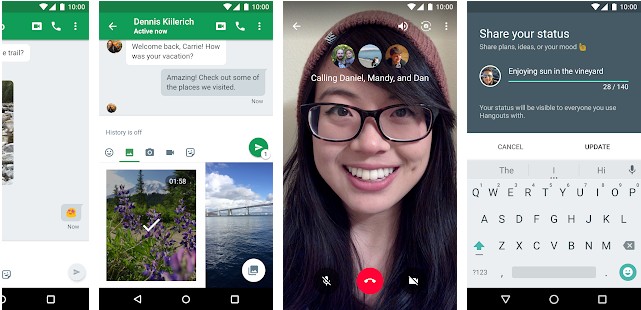 Hangouts from Google is yet another top app like Zoom. It supports group calls where up to 10 people can talk in real-time. Hangouts also lets users make voice calls and send/receive text messages in real-time. Although Hangouts is a good video conferencing application, it doesn't work without account registration. Also, you'll have to download and install its Chrome extension.
Cisco Webex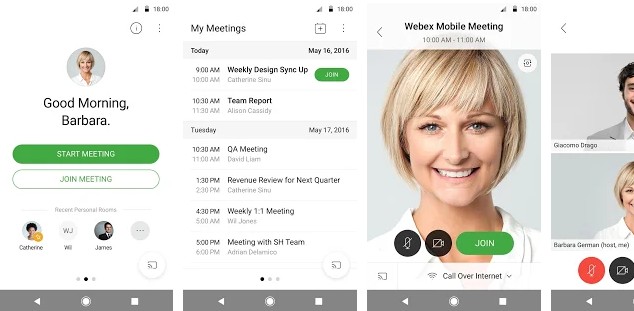 Webex is one of the most popular video conferencing apps like Zoom. The company that has built it i.e. Cisco, is one of the leading technology companies. It has never been in the news for the wrong reasons. Webex enables users to share screens and customize video layouts. It supports voice commands and can sync meetings from the calendar applications. A number identifies meetings in Webex. You should enter the meeting id, name, and email address to join a meeting. The free plan of Cisco Webex supports 50 to 100 participants. The conferences hosted on it can last for up to 40 minutes.
Zoho Meeting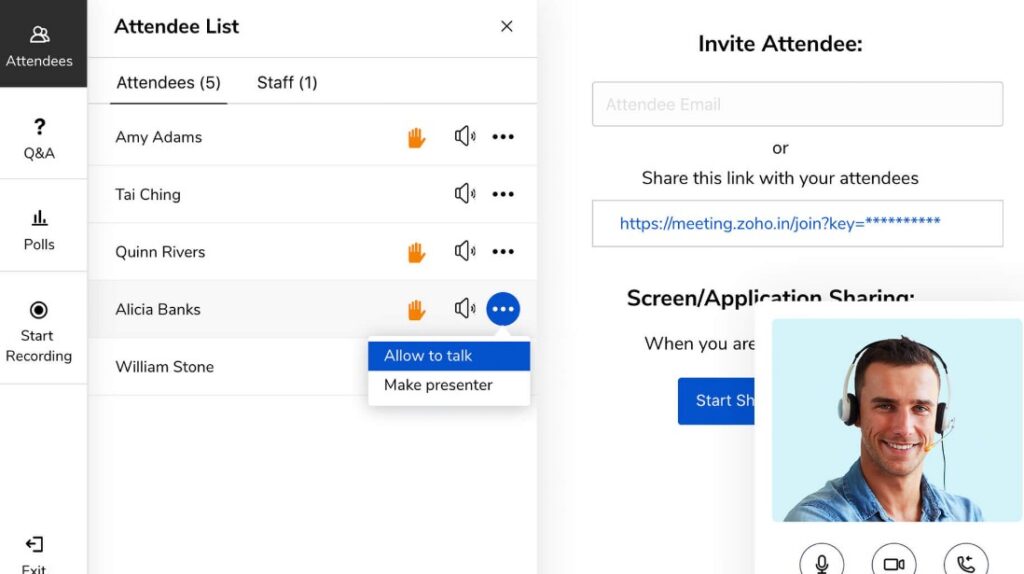 Zoho is one of the top players in the SAAS industry. Its Meetings application is similar to Skype, WebEx, Google Hangouts, and GoToMeeting. Zoho Meeting lets you create or join video conferences with a few clicks of a button. Once you make an invitation link, you should share the link with the people you want to attend the conference. The Zoho video conferencing app enables you to change the presenter and mute the sound of a specific user. It allows you to create and share polls with the participants. You can also record the live conference with Zoho Meeting.
Discord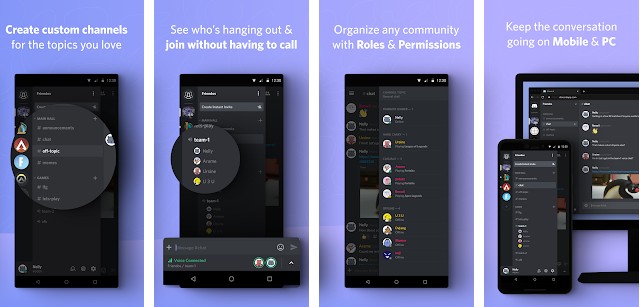 Although Discord was launched for gamers, it can be used by anyone. Discord supports live video chatting. It has a nice and easy-to-use interface and several options. You can configure this Zoom alternative app to share only the window in focus or the entire desktop screen with users participating in the conference. Before sharing the screen, you can set the video streaming quality and video frame rate. You can also disable/enable audio when the screen is shared with Discord.
Note: A dedicated application for Skype, GoToMeeting, Zoho Meeting, Discord, Cisco WebEx, Google Hangouts is available on the Play Store and iTunes.
Closing words: If you own a company/business, lead a team, or you're working on a joint project, you can use one of the above 6 best apps like Zoom to join or create video conferences, aka meetings for free.
Also see: Best video calling apps