The App Stores have an extensive collection of games for people with an insatiable thirst for knowledge. Hence, if you have an Android or iOS device, you can play a word game on your mobile device to kill time productively.
Word games available for download on the App Stores can help you learn new words and build vocabulary. These games are suitable for knowledge-hungry people who want to pass the time and test their knowledge of English words. They are lightweight and enjoyable. Most importantly, the games are short, and you can play them offline.
Here's the list of 7 great word games you can play on your Android or iOS device:
Best word games for iPhone and Android
Word Cookies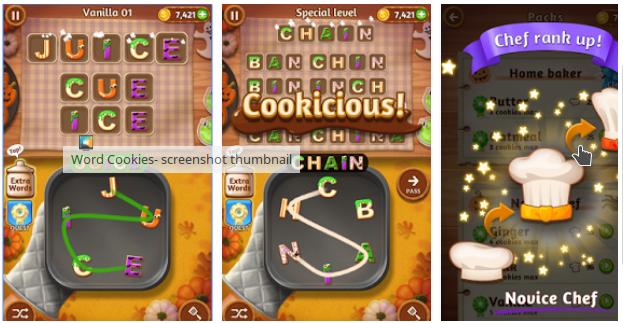 Word Cookies is one of the best word games for Android and iPhone. Although WC has no connection with food, people who love eating or cooking will love it. Word Cookies is a kitchen-themed single-player game that displays letters scattered in a pan. Besides the pan, you'll find a large tray with empty blocks. To form a word and fill the blocks, you must swipe the letters.
WC has the option to shuffle letters. It rewards users with points when they complete a puzzle. You can use these points to see the hints. If you've exhausted the points, you can buy them with the game's in-app purchase module.
The Word Cookies game has many levels. Initial puzzles are easy to solve as you have to build 2 or 3 letter words. The game becomes challenging when you're asked to form 3+ letter words. WC includes four themes. It can sync your scores with Facebook. It lets users turn off the in-game music and disable notifications. WC is suitable for all age groups, and it is addictive.
PicToWord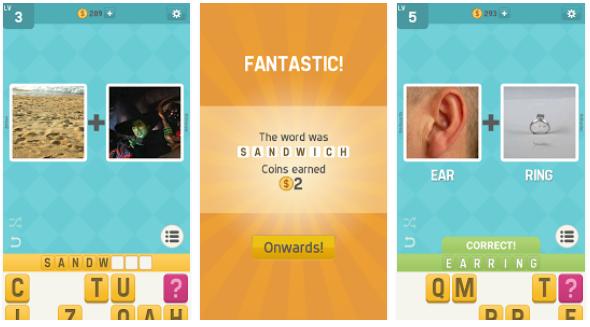 PicToWord is a top-rated word game that you can play on your iPhone or Android device. It displays two pictures and 14 tiles. The tiles aren't empty. Each tile boasts a different alphabet. Above the tiles, you'll find a row of empty blocks. You must carefully look at the two images and fill the empty blocks with letters to build the right word. For example, if you see the picture of a leg and a ball, you must tap the alphabets "F", "O", "O", "T", "B", "A", "L", "L". You'll earn coins for each correct answer.
If you cannot solve the puzzle, tap the question mark icon to see the hint. The app displays four hints for each puzzle. Users must spend some of their coins to see the hint. Users can skip the maze if the hint doesn't help by spending 150 coins. PicToWord lets users earn extra coins by completing daily challenges.
Must read: Best Android dictionary app
WordBrain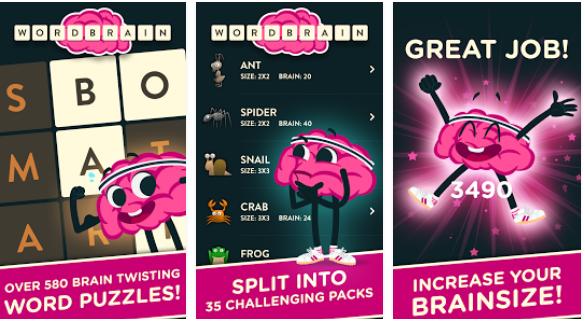 WordBrain is an animal and insect-themed sudoku-style game in which you must find the words hidden in a rectangular grid. It has several levels. The objective of the player of this game is to earn as many points as possible by solving the word puzzles. To select the word, you must swipe across the letters. If the word you've chosen is correct, WordBrain will increase your points.
Although WordBrain is fun to play, it can irritate the user by not accepting the user's answer even if it is correct. When I was playing WB, the game displayed a 2 x 2 matrix with the letters "C","M","L", and "A". The app didn't accept my answer "CALM". According to WordBrain, the correct answer for the puzzle was "CLAM".
Although this game can be frustrating at times, it can help you learn new words. It includes a hint system. WordBrain allows users to create a new puzzle and participate in daily challenges. It supports 15 languages and can turn off the game sounds.
Word Stacks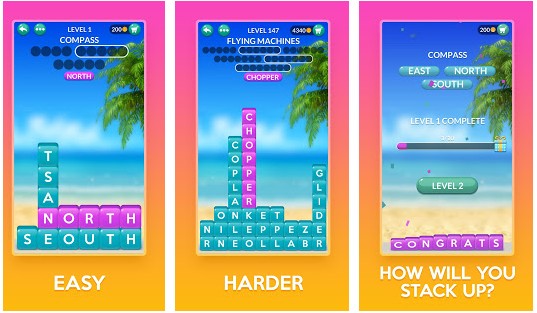 WS is similar to the CandyCrush game, but it's more challenging as you must find and form words from the letters displayed on tiles.
Once you choose a level, WS displays the hints in the form of empty slots and the number of coins you've earned at the top of the screen. It also shows several tiles. Each tile shows a letter. You must look at the letters and swipe on adjacent letters in the direction of your choice. If Word Stacks finds a word in your selection, you'll earn coins. Word Stacks has several levels. Its size is 65.7 megabytes.
Also see: Best learning app for Android and iPhone
7 Little Words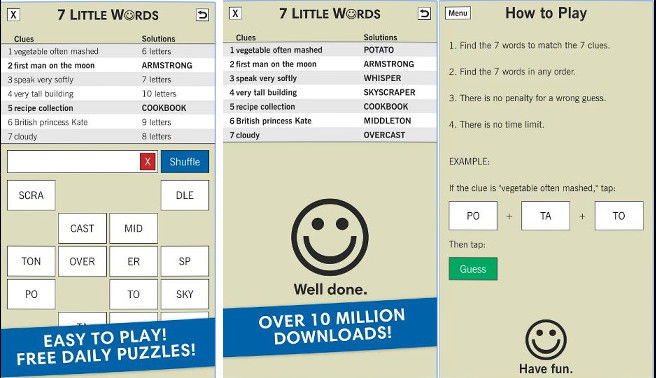 7 Little Words is a crossword-style game with several challenges. It displays seven clues and 24 combinations of letters. To build a word, you must tap on the tiles. Once you've formed the word, tap on the Guess button. If the answer is correct, the game will highlight the clue in bold.
7LW enables users to see a hint for each clue. It has a puzzle store through which you can download new puzzles. 7 Little Words ships with over 40 puzzles. It includes daily challenges for the users who have solved each puzzle of the game.
Words Crush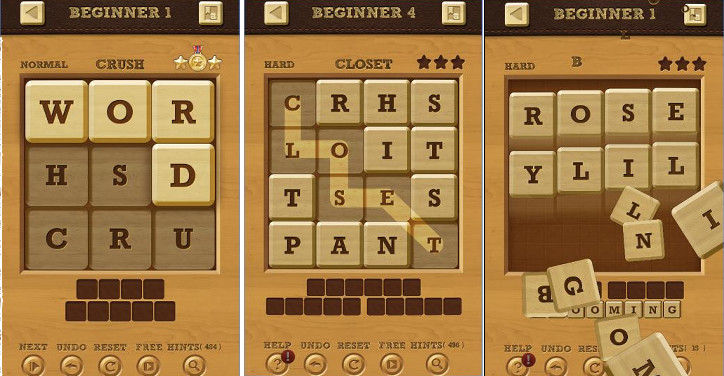 Words Crush is another addictive Word game for Android devices. It has excellent graphics. It is easy to play as well. WC has four difficulty levels – easy, normal, hard, and extreme. Users must complete the 1st level to unlock the next level.
How to play Word Crush? Well, the game will display a grid containing tiles. Each tile boasts a letter. You must swipe on the tiles to build a word. You can swipe down, up, diagonally, or sideways. Words Crush displays the number of moves you've taken to solve the puzzle. It has 100+ puzzles and 40 quests.
Must check: Best language learning apps
PlexiWord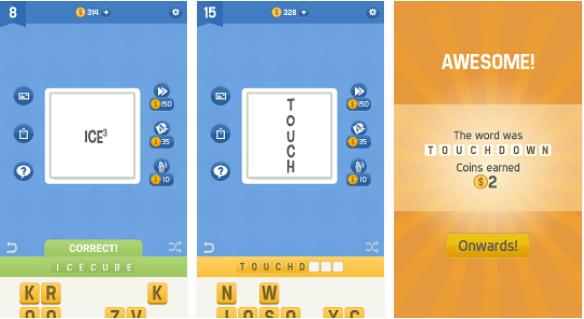 PlexiWord is a clever word game for mobile devices running on the Android OS. Phrases or words in PlexiWord are represented by color, icons, images, etc. You must tap on the letters displayed in a grid to form a word. The object or the word shown on the screen may or may not be related to the word. If the word you've built is correct, the game will reward you with a point. Then, it will load a new puzzle.
PlexiWord features 290+ puzzles. Unlike other word games we've shared above, PlexiWord makes you think hard. If you're stuck at a certain point, you can see the hint.
Final thoughts: Studies have proven that games are an effective way of learning new things. If you want to discover new words or test your English vocabulary, download, install and play one of the games we've mentioned above.