The brain is one of the most critical organs in the human body. Whether a person is sleeping or working, the brain is always active. Confused? The brainstem, a vital part of the brain, controls sleep, heartbeat, pain, etc. A person whose brainstem isn't working is declared brain dead by neurosurgeons. The cerebral hemispheres control your motion and ability to read, write, etc. The Cerebellum, yet another critical part of the brain, receives signals from various parts of the brain and controls a person's activity. Sleeping relaxes and reduces the activity of the tired brain. It also eases various muscles of our body and comforts tired eyes. If you don't sleep for enough hours, you'll suffer from headaches. Your eyes will be exhausted, and you won't be able to concentrate on work.
Because of depression or excess workload, a person may not get the much-needed sleep. Parents ask their children to count goats when they complain of sleeplessness. Frankly speaking, counting goats has become an obsolete technique. BTW, who will count goats in the age of the smartphone? Adults won't count goats. They'll keep themselves busy on social networks or watch videos on YouTube. If you watch videos, your brain will be active. If you don't take a break while watching clips, your eyes will hurt. To get sleep, you must avoid late-night messaging or use one of the applications I've shared below:
Best Android apps that help you sleep better and faster
Sleep Sounds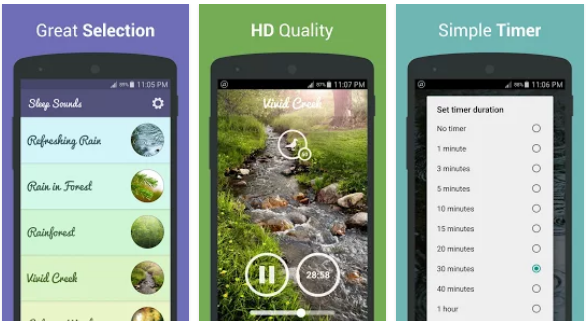 Sleep Sounds is a popular app on the Play Store. It tries to make a person asleep by playing the soothing sounds of nature. It saves the audio files of rain, blowing wind, snowfall on the phone's storage memory and displays their name in a list. As the files are saved locally, users don't have to enable data connection on their phones to use the app. Users must tap the sound effect they want to hear. SS lets users add various effects to the sound. For instance, you can add a thunderstorm effect to the sound of rain. Sleep Sounds enables you to set the sound playback duration. It can play the same sound file continuously for up to 8 hours. The great thing about this app is that it keeps playing the soothing sound of nature when the phone is in a locked state.
Sleep as Android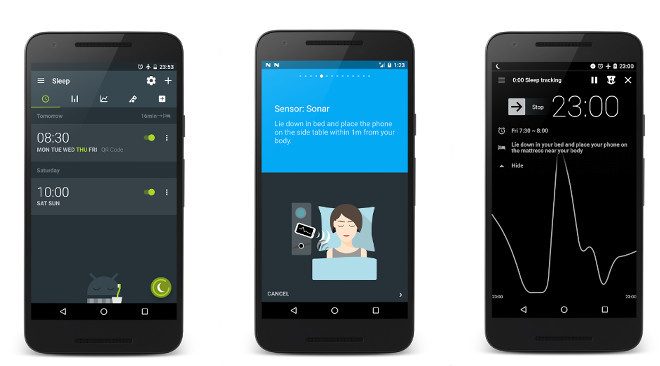 Sleep as Android is a powerful sleep tracker app for mobile devices. Apart from tracking your sleep, this app helps you sleep better by playing nerve-calming music. Snoring doesn't have an ill effect on health, but it can be deadly for people suffering from Obstructive Sleep Apnea. To make sure that your windpipe doesn't get choked while you're asleep, the app plays a sound when you're snorting. SAA features a "Lucid Dreaming" function that prevents panic attacks during sleep. It identifies the abnormal behavior of an asleep person and plays a tone. SAA includes an alarm function that can wake you up from a deep sleep. It will play a tone repeatedly until you turn off the alarm. This application allows users to see graphs of the data it has recorded.
Also see: Best Android lock screen app
Baby Sleep Instant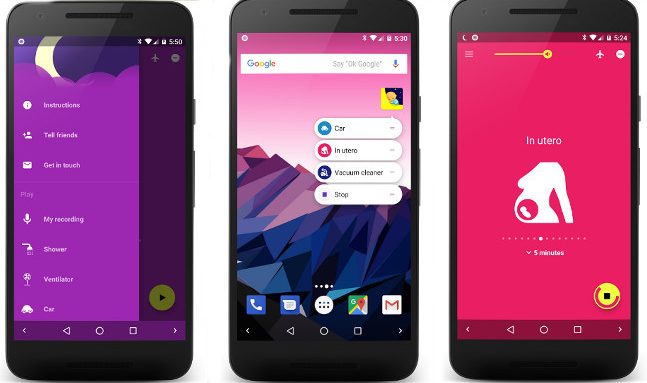 Sometimes, the kids may not sleep even if they're tired or sleepy. Baby Sleep Instant is a free application that will quickly make your toddler fall asleep. How does the app work? Well, Baby Sleep Instant plays the low-frequency sound of a train engine, vacuum cleaner, dryer, shower, washing machine, etc. Don't worry! The sound will not scare your baby. According to the developer, Baby Sleep Instant is a practical application. The app was tested thoroughly before it was published on the Play Store. BS Instant has an option to enable the "Do Not Disturb" and "Airplane mode". When the phone is in airplane mode, it won't connect to the cellular network. The DND mode will prevent the phone from ringing. Use BSI only if your kid is in a good state of health. If your baby is crying, he/she might be hungry. If your kid isn't hungry, he/she might be in pain. Visit a nearby pediatrician to get the baby checked up.
Must check: Best meditation apps
White Noise Generator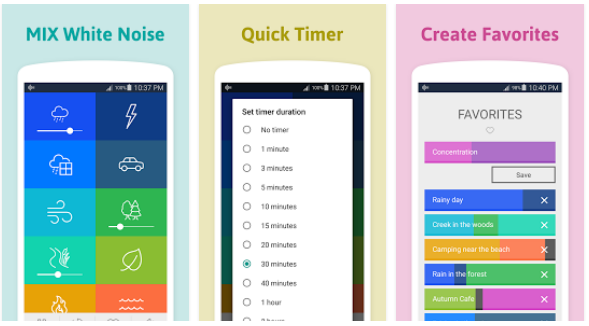 White Noise Generator is an app that allows users to mix two or more white noises. It features 16 unique, refreshing tones. It can play all tones simultaneously. You can adjust the volume of each tone in this app. White Noise Generator allows you to set the duration for playing the sound. Its default interface language is English. You can change the language to Spanish, French, Italian, etc by tapping the favorites option.
Download White Noise Generator
Also read: Best yoga app for Android
Sleep Pillow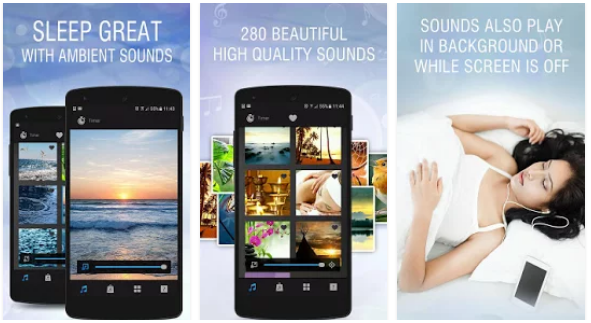 Sleep Pillow features 100+ high definition sounds of water, animals, birds, winds, household appliances, vehicles, musical instruments, etc. It also includes three unique binaural beats of various frequencies. The application doesn't allow users to play 1+ tones at a time, but it can mix different tones. It ships with a sleep timer utility and includes in-app purchases.
Free Calm Sleep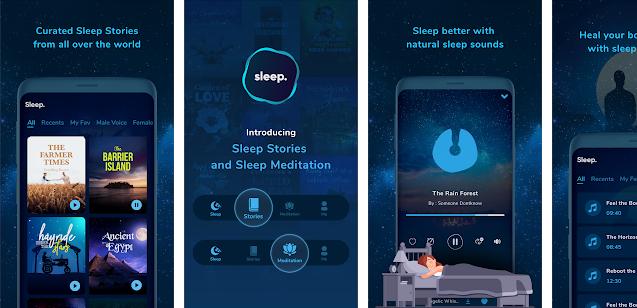 This application helps users sleep better with its sleep sounds, stories, and meditations. To listen to the stories or sounds, you'll have to download them. The sounds are divided into four categories – experts pick, ambient, nature, kids. The application lets users select the story narrator's voice. Users can configure Free Calm Sleep to set alarms and set a reminder to go to sleep.
Sleeping Delivery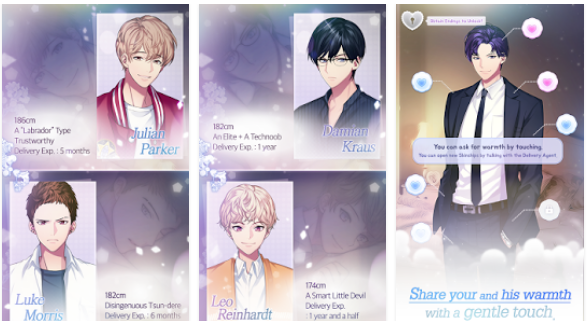 Sleeping Delivery is a comic-style simulation game with relaxing background music and interesting missions. To get started with this game, users must select one of the 5 characters. The game features male as well as female characters. Once you choose the character, the Sleeping Delivery game will download some files from the web. When the required files are downloaded, the character will begin narrating the story and objectives. SD lets users pause and resume the game. It has excellent graphics.
Similar apps:
| | |
| --- | --- |
| Relax & Sleep Well: Hypnosis and Meditation | Install |
| Relax Melodies: Sleep Sounds, Meditation & Stories | Install |
| Sleepa | Install |
Also check: Best running apps
The sleeping apps mentioned above are effective and reliable. If you're an insomniac, try them out.