Kodak has launched a new app called Moments to create collages and photo books on iPhone or Android devices. Kodak has set up its photo printing Kiosk service in many parts of the world. The Moments app allows you to place a Kiosk order for printing the photobook or collage you've created with it. When your photos have been printed, you'll be notified of it.
Review
As of now, you can place the order only in selected countries, including Uruguay, the United States, and the UK. In the coming days, the Kiosk stores in other countries are expected to be supported the app. The Kodak Moments app is a powerful photo editing tool. To access its main modules, click on the camera icon located on the top bar. The Kodak Moments application will open the camera interface when you do so. Now, capture a photo (or photos) with the camera.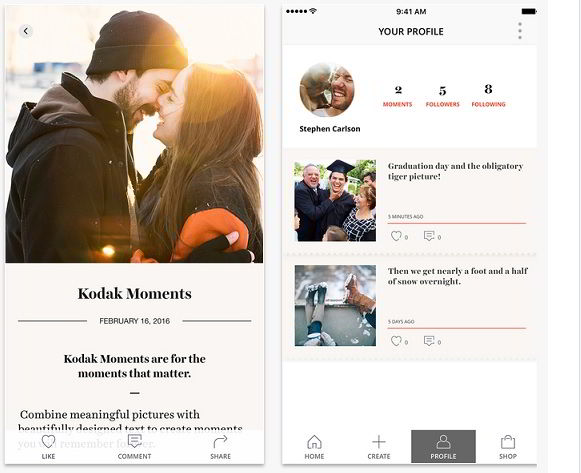 The Moments app from Kodak supports the front and rear camera of your smartphone. It has a button to switch from the rear to the back camera. The interface has an option to turn on/off the auto-focus feature. It also includes options to enable the self-timer, adjust brightness, select focus grids, and change picture/video quality.
The Kodak app lets you capture as many pictures and videos as you want. After an image has been captured, the app will display its thumbnail preview on the toolbar. When the user clicks on the thumbnail, the app will open a film strip module that allows you to add captions to pictures, select the image/images for printing, or share/edit the pic.
The photo editing tool in Kodak Moments allows you to rotate or crop a picture. It lets you adjust the image's brightness, contrast, and color. Like many camera apps for Android, Kodak Moments features several filters that you can apply to videos and pictures.
The pictures you edit with this app will be saved on your mobile device. Once your images are ready, you can create a collage or photo book from them. You can also place a kiosk order to print the pictures. The collage or the photobook will be saved to your phone.
KM allows users to create a profile with their personal details and address. You can also link your Instagram or Facebook accounts (albums) with this app. Once your profile is ready, you can follow other users or create a story from the saved pictures. KM enables you to share the story with the followers. Kodak Moments is available for download on the iTunes store and the Google Play Store.